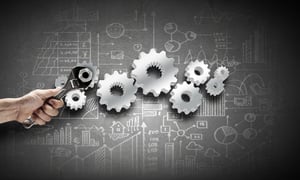 Whether your company has 20, 200 or 2,000 employees, each one of them is as an essential asset. There is no doubt about that. Likewise, the human resource professionals of any organization play a pivotal role in managing these assets and capitalizing on their abilities.
But, there comes a time when the task of managing everything may seem daunting. Big companies like Amazon, Google, and others— that receive millions of job applications every year— leverage an entire suite of tools. These large organizations utilize Artificial Intelligence and cutting-edge recruiting tools to streamline their process and discover the best talents in the marketplace. Among these tools are the HR tech tools.
What are HR tools?
These are the suite of technical software or solutions that a business utilizes to manage its regular HR activities efficiently. Human resource activities are compliance-driven and performing each task manually can be challenging. They're also time-consuming. HR tools make the most out of the automation power and save valuable time, reduce costs and allow HR teams to manage their employees effectively.
HR tools take care of the entire human resource process, from hiring an employee to interviewing one during their exit. Based on their individual needs, companies can either choose simple HR software that streamlines every administrative activity or a solution that addresses strategic areas.
However, choosing the right HR tech tool is a daunting process. Since there are a lot of tools available, it's complicated to pick one. Therefore, you have to check your needs first, evaluate available tools and then go for the exact one you need.
5 ESSENTIAL TECH TOOLS EVERY HR DEPARTMENT SHOULD HAVE
Well, to help narrow down this process, we have compiled a list of 5 essential tech tools for your HR department. Let's check it out.
1. Slack - for interoffice communication
In 2018, Slack had more than 8 million active users daily. Since its launch in 2013, its user base has expanded significantly.
Implementing such a program in your organization allows every team member to communicate personally and professionally. Its benefit can be more far-reaching than you may think. Slack app not only allows you to connect to employees in different departments but at different levels.
Whether you want to utilize its free chat rooms for checking on how somebody's doing or asking questions related to a project or document quickly, Slack connects you on every front. You can converse with all the employees by creating a general group.
2. Trello - for interoffice task assignments
Many apps and tools help you get organized and track your tasks. However, Trello is a little bit different from others. It's a digitized collection of sticky notes. The tool allows you to add employees and project managers on a single platform. It also helps them to see and track what's happening on the project front.
It gives a visual flair to keep track of things. The drag and drop feature lets you or a project manager assign tasks to employees.
And, it's a great tool to organize your human resource team too. You can create boards like—
Recruiting pipelines
New hire on-board
Digitized employee manual
Team building
Interviewing pipeline and more
A central board for your HR team including assets, links, and resources is beneficial. You can create separate areas to address different teams on a different level too. Even for project management, you can create an independent board and keep track of the communication there.
3. Canva - for visual presentations
Did you know the companies that believe in visual storytelling culture are doing better than those who do not? Communication between the human resource department and employees shouldn't be mundane. And when it's for the first time with those who recently joined the organization, it shouldn't be on a one-to-one basis.
Creating a presentation of a company's culture, ethos, and ethics and then describing it during the first meeting has a lot of benefits. A presentation is the best way to convey your ideas in a visual form. We all have grown up by creating presentations in MS PowerPoint. But when it comes to giving your presentation a professional flair, you need a more fluid yet strong tool.
You want to showcase your ideas with ease, especially when taking knowledge transfer sessions in the organization.
And for that, Canva serves as the best online tool. The tool helps you manage your entire presentation design requirements with ease. You can leverage hundreds of templates to create a stunning presentation. You can add your company's logo to give it a professional touch.
Not only HR teams but designers can also use this tool for creating logos or other design related projects.
4. BambooHR - for payroll & staff management
Employees work hard for the organization. They hit the deadlines. Sometimes, they go beyond their call of duty and take care of certain tasks. In exchange for their dedication and effort, each employee expects to get paid on time and in full.
Keeping track of employees' paycheck cycles along with sick days, holidays, and time tables is a cumbersome task. All this requires some HR tools for easy handling of the functions.
BambooHR is one of the most effective HR tools that allow you to manage all these tasks with great ease. It does everything from creating reports of time table to keeping track of every aspect of the employees.
The tool doesn't let you focus on the process but the people. It gathers and organizes each piece of information. Later on, you can use this information to achieve greater things.
5. RoboRecruiter — for automating hiring and retailing process
Hiring and retaining employees within an organization is a demanding process. It involves many challenges like sending individual emails, replying, forwarding and a lot more.
RoboRecruiter lifts the burden by utilizing automated messaging using a web-enabled chatbox feature. It also manages the engagement rate of a campaign database. The best thing is that it's a multilingual tool that allows HR professionals to transform their database from simple storage of candidates' info to a more intelligent resource.
So, which tool do you think is essential for your HR process? Do you have any other tool in mind? If yes, please let us know by commenting below.
About the Author: Alice Jackson is a business consultant, blogger, social media enthusiast, online market analyst, amateur designer and an avid author at Designhill. She has written on several topics including social media marketing, SEO, content marketing, startup strategies and e-commerce. When she's not writing, she loves spending her time reading romantic novels, creating new tshirt design.