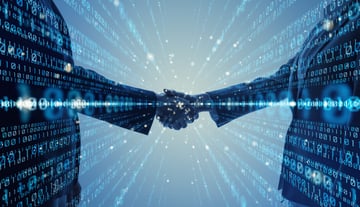 Onboarding refers to the overall process of introducing your newly hired employees to the organization. This involves familiarizing them with the function as well as key values, expectations, behaviors and culture of the organization. Many people, especially employees, tend to treat onboarding as a necessary evil that must be dealt with. But this couldn't be further from the truth. Enabling your company with the right onboarding software can result in more effective onboarding processes that makes it easier for employees to get on with the program, improve productivity, retention rates and ultimately, improve the bottom line. But the cumulative impact of the onboarding process can be much deeper than can be picked up through palpable metrics. After all, this process encapsulates the employee's entire journey at your organization from the first day to the last. IT Support providers can help your organization refine your onboarding process to enable better efficiencies and faster results.


How has onboarding changed during the pandemic?
For better or worse, COVID-19 has permanently altered the way work happens across the world. Needless to say, this also had profound implications for onboarding processes at a global level. In some ways, both the pandemic and the drive for global digital transformation have both contributed to accelerating the rate of changes in the onboarding process. Software Advice reports that 82% of office workers changed over to working from home during the pandemic. Only half of these workers have a set timeline for getting back to the office. Given that we are now more physically separated than ever, HR teams needed to get far more creative in building engaging experiences that could cut across the time and space distances separating office workers from the workplace.


Top Best practices for Remote onboarding
Enable employees with the tech before their first day
It's always a nice gesture for the company to empower a new employee with their computer, tablet, or mobile device ahead of the date they are due to start. This can effectively get them excited for their first day and help set up the machines and troubleshoot problems before the employee begins work.
Make the necessary introductions virtually
As remote employees do not have the necessary opportunities like office workers to meet and greet everyone in the office once they join, organizations must make the effort to introduce them to key contacts virtually at the earliest. This is best left to the new employee's manager as they know the exact people they will need to regularly interact or coordinate with. In the call, the facilitator should not just introduce the new employee, but clearly lay out their responsibilities, and allow free-wheeling conversation in the latter part so other team members can get to know the new employee better.
It's also advisable to ask the new employee to prepare a slide that summarizes their qualifications, experience, additional skill sets etc. This is particularly useful for more introverted team members who may not be as forthcoming or comprehensive in an interactive back-and-forth about their backgrounds with team members who are still strangers.
Ask your team for social support
Socializing with a new group of people has always been a challenge that workplaces have tried to grapple with. The problem has become nearly insurmountable with the advent of virtual meet and greets. It's hard for new people to open up without the comfort of at least sharing the same physical space as the people they are talking to. Even with the convenience of Zoom, opening up over virtual communication lines is incredibly difficult for people.
This is why it makes sense for organizations to not just set up the introductory call, but also follow it up with a spate of more intimate (even one-on-one) call switch win team members that the new employee is most likely to work closely with. Informal calls like these can help new employees get familiar with faces and names and actually build a common ground with new teammates to get them started off on the right track. This could also help the new employees come up to speed on both company/department/project histories before they get more hands-on.
Empower neW EMPLOYEES with an always-updated list of key contacts for support in HR, IT, and more
Right from the beginning of the journey with your organization, you should seek to empower new hires to be curious, speak up, ask questions and make sure they get heard. The best way to do this is through providing them with a comprehensive list of your organization's key players. This information should ideally include a complete list of names, phone numbers, and email addresses of your HR, IT, and points of contact of other teams – including external vendors and other stakeholders who may be relevant.
This comes in handy for new employees who constantly have to exert their faculties to familiarize themselves with everyone instead of learning the ropes on the job. A centralized database with names, job descriptions, images, contacts and other details leaves new employees free to focus their attention on the actual task at hand.
About Sam Goh: Sam Goh is the President at ActiveCo Technology Management, an IT Consulting Vancouver company. Sam comes from an operational perspective, his tenure at ActiveCo emphasizes working with customers to closely understand their business plans and to successfully incorporate the technology component to those plans. Under his leadership, ActiveCo has developed expertise which focuses on enriching the extensive customer relationships by integrating strategic and operational focus areas through consulting. His website can be found at https://www.activeco.com