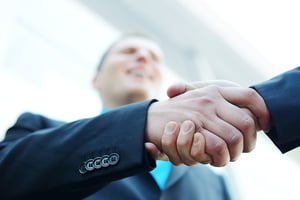 Recruiters have an increasingly challenging task in today's corporate world. Finding and retaining top talent is becoming a very difficult task due to fierce competition, candidate demands and an overall shortage of skilled laborers.
To do their job properly, recruiters have to develop and maintain a number of key relationships. Here are the most important ones and why they matter.
A Relationship with the Candidate
Statistics show that recruiters struggle with this aspect – 63 percent are challenged in terms of assessing soft skills and 57 percent have trouble understanding candidate weaknesses.
Effective recruiters know and understand today's workforce. They also have the communication skills required to connect to a whole new generation of professionals entering the market, while maintaining the traditional scope of interactions with well-established and much more experienced candidates.
Generation Z workers are already making their first steps into the career world. This digital, hi-tech generation is anticipated to change recruitment practices and offices of the future. To communicate effectively and build relationships with such candidates, recruiters have to put emphasis on flexibility, engagement practices and the incorporation of the latest technologies into the employment/onboarding process.
A Relationship with Company Management
Are the goals of the company and the recruitment team aligned?
To answer this question, recruiters need to build a steady relationship with the managerial team.
Just like in the case of online dating, clear communication is important. Things left unspoken can be interpreted in the wrong way, diminishing productivity and contributing to serious, even costly onboarding mistakes.
While the managerial team is typically busy, time should be taken to put practices in place to ensure alignment of recruitment criteria and goals.
A brief meeting before candidates are sought for a specific position can result in a lot of clarity and transparency in the hiring process. Both recruiters and the leadership team of the business should be on board in terms of enhancing the communication and solidifying the bond. Regular updates are a key part of the process due to the fact that recruitment needs and requirements will change as the company evolves over time.
A Relationship with Coworkers
The professional team is the beating heart of a business.
Leadership will see opportunities and challenges in one way. People who are on the floor and who engage in corporate processes on a daily basis can paint a completely different picture.
Regular communication with coworkers will enable recruiters to do their job in the best possible way and identify the most valuable candidates to add to teams.
Team building opportunities arise all the time. These can be present during a simple coffee break in the office, when going out for a lunch together, or during corporate briefing sessions. Communicating in both formal and informal environments are essential to strengthening and deepening the relationship.
A good recruiter needs to have a clear idea of where the team stands right now and what are the biggest opportunities and challenges that have to be addressed. When such information is available, a recruiter can enhance the communication with candidates and make relevant choices for the benefit of everyone.
A Relationship with Other Recruiters
Rules in the field of recruitment are not set in stone.
In fact, trends and approaches change all the time. New technologies and a better understanding of how contemporary onboarding works both provide chances for the evolution of recruitment practices.
To learn novelties and improve their skills, recruiters have to communicate regularly and maintain relationships with other professionals in the same field.
Training sessions, seminars, online learning opportunities and even video conferences can be used to understand the newest developments and the ways to increase the effectiveness of the recruitment process. Even a friendly, casual meeting after work can provide valuable information that can be put to practical use later on.
Relationships with other professionals in the field can also be established and maintained via digital channels like LinkedIn. The professional social network has specialized groups, tons of resources and discussion opportunities.
Connecting with influencers and industry leaders on social media like Twitter enhances the digital communication and the online relationship establishment prospects even further.
Recruiters work with many people, which is why their communication approach should be diversified.
Maintaining all of these relationship takes time and necessitates some effort. Still, ongoing work can simplify the process of identifying the right candidates, communicating the corporate strategy clearly and managing the onboarding process in a relevant way.
Some relationships can be maintained indirectly or through the use of digital tools. Luckily, new technologies decrease the need for direct interaction without compromising the quality of the information exchange. Hence, recruiters should focus on both face-to-face encounters and their digital presence. A well-rounded approach will result in opportunities that cannot be accessed in the absence of the right relationships.
About the Author: Joann Myers is a lifestyle writer with a Master's Degree in Social Psychology. Writing is her big passion as Joann wants to share her knowledge with others so she tries to publish her works everywhere in the web. Besides, she is a leader of the volleyball team and very active person