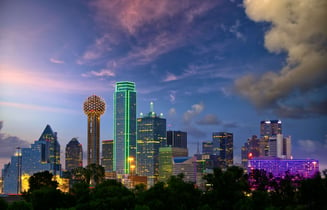 Dallas' industry pool has seen many evolutions over the years. Formerly known as a hub for telecom and energy companies, its market has slowly shifted to encompass a more diverse industry base than ever before. Having been born and raised here and spending my entire Information Technology career in Dallas, I've seen many changes in the DFW market, as well as the North Texas market over the years.
It all stems from the great migration that's taken place over the past 15 years. Many high-profile companies left NYC and California and moved their headquarters operations to Texas' prominent cities of San Antonio, Houston, Dallas, and Austin. And when they did, they brought with them the industry and demand within the DFW market. They also brought lots and lots of jobs!
Today, four top industries are driving hiring and form Dallas' economic backbone.

1. INFORMATION TECHNOLOGY
One of DFW's leading industries is Information Technology. Here's why:
RELOCATED HEADQUARTERS
IT's growth in Dallas (and Texas, overall) has lured in companies from other states such as California and New York. And, a massive number of tech companies, in particular, have declared DFW as their new, permanent home.
WIDE RANGE OF TECH COMPANIES
IT hardware and software companies have expanded throughout Texas, and so have many others. Think about it - we're in a digital age where every company has IT needs. Today, the companies influencing this sector include everything from start-ups to large and small tech organizations.
AN Abundance of Tech Jobs
With the tech company boom comes more opportunity! Both in-person and remote tech jobs are on the rise, ranging from customer and tech support to more specialized skillsets. New tech roles popping up include software development, systems design and analysis, internet and cybersecurity specialists, app developers, and more.


2. FINANCIAL SERVICES
DFW's Financial Services industry is also taking off in a big way. Here's why -
BIG NAMES
DFW is home to many big-time financial service companies with a huge footprint.
Traditional Banking and Fintechs
Dallas companies expanding this sector's economic footprint include retail banking and fintech companies. While retail banking has historically represented the most substantial growth element of the U.S. financial sector, fintech companies are rapidly expanding to take a larger piece of the pie in this area.
Financial Services Jobs On the Rise
As of August 2020, the financial services industry employs 809,000 people in Texas - a number that has undoubtedly grown since. From Financial Analysts to Transaction Advisory Specialists to Financial Data Engineers and more, there are many ways to get involved in the Dallas finance scene.


3. HEALTHCARE
Healthcare is also a prominent industry in Dallas-Fort Worth. Here's why -
Highly-Ranked Hospitals
DFW is home to a number of nationally renowned healthcare resources, including some big hospitals. UT Southwestern Medical Center, Parkland Memorial Hospital, and Baylor University Medical Center are just a few.
Many Other Healthcare Resources
Combined, the city's major healthcare systems and abundance of at-home care and smaller clinic systems make Dallas-Fort Worth a major healthcare hub.
Vast Number of Opportunities
With the wide range of organizations thriving in this space, there is no shortage of opportunities for those hoping to find employment within healthcare in DFW. Current healthcare roles on the rise include Nurses, Case Managers, and so many more.


4. DEFENSE
The last industry I'll mention is Defense. This industry shows no signs of slowing down, and here's why -
A hub for Defense
Driven by recent innovations and technological advancements, the Defense industry is undeniably on the rise in Dallas along with the rest on this list. Several big-name government and federal organizations call DFW their home and contribute to its booming economy.


FUTURE OUTLOOKS FOR DALLAS' ECONOMY
When it comes to DFW's future, expect more diversification and additional growth in these industries. Companies will continue to strategize their new policies surrounding work-from-home versus in-person teams. With more flexibility in work-life balance, we'll continue to see Dallas' economy shift, diversify, and grow.
And finally, candidates may continue to have the upper hand for some time! With the limitless opportunities for Dallas-Fort Worth residents to find the job of their dreams, companies will need to hone in on their hiring strategies more than ever - especially in these key industries.