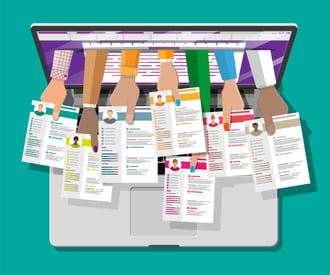 The whole world has moved online ever since the internet became commercially available. Almost 65% of people in the United States prefer shopping online. That's why every serious company needs to invest in its online presence. However, it's not only about offering products online and marketing, as companies can improve all kinds of processes with digital technologies. Digitization has led to the development of countless business tools.
That includes online assessment software solutions. Online assessment tools help you find the right candidates for your business quickly and easily. Here are the 12 best tools you should consider.
If you have specific requirements for your assessments, you need complete flexibility. That's what ProProfs Online Assessment Software gives you.
It has a vast library where you can find dozens of assessment templates. However, this tool's core benefit is countless assessments that can be quickly adjusted and added to your interview.
Along with that comes a question bank with pre-made examples. With all of this, you can quickly create personalized assessments for your candidates.
This platform is designed to help create assessments that are completely unbiased towards candidates. The company used behavioral scientists for building the platform.
At the same time, it lets recruiters make all the applications completely anonymous. Candidates can be randomized to make sure there's no bias.
It's also designed to help multiple recruiters assess their scores and compare them. Furthermore, the platform has a comparative assessment feature to make better distinctions between candidates.
This hiring platform is designed for recruiting engineers. It can be used for assessing the technical and life skills of candidates.
It's part of a full recruitment suite that lets you create recruitment campaigns and interviews. Codility has many ready-to-use code tests, a comprehensive editor, analytics, and a scoring system.
It also comes with an API that offers a lot of integration with other tools you use during recruitment. That lets companies streamline the whole hiring process with Codility at the core.
eSkill gives recruiters the option to combine video interviews with assessments. It's an excellent option for assessing candidates on their communication skills and how much their personality "fits in."
It's designed for organizations with HR managers, staffing agencies, tech companies, call centers, education institutions, and so on.
It comes with a library of pre-recorded messages and questions that can be used per need. eSkill is recognized for its interview and feedback management features as well as scoring and assessing skills.
HackerRank is the choice of over 1000 businesses worldwide. It's a hiring platform designed for tech companies and hiring managers who would like to evaluate their candidates from the very start.
More specifically, it's designed to help when assessing engineers and developers. It has more than 35 programming language assessment options.
HackerRank is amazing for technical interviews, but some people argue that there aren't enough real-world problem assessments. Instead, most of them are like quizzes.
HireSelect is a cloud-based assessment tool that can help accelerate the hiring process overall. It has a variety of tools and tests that can help HR managers and recruiters.
There are a lot of tests available, and they are categorized neatly. It makes it easy for users to recognize and choose the right test for the position/candidate they are assessing.
You can deploy the test in just a couple of seconds. Each test can also be modified and personalized to evaluate knowledge and skills.
This tool has more than a thousand tests for various fields, including retail, manufacturing, finance, coding, etc. However, if nothing of that works, users can also ask for customized tests.
It's possible to do this on your own by going to the test library and changing tests. On the other hand, you can contact support and talk about what kind of test you need.
The company has ranking tools that can be integrated with Interview Mocha. There are also many other integrations with 3rd party tools.
This online assessment tool is designed to measure talent and perform all kinds of testing. It has many assessment contents, including IT tests, non-IT tests, aptitude courses, and psychometric assessments.
All of that is done on the SaaS platform that secures your data and assessments. It's used by over 1500 companies globally, including educational organizations.
It's suited both for small and large organizations. The pricing model is adjusted according to the usage and how many features the user requires.
Plum has a rich database of behavioral data points. This data can give valuable suggestions on which candidates to hire, how to onboard them, and retain employees for a long time.
What's unique about Plum is that it has a survey focused on recruiters. With this pulse survey, managers can quickly define all the behavioral parameters for the hiring role.
All applicants go through a cognitive ability and personality test. Based on the results of these tests, recruiters get a talent profile with detailed information.
In the end, managers can use these profiles to compare their needs with their applicants.
Predictive Index comes with a large number of pre-assessment tools. They work by assessing the behavioral characteristics of candidates and comparing them to the requirements of the position.
The final results let recruiters sort candidates based on their fit for the job, custom requirements, or organizational needs.
That's a seasoned company with over 60 years in predictive analytics. It's an excellent tool for giving projections based on data.
The Pymetrics tool uses artificial intelligence combined with neuroscience games to help companies retain, select, and find adequate recruits. It's designed to create a completely unbiased playing field.
All candidates have an equal opportunity. It has all the typical features, interview management, and a variety of assessment tools.
What's unique about it is that all the rejected candidates can match other companies using Pymetrics.
Simply put, the platform matches them based on their results with other potential organizations that might be interested in them.
Conclusion
That's our list of top online assessment software solutions. Naturally, they all have their differences in terms of the user interface, features, functionalities, and integrations.
It would be best if you didn't make your decision based on this list alone. Take the time to analyze all the online assessment tools we covered and learn more about them before choosing one.
After all, assessment is an essential part of the recruitment process. You need to do it right if you want to get the right candidates for your organization.
Author's Bio: Kamy Anderson is an ed-tech enthusiast with a passion for writing on emerging technologies in the areas of corporate training and education. He is an expert in learning management systems & eLearning authoring tools - currently associated with ProProfs.