When your talent needs shift, so should your RPO program. But, understanding which Recruitment Process Outsourcing (RPO) model to use, and whether your provider is in tune with hiring volume requires a fundamental understanding of RPO. Learn about the most widely used RPO models, and how you can ensure that your provider is doing its job.
Recruitment Process Outsourcing is typically associated with cost-savings because the RPO provider uses a variety of proven tactics to bring greater efficiencies to the recruiting life cycle. While this is one benefit of engaging in a RPO program, cost-savings isn't always the top priority for the client, or talent acquisition teams.



Breaking Down the Model

In recent RPO webinar hosted by Yoh, we discussed RPO beyond cost-savings by breaking down the use cases for two of the most popular RPO models; Resource and Performance Based. In short, a Resource Based model is structured in that you have a set number of dedicated RPO recruiters. They are likely sitting on-site at your location, and their performance is measured by a predetermined SLA, or Service Level Agreement. To make any changes to the structure, process, tools or headcount generally requires a formal approval process.
On the contrary, the RPO Performance Based model is designed with customer-centric flexibility at its core. It will be able to meet fluctuations in hiring volumes by scaling its recruitment team up and down as needed. One of the key benefits to this model is that the ownership of responding to fast-changing market and business conditions lies in the hands of the RPO provider; not the client.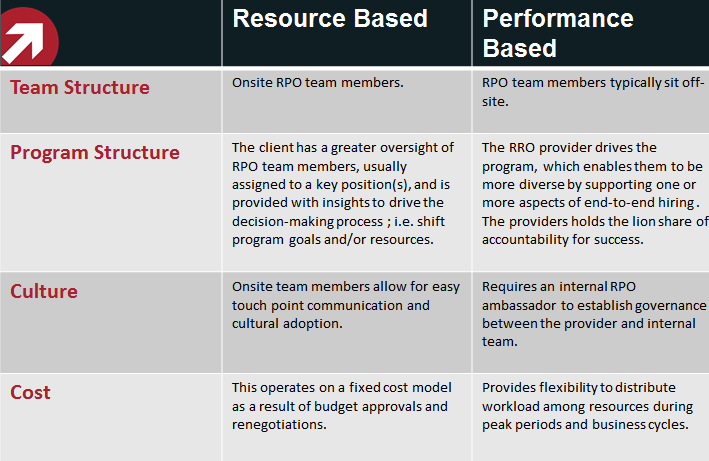 RPO Webinar: Scaling Your Workforce Without Spinning Out of Control
During the live Yoh webinar, we asked the audience, comprised mainly of talent acquisition leaders and managers, the following question: If you had to quickly change your recruiting resources today, how would you do it?
The result showed:
44% shift currently employee responsibilities
44% I'm not sure
11% hire more internal people
Now, unless your organization has its finger to the pulse of workforce planning, you typically wouldn't develop a contingency plan to scale recruiting resources. However, in times of sudden hiring instabilities, this plan acts like your PR crisis communication plan. This is especially important for hiring teams in industries where the talent market is tight or receptive to uncontrollable external threats.
RPO Cost Models

Take for example an internationally-based Yoh client who in early 2015 experienced a massive drop in hiring volume as a result of a volatile global economy. Prior to this occurrence, the company was in the midst of high hiring volumes; which forced them to increase recruiting resources. They adopted a RPO program to control hiring costs and create uniformity in their recruiting and hiring processes.
Flash forward to today and that Resource Based model no longer makes sense for the client's shifting workforce needs. Terms like scalability and flexibility held precedence over process and cost. As such, Yoh presented a Performance Based RPO model to meet the fluctuations in hiring. In this model, the client pays for the outcome, or the number of placements.
During the webinar we provided an in-depth analysis of exactly how you can collaborate with your RPO provider to determine if a performance based approach is the right approach for you. To do so, we looked at the aforementioned client's total hires over the course three years. We then calculated and compared the cost per hire using both the Resource Based and Performance Based models. This exercise demonstrated a cost savings of nearly $800,000 (over three years) when using the performance based approach.
Download the deck and review the cost models from this webinar

It's the job of the RPO provider to aggregate and analyze cost and performance to make appropriate and timely recommendations. A responsible and trustworthy RPO provider will see the writing on the wall, and in this case, it was obvious that the Resource Based RPO model was no longer the right model for the client.
The bottom line is RPO providers have an obligation to their clients to advise them on what's going to drive their process more efficiently. Being aligned on the strategic goals and knowing how to focus on the outcome is what makes one RPO provider stand out from the rest.
This blog was written by Alexandra Calukovic-Deck, aka the Marketing Guru, a data-driven marketer. Growing up in the traditional marketing era, this Inbound Marketer has experienced first-hand the shift to a more digital world. Versed in email, social and content marketing, Alexandra Calukovic-Deck drives the strategy behind Yoh's international sales and marketing divisions. Claims to fame include the longest possible last name ever, certifications in Strategic & Inbound Marketing practices, and lover of all things Philadelphia (especially the Philly food scene).