Rapid Healthcare Workforce Expansion: Recruiting Niche Skillsets for Integrated Healthcare Amid a Global Crisis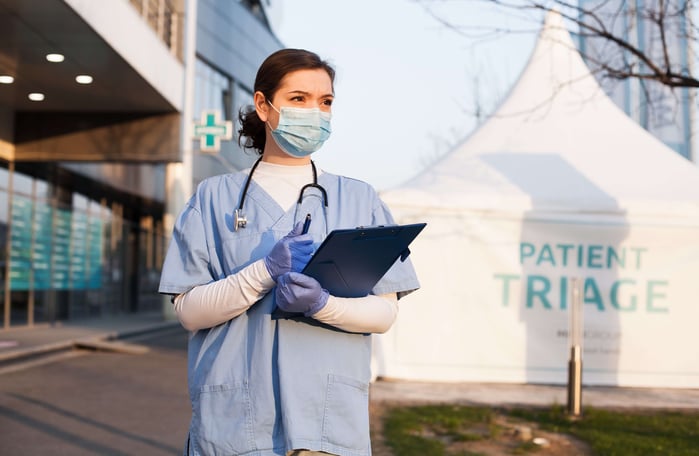 ROI BY THE NUMBERS
25+ YEAR SUCCESSFUL AND COLLABORATIVE CLIENT RELATIONSHIP
761+ YOH PLACEMENTS BETWEEN NOVEMBER 2020 - FEBRUARY 2023

REDUCTION IN TIME-TO-HIRE FROM 3 MONTHS TO 2 WEEKS WITH YOH'S SUPPORT
WHAT YOH BROUGHT TO THE TABLE
Healthcare Support
Contractors and Contract-to-Hire Subject-Matter-Experts (SMEs)
Speed to Deliver


The Dilemma
In the midst of a global health crisis, Yoh's client, a distinguished healthcare system primarily located in Northern California (NorCal), faced a unique challenge. Renowned for its comprehensive and patient-centered healthcare services, the organization had long partnered with Yoh, starting with occupational and employee health services at a single location in the mid-1990s. This partnership gradually expanded to encompass roughly five sites throughout the Bay area by 2020, focusing primarily on nursing staff, as well as wellness and flu clinics during peak flu seasons.
During this period, a critical turning point occurred when a referral was made to the client's regional team at their corporate office. Yoh's Healthcare team swiftly responded by assigning a key Account Representative to engage with the client's regional team and learn about their specific needs. The COVID-19 pandemic was rapidly unfolding, and the client's demand for skilled healthcare professionals surged, exacerbated by the limited availability of healthcare workers in the job market.
By August 2021, the client was faced with a daunting task: quickly filling 400 positions across all 22 of their NorCal sites to facilitate large-scale COVID testing and vaccine administration. Initially anticipated to last 6-8 weeks, this endeavor rapidly evolved into an ongoing and urgent talent need. Once again, the client turned to Yoh for support.
The Strategy
?The client's goal of testing and vaccinating both their member population and the broader community proved to be a massive undertaking. Yoh's Healthcare team quickly devised a strategy to meet the unprecedented challenge of filling 400 positions within a tight timeframe. Complicating matters further, the healthcare sector was grappling with COVID-related regulations and healthcare worker callouts due to positive COVID cases.
Recognizing the scale of the task at hand, Yoh expanded its NorCal Recruitment force from two to eleven Recruiters, plus a Recruiting Coordinator. This expansion allowed Yoh to better align with and meet the client's specific needs. Additionally, Yoh knew it was imperative to effectively collaborate with the Administrators in charge of overseeing the client's temporary talent pools across their facilities. Throughout the partnership, Yoh diligently worked alongside a diverse range of stakeholders spanning from Clinic Managers to Non-Clinical Managers and beyond.
Between November 2020 and February 2023, Yoh successfully filled over 761 positions for their client, including Greeters, Registered Nurses (RNs), Licensed Vocational Nurses (LVNs), Phlebotomists, Managers (both Clinical and Non-Clinical), and Medical Assistants. Yoh's contribution went beyond conventional nursing roles, as Greeters and Ambassadors played a vital role in streamlining vaccine and testing operations, administering over 2,400 vaccines daily from large tents during peak periods. Testing clinics operated as drive-thru facilities, while the vaccination process required individuals to queue up. Notably, a significant portion of these placements consisted of LVNs, valued for their versatility and cost-effectiveness, which met the evolving demands of the client. Furthermore, as the project advanced, additional requisitions emerged, including the need for 100 Phlebotomists.
Starting from the first project discovery call and continuing until the project's conclusion in 2023, Yoh's team nurtured a strong, tightly-knit relationship with the client, characterized by transparent and steady communication. Yoh consistently took a proactive stance in confronting challenges directly, fine-tuning staffing schedules for all 22 sites, and resolving issues during their routine weekly meetings.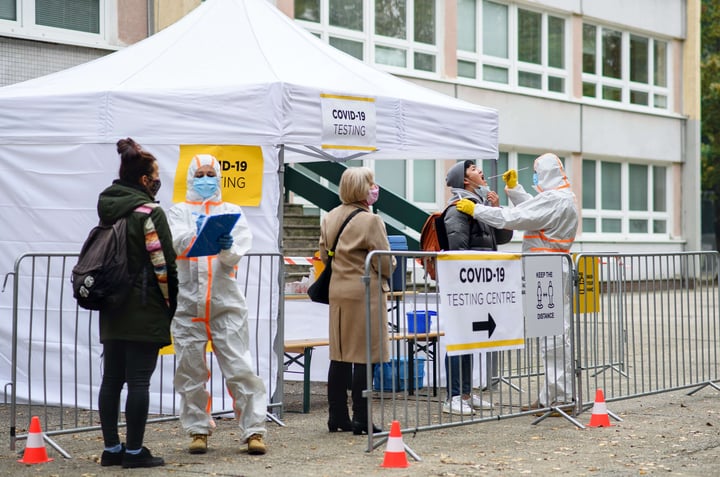 The Impact
Yoh's relationship with the client, spanning over 25 years, has thrived due to their ability to adapt and provide high-quality staffing. Their attributes of efficiency, effective communication, meticulous organization, and transparent processes positioned them as the preferred staffing provider. Numerous candidates placed by Yoh not only stayed with the client for extended durations but also smoothly transitioned into diverse roles and departments. The client's eagerness to rehire and redistribute Yoh's placements underscored Yoh's dedication to continually providing candidates of the highest caliber.
The high-volume staffing project initiated in 2020 served as a pivotal moment, allowing Yoh to extend its support to all 22 client locations, emphasizing their flexibility, scalability, and commitment to client success. Additionally, Yoh reduced their client's time-to-hire from three months to merely two weeks, saving them time and resources along the way. Several key stakeholders from the client's side, such as Assistant Medical Group Administrators and Managers, have expressed their admiration for Yoh, its teams, and the high-quality support they provided, particularly throughout this pivotal project. Notably, the client continues to rely on Yoh for a range of needs that go beyond the scope of specific projects.
The enduring partnership between Yoh and their integrated healthcare client set the stage for continued success. Both parties are committed to nurturing a mutually beneficial relationship, as well as exploring new opportunities for growth and innovation in the evolving landscape of healthcare operations and dedicated staffing.


INDUSTRY FAST FACTS
• In 2022,14.7 million people were employed in healthcare occupations, which accounted for 9.3% of total employment. (Source)
• 676 million COVID vaccinations and boosters were administered in the United States between December 2020 and September 2023. (Source)
• From 2022 to 2032, employment in healthcare occupations is projected to grow faster than the average for all occupations (about 1.8 million openings each year). (Source)