From Startup to Hyper Growth: How Expert Talent Propelled a UK Company in the 5G Wireless Communications Hardware Industry
ROI BY THE NUMBERS
20+ Yoh Electronic Engineering Subject-Matter Experts (SMEs) Placed
375% Growth Rate in Client's Employee Base, From 18 to 85+ Staff
Consulted HR and Operations to Streamline & Improve Recruitment Processes
Built Hardware Modelling Department from Scratch

WHAT YOH BROUGHT TO THE TABLE
Electronic Engineering expertise (or subject-matter experts)
Specialist network within 5G / 4G
Wireless Communications
Specialist network within digital hardware design
The Dilemma
In 2020, a UK start-up specialising in wireless communication signal processing hardware designs faced a significant dilemma. The company, which was aiming to become a market leader in its field, encountered challenges in their recruitment processes due to limited brand awareness and a lack of structure. At that time, they were equipped with less than 20 staff and struggled to attract and hire the right digital hardware design engineers to fuel their growth.
Finding the right talent partner was crucial for the company's success. They knew they needed something special to stand out against the competition and attract top-tier electronic engineering subject-matter experts (SMEs) who could take their product to new heights. Fortunately, their search led them straight to Yoh's UK team, the perfect match for their needs!


The Strategy
Yoh's team quickly devised a strategy to address the client's challenges and achieve their goals. First, Yoh collaborated closely with the Operations and Recruiting teams to provide expert advice on streamlining and prioritizing the recruitment process. Building strong relationships with the client's line managers, Yoh gained a deeper level of insight into their business needs and challenges, allowing them to align recruitment efforts with the company's objectives. This collaboration enabled Yoh to identify critical roles and requirements to be filled.
Yoh then conducted extensive research on the wireless communications hardware industry and academia to gain a comprehensive knowledge base in the field. This research proved vital in finding top-notch experts in wireless communication signal processing hardware and software, enabling them to locate the best-suited candidates with the necessary expertise. From there, Yoh supported the acquisition of 20+ technical subject-matter experts (SMEs), including Program Managers, Modelling Engineers, Hardware Modelling Team Managers, Senior Software Engineers, Principal FPGA Design Engineers, Senior Verification Engineers, Systems Architects, IT Managers, Field Application Engineers, and a Marketing Director.
The diverse candidates Yoh placed significantly contributed to the client's overall success and growth across departments. To ensure excellent service and representation of the company's interests, Yoh's stakeholders proactively organised regular update calls with line managers and operations. This approach allowed them to address ongoing concerns promptly and make necessary adjustments to the recruitment strategy when needed. By maintaining consistent communication and support over time, Yoh ensured a fruitful partnership with the client.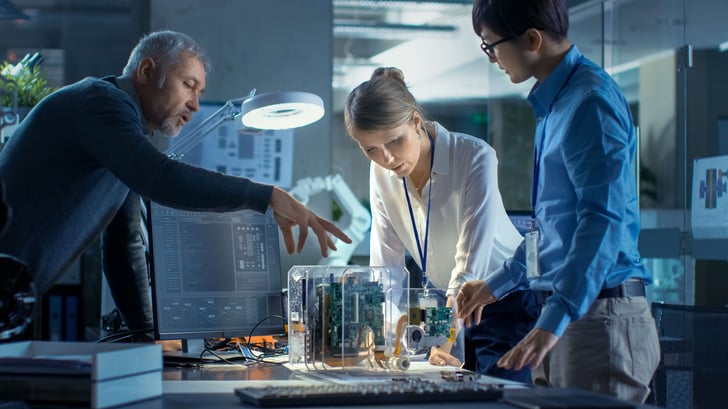 The Impact
Yoh's recruitment strategy had a transformative impact on the client's business. With the expertise provided by Yoh, the client successfully attracted highly specialised engineers, leading to a remarkable enhancement of their employer brand and substantial workforce growth. The company expanded from 18 to over 85 staff members within just three years. Of particular significance was Yoh's crucial role in assembling a team of hardware modelling engineers, a resource that allowed the company to reference designs against TLM models, significantly improving their product development process.
Beyond staffing, Yoh's collaboration with the client extended to other areas. The client expanded its business model to provide IP solutions to global telecommunications network operators and satellite communications customers, securing a recent round of funding. This infusion of capital set the stage for even more accelerated growth, further solidifying the client's position in the market.
Looking ahead, Yoh remains committed to sustaining its positive relationship with the client, continuing to provide top-notch talent in key areas to support future initiatives. The successful partnership between Yoh and the client has driven innovation, growth, and success in the dynamic and competitive landscape of wireless communication signal processing hardware.


INDUSTRY FAST FACTS
• 18% of the UK working population work in engineering. (Source)
• At least 15% of the working population of every UK region are in engineering jobs. (Source)
• The UK is expected to have fully deployed the 3.5GHz (5G) network by 2023 and maintain the same level of coverage to 2025. The 3.5GHz network will cover 68 percent of the UK population, and 12 percent of the geographical area in UK. (Source)