COVID-19 ON THE JOB:
Looking Beyond Temperature Screenings in Ensuring a Healthy Return to Work
ROI Facts
EFFECTIVE SCREENING SERVICES AND HEALTH SOLUTIONS were integral to a safe and successful return to work for companies across industries.
FILLED POSITIONS QUICKLY thanks to expansive network and deeper understanding of skills required.
DELIVERED GREATER VALUE through enhanced occupational health and safety solutions beyond COVID-19 screening.
WHAT YOH BROUGHT TO THE TABLE
Industry-leading expertise in the occupational healthcare field
Scalable, efficient recruitment solution
Acted as a true consultant to organizations in navigating their unique needs in keeping workers safe in this once-in-a-lifetime challenge
Ability to find 24/7 coverage
Customized, tailored approach that fits with client's unique scheduling, and process implementation needs
Degree of Difficulty
9/10
COVID-19 has created unprecedented challenges in virtually every industry.
A fast-evolving pandemic means no solution is permanent – constantly adapting to new circumstances is the norm.
Existing staffing shortages in the healthcare sector are exacerbated by a global health crisis and economic downturn.
The Dilemma
Pre-COVID, the job title "COVID-19 temperature screener" didn't exist. Today, countless companies across industries from entertainment to manufacturing and beyond are looking to hire these screeners to help ensure a safe and successful return to work. It is truly a historic hiring undertaking. Thanks to fast-moving technology, these healthcare workers aren't just taking temperatures anymore. They're helping to manage a broader set of workplace health concerns related to the virus. This surge in demand has created a perfect storm of hiring challenges. There's a significant shortage of healthcare professionals with the necessary skills, and hiring turnaround times are incredibly short. In many cases, if staff couldn't be recruited, hired and on the job in a matter of days, a company's entire return to work effort was in serious jeopardy.
The Strategy
With nearly 40 years of experience in the occupational health field, Yoh was uniquely positioned to help organizations identify their true staffing needs and find the right talent to match. Because of staffing shortages and skills gaps even among many nurses and healthcare professionals, Yoh has undertaken a broader talent search for individuals with the right skills – and personalities – to fill the roles. School nurses, nursing students, emergency medical technicians and even dental students were all good fits for some positions.
The Impact
Time and again, across industry after industry, Yoh has proven it has the experience to identify the right set of skills and the network to find the right talent in this unique challenge. We filled positions quickly and helped clients reevaluate their workforces and reduce the need for multiple occupational health professionals. These organizations are well-positioned to navigate a successful return to work and will reap the long-term benefits of more robust healthcare services as flu season approaches and the occupational health landscape continues to shift.
Workplaces get a check-up
As companies began to explore effective return-to-work strategies, most quickly realized they'd need some kind of on-site medical professional. At first, they needed someone to administer temperature checks and manage individuals coming and going from the worksite. As technology began to do the actual temperature checks, that role shifted to a professional who could monitor screening results and ensure broader on-the-job health.
For some industries like manufacturing, on-site healthcare services is not a new concept. Many facilities have occupational nurses to treat workers if they become injured or sick. They're well aware of OSHA standards and other health and safety compliance requirements. Companies in the professional services sector, on the other hand, found themselves navigating new challenges. Did a law firm really need a healthcare professional in the office? In a post-COVID world, many find the answer is yes.
The entertainment industry has found itself in a unique position when it comes to temperature screenings and healthcare on the job (or on-location). In the chaos of a film set, healthcare professionals have found themselves part temperature screener, part compliance officer in enforcing social distancing rules and making sure actors, crew members, vendors and contractors are all wearing masks. Yoh identified this broader set of responsibilities for entertainment companies and employers in other organizations and adjusted its staffing strategy accordingly.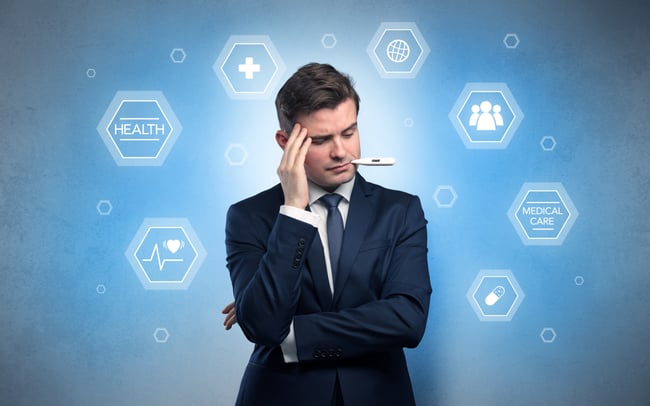 Hiring outside the box
This surge in demand for healthcare professionals in jobs from sitcom tapings to sales offices put serious pressure on the labor market. After nearly 40 years staffing occupational health and safety professionals, Yoh quickly identified a number of hiring challenges. First off, there simply weren't enough nurses and healthcare professionals to fill the openings. Many of the nurses that were available didn't have the necessary knowledge and training to handle COVID-19-related work and often weren't a good personality match for a new environment where compliance was a factor. Finally, there was a significant divide between where healthcare workers lived and where their services were needed.
Yoh tackled these challenges one after another for company after company. And it did so quickly. Often the turnaround time from recruitment to start date was a matter of days. With its expertise in occupational health, it was able to identify job titles related to the healthcare industry where individuals were likely to have the necessary skills. A school nurse, for example, has a very similar set of responsibilities to an occupational healthcare pro. When a child gets hurt or is sick, the school nurse evaluates them, provides light treatment or administers medication, and makes a call as to whether the child should go home, go to a doctor or stay in school. Whether it's a recess injury or a machine injury, that process is largely the same. For other workplaces, other non-traditional job titles fit the bill, especially when it came to monitoring temperature screening and other less rigorous medical work. A nursing student, medical technician, dental assistant or even a former firefighter often had the right skills on their resume for the job.
This approach gave Yoh access to a broader pool of candidates and increased the chances of finding hires that would be an organizational fit. Acting as a compliance officer and convincing employees to stay distant and wear a mask is no easy task, and buy-in and personality can go a long way. It also allowed Yoh to find more qualified applicants nationwide and better staff parts of the country where there weren't a lot of typical healthcare professionals. Yoh relied on good old-fashioned networking and recruiting incentives to close the gap in these rural areas and ensure employers had the staffing solutions they needed.
A Healthy Outlook
Yoh's staffing solutions have ensured employers have the short-term resources needed for a safe and successful return to work. But our approach in acting as a consultant to clients means they're also well-positioned for long-term success. For employers with an existing occupational health and safety infrastructure, we've worked to streamline their program to ensure COVID-19 efficiently and effectively fits into their broader efforts. As flu season approaches, all of our clients have a proven infrastructure in place to best handle the need for vaccinations and employee communication. As a result, many of these employers are in a better position to ensure a healthy workforce than they were before the pandemic.
INDUSTRY FAST FACTS
MILLIONS of COVID-19 cases in the US (and counting) 1
HUNDREDS OF THOUSANDS tested for COVID-19 each day 2
3.8 MILLION registered nurses (RNs) nationwide 3
Sources
1https://www.nytimes.com/interactive/2020/us/coronavirus-us-cases.html
2https://www.nytimes.com/2020/08/04/us/virus-testing-delays.html
3https://www.aacnnursing.org/News-Information/Fact-Sheets/Nursing-Fact-Sheet