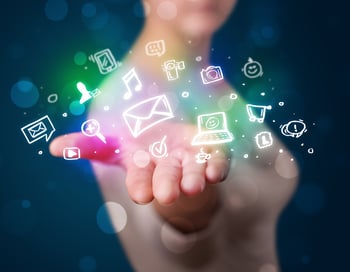 In the world of the workforce, we are not immune to the shift from traditional to new or social media. Consider this piece on Mashable today about leveraging social media to help in the job search. What struck me here is that other than the mechanisms leveraged, there is really nothing generally new about what some inspiring young employables did to secure employment.
Networking, preparation, reference-ability, and adaptation. These tactics are the executable elements of any good career development effort. Today, our reach is simply wider, our resources seemingly limitless, and our experiences more easily shared.
It seems that the career candidates out there have no choice but to aggressively leverage the tools that drive communication. But what about those of us seeking to develop a dynamic strategic workforce plan? How do we leverage today's media to help us intelligently build a plan that will let us preemptively build the workforce we need?
Establish a social media policy
I almost hate using a word such as policy. It flies in the face of what these new technologies are all about, fluidity, candor, and accessibility. Policy sounds restrictive. Regardless, social media has an impact on how your organization is perceived in the public square. It is critical to develop objectives of how the tools will be used to help you build and maintain your pool of talent. Sending out today's version of the wanted ad is certainly one way to go, but a true comprehensive policy will result in a more dynamic recruitment effort that creates a community of potential candidates. And what about retention? Is your firm helping employees connect with peers in online communities?
Create presence metrics for HR and hiring managers
Some firms make the mistake of simply prohibiting social media participation. This is a mistake. Key hiring managers and most certainly, human resources need to establish an online presence. Discuss what is going on in the organization. As hiring managers and HR establish the public persona of the firm, it also provides them an opportunity to network for talent. Social media can be the ultimate career fair. Require attendance from key resources in your organization. Measure their public discourse, the number of followers or friends, LinkedIn contact group participation, etc. (Implicit in such a recommendation is that you establish a sound policy that protects against the well-documented social media pitfalls.)
Involve your workforce partners
More mature talent supply chains have well-ordered workforce partners that serve the needs of all employment segments. An integrated social media campaign brings the supplier and the employer closer together, creating an ecosystem of talent rather than just a benign black box supply chain. The idea is to compliment what the supplier is doing for your organization, promote their success, and call them out on their failures. Jointly discuss trends and ground-breaking methods for cost reduction, quality protection, or collaborative achievement of a critical business objective.