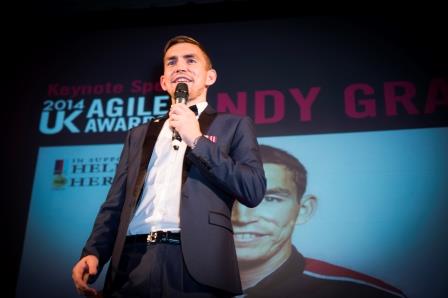 The UK Agile Awards have concluded and with it, another year of notable accomplishments in the Agile community were recognized and celebrated. Even more spectacular than the grand Bloomsbury entrance and elegant champagne reception at that renowned Bloomsbury Ballroom, was the 2014 Auction Items; of which raised £21,000 for this year's official charity, Help for Heroes.
The awards ceremony featured all-star lineup that included celebrity host Patrick Kielty and jazz performances by Sophia Nomvete. But the 2014 keynote and Help for Heroes motivational speaker, Andy Grant, left a lasting impression on the audience. The 250+ guests sat at the edge of their seats as they listened to Grant recount his awe-inspiring journey from active solider to amputee.
Having honorably served his country, Grant captivated the crowd when he detailed the terror he experienced after triggering two IEDs in Afghanistan. He suffered over 27 injuries with significant damage to his right leg. Grant describes his turning point which came while recuperating at Headley Court, a military rehabilitation centre. He witnessed other injured soldiers participating in activities that he could not perform in his condition. With his family by his side, Grant made the decision to amputate his right leg, and has not looked back since.
As a Help for Heroes motivational speaker, Grant lives with a life without limitations. He has successfully completed many 10k races, and has set his sights on the Rio Paralympics. We'd like to thank Andy Grant and Help for Heroes for reminding us of what the human spirit is capable of, and to never stop pushing our own limits.
Additionally, we'd like to thank all of the groups and individuals who purchased auction items. A special thank you to APMG International for their £10,000 purchase of a front page advert of the Financial Times.