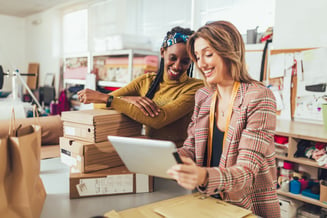 In the last year, the process of "shopping" drastically changed, and brick-and-mortar retailers felt the shift. Covid-19 caused several companies to go in the red, and some even filed for bankruptcy. In response, a number of retailers closed-up shop to go strictly virtual.
According to an article by WWD, "Retail brands that shut down due to bankruptcies or the pandemic are being swooped up and resurrected as direct-to-consumer websites because of the seismic shift by consumers toward shopping online more often, and less often in malls and brick-and-mortar stores." As an IT Staffing professional and a shopper, I can verify that this is a fact, and I've witnessed it first-hand. Today's brands simply can't afford to slack in their online presence, and digital transformation is driving their success.
With that in mind, I want to highlight a brand in the midst of this transition, as well as five tips for brands hoping to "move out" and switch from brick-and-mortar to e-commerce.

A NEW WAY OF RETAILING FOR AN OLD BRAND
One great example of an iconic brand going completely virtual today is Lord & Taylor. I remember as a kid walking into the 5th Avenue store with my mom. With the grand entrance, the beautiful cosmetics space, and just how beautifully everyone dressed, it was like walking into an art gallery. There was so much to look at! Lord & Taylor was definitely where you went for classic and quality. So, when I heard they were closing their doors, it was hard to hear. For me, it just became another example of an iconic store that simply couldn't keep up with the online world… until now.
During Lord & Taylor's "move" to e-commerce, their customers may have turned to the other brands they love: Ralph Lauren, Tommy Hilfiger, or even Club Monaco. But now, Lord & Taylor is back online and here to stay. You can even check out some great articles sharing more information about their transition:
The biggest realization for Lord & Taylor is that, despite going virtual, their customer base is still strong. The camel-coat-rocking, button-down-obsessed, penny-loafer-wearing customer doesn't need to go super lux and high-end but is still willing to pay a little more for quality craftsmanship. Lord & Taylor realized there was an opportunity to thrive in a new, modern way. That realization is consistent across the retail space, and other brands are taking a similar leap of faith. If your organization plans to go strictly virtual, consider the following five tips to do it right.
5 tips for brands going strictly virtual
1. TEST YOUR BANDWIDTH
With the shift to e-commerce, you have to account for a higher volume of customers shopping on your site at once. Does your site have enough bandwidth to support this bump in traffic and simultaneous payments? Hiring the right tech professionals to test your bandwidth and make improvements is key to your site functioning properly – especially when sales rely on it.
2. POLISH AND OPTIMIZE YOUR WEBSITE
If you're a virtual retailer, your website is oftentimes the first impression a customer has of your brand. Because of this, you'll want to make sure it's polished and set up for an optimal customer experience. Consider your site build-out, including user navigation, how products are displayed, virtual "try-on" functionality, and the helpfulness of chatbots or customer service chat options. You'll also want to make sure it's mobile-optimized so customers can shop directly from their smartphones, iPads, and other devices. A digital transformation team is key to ensuring your site is polished and optimized for success.
3. STREAMLINE CHECKOUT, PAYMENTS, AND RETURNS
The easier you make the online shopping experience, the more your customers will want to shop with your brand – ahem - Amazon. For checkout and payments, try to provide a "One-click" or "Remember this card" option so that it's easy to buy (and buy again). You'll also want a simple, straight-forward return process. Some brands even go the extra mile by providing shipping labels and multiple return options. If you're completely at a loss on how to streamline checkout, payments, and returns, you can easily partner with Fintech companies to do it right.
4. MARKET AND ADVERTISE IN NEW WAYS
Think about it – a brick-and-mortar store is right in the customer's face, enticing them to walk in and browse. On the flip side, a virtual store can go completely unnoticed without the right marketing and advertising. How will your digital brand be different or similar to your brick-and-mortar brand? How will you drive people to your site or create buzz around your online presence? The faster you answer these essential questions and establish your digital marketing team, the faster your customers will realize you exist online.
5. PERFECT PACKING, SHIPPING, AND FULFILLMENT
Finally, consider how you'll fulfill orders that come through virtually. Switching from brick-and-mortar to e-commerce puts a heavier weight onto the packing, shipping, and return-handling of products. You'll want to have a plan in place on how you'll tackle the new process.
---
For more information about why your website matters now more than ever in e-commerce, check out my blog on how digital transformation is driving modern retail's success,.