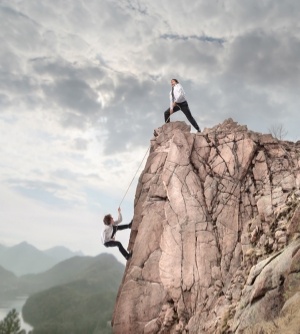 Creating a mutually beneficial relationship with your supplier base is just good practice; especially when that network includes one or more staffing companies responsible for pumping talent into your organization. The more in-tune both parties are in their approach and communication, the better the end results: a continuous stream of exceptionally matched talent.
Many Human Resource professionals understand that the key to successfully attracting and retaining top talent sometimes requires the assistance of an outside provider. When the department tasked with talent acquisition is unable to satisfy its requisition load then they might call one of the following staffing companies for help:
Temporary staffing agencies to fill a small number of industry specific contract or permanent positions
A Recruitment Process Outsourcing provider for 50 or more permanent hires
A staffing supplier and/or MSP provider for on-going and/or large-scale contingent labor hiring
While each of the scenarios above requires vastly different resources, the program goals can be singular: enhance the quantity and quality of candidates. Knowing how to start and maintain the relationship with your staffing company will guarantee you meet your talent acquisition goals.
Therefore, it's vital that both parties are aligned on a number of levels. From creating clear lines of communication to ensuring project milestones are met, the relationship between you and your staffing provider should be treated as a strategic partnership.

7 Tips to Build Relationships with Staffing Companies
If you've never worked with a staffing company, you might find it difficult to not only manage this vendor relationship but preserve the motivation and trust of your internal talent acquisition team members; like recruiters and sourcing agents.
Often times, bringing in a provider can be negatively viewed, but many team members do not consider how staffing companies off-load the burdensome work; enabling your star players to focus on high priority projects. So, before you start walking on eggs shells, use these 7 tips to create a fruitful relationship between you and your staffing company.

Hiring Manager Feedback
If you are the hiring manager, be prepared to quickly turn around feedback on the resumes and candidates presented by the staffing supplier. And keep in the mind, the more specific, the better your recruiting partner can fine-tune the candidate selection. It might be a little touch and go at first, but with time, a reputable staffing supplier should be able to effectively deliver on exactly the type of candidate you are seeking.
Conduct Regular Business Reviews
This is a great and, in my opinion, underutilized procedure. Set up a regular business review where members of both teams participate and share information regarding how the relationship is progressing. These reviews help the partnership be aligned and grow as they continue to help feed the pipeline of talent for your organization

Evaluate Supplier Performance
If you are concerned with how to evaluate your current or future provider's performance, set up reporting metrics in advance to measure the effectiveness of the program. Remember, many staffing suppliers are equipped to take on a consultative role and can provide deeper insights, such as when to flex up or down and tailor solutions to meet these ever changing needs.
Sharing is Caring
Yes, you are paying for the services of the staffing provider, but that arrangement does not mean customers shouldn't see the provider as an equal partner. Often and understandably so, providers only hear when things are bad, but it's important to highlight the wins. Consider that both parties have skin in the game. Sometimes strategizing together with both sides providing insight leads to the most successful hiring practices.

Responsiveness
Hold each other accountable for being responsive. This means returning all calls and emails in a timely manner to get up to date information on submittals of candidates
Accessibility
Be accessible to your recruiting partner by providing them with the main point of contact's information and back up contacts if you are out of the office. Without having back up contacts, candidates who sit too long will be off the market – sometimes every day counts!
Build Best Practices
Send your recruiting partners updated information on organizational and/or employment changes and needs in your company. In order to prepare for staffing growth or declines at your company, help your partners to best prepare.
In order to have the most effective relationship between you and your recruiting partner, these types of activities should be taking place every day. The right people with the right experience level will be on-site and available to help you manage the relationship, but know that it takes effort on both sides.
This blog was written by Leslie Tell. Leslie is the Vice President, Enterprise Solutions for Yoh, A Day & Zimmermann Company. She provides strategic national workforce solutions for MSP, VMS, RPO and direct hires. Previously she was Yoh's National Accounts Director. Leslie has been with Yoh for the past 6 years.