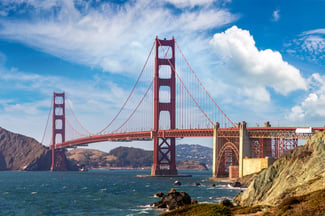 Even though the tech and financial markets are navigating an uncertain time, Fintech innovation shows no sign of halting. Advancements in Fintech continue to leave an indelible mark on digital lending, payments, wealth management, and push the mainstreaming of Blockchain forward. Predictably, the Fintech market is expected to continue to grow at a pace that will keep pushing this innovation forward. According to a report published by Brainly insights, the Global Fintech Market is expected to reach USD 936.51 billion by 2030, at a CAGR (Compound Annual Growth Rate) of 26.2% from 2022 to 2030. What does this entail for the San Francisco market, who currently has the largest concentration of Fintechs in the US?
San Francisco remains a top destination for Fintech professionals. According to the Global Fintech Rankings created by Mambu, the Bay Area still leads the world in the number and quality of Fintech companies. Despite the proliferation of Fintech services worldwide, San Francisco has retained its dominance as a major force in the Fintech space. Bay Area Fintech professionals rejoice!
For eager Tech and Finance candidates weighing the pros and cons of their next employer, this blog will help expand your search and learn about four innovative Bay Area Fintech companies worthy of your consideration. We will detail everything from company mission, unique selling points, and open positions to help you make an educated decision in your San Francisco employment search. Let's dive right in.
4 Growing Fintechs Hiring in the San Francisco Market
1. Chime
This financial technology company headquartered in the Union Square area is quickly transforming mobile banking. Founded in 2012, the company set out on a mission to target the communities typically underserved by financial institutions and elicit financial peace of mind. Currently #8 in the App store finance category, the mobile banking app is easy to navigate and free for users. Unlike other mobile banking apps that are predicated on overdraft fees and minimum balance requirements, Chime caters to the user. With instructional courses and how-to guides, Chime is committed to bringing financial literacy to all communities. The mobile banking app offers high-yield savings accounts, checking accounts, and credit builder capabilities. The simplicity of use and fee-free model separates Chime as a player in the mobile banking space.
If you're intrigued by Chime's mission of universal financial accessibility, then this company might be worth pursuing further. According to a study conducted by Great Place to Work® 2021 Global Employee Engagement, 95% of Chime employees surveyed said 'this is a great place to work.' A whopping 38% higher than the average mark for employees of a typical US-based company. Chime is also growing rapidly, Chime generated $950 million dollars in revenue in 2021, according to BusinessofApps, with a 58% revenue growth from the prior year. Unsurprisingly, Chime is looking to hire to build on their recent growth. Let's briefly take a glance at some of the open positions this Fintech banking company is looking to hire in the Bay Area.
Senior Backend Engineer

Systems Engineer

Lead Data Scientist, Marketing Experimentation

Analyst, Reporting and Data

Director of Product Management




2. Bolt
Many companies lose out on business because the checkout process is too complex. Bolt has created an e-commerce integration to fasten the buyer experience. Simplicity is the name of the game for Bolt. With a simple one-click checkout model, Bolt is helping businesses, small and large, increase sales. Bolt shoppers convert at a 47% higher rate and are 63% more likely to repeat purchases. The numbers speak for themselves. Bolt has eliminated the bottleneck of lengthy e-commerce checkout with great innovative tools to enhance the retail experience. The e-commerce software has bridged the gap between the storefront and digital products.
Bolt offers a 4-day work week and unlimited PTO. Management highly encourages this model and uses it as a unique selling point to candidates looking to strike the right balance between work and personal life. The company is scaling at a torrid pace. Bolt has quadrupled their business since the start of the pandemic. E-commerce is growing and brick-and-mortar retail is shrinking. Therefore, Bolt is operating in a growing market and needs qualified fintech talent to continue scaling business. Let's take a look at some of the remote positions this Bay Area Fintech Company is looking to hire.
Product Manager - Shopper

Integration Engineer

Technical Consultation

Senior Front-End Engineer Financial Products

Strategic Customer Success Manager



3. Forte
Non-fungible tokens (NFT) are digital assets that exist on the Blockchain. Forte has leveraged the Blockchain to create marketplaces to purchase digital assets like NFTs and in-game tokens. Forte is connected to well-known Blockchain ecosystems like Ethereum and Solana. The company has enabled game developers to generate virtual tokens and online communities to facilitate transactions. In-app purchases are made simple and easy with Forte. Specifically built to meet the demands of gamers, players have the ability to buy, sell, or trade digital assets in the native application by integrating the Blockchain. With a connected network of Blockchain platforms, Forte allows sellers to optimize the liquidity of transactions to see the money hit their account in a flash. Embeddable token wallets are the future of the gaming marketplace, and Forte is helping blaze that trail.
Forte is in its infancy stage. Despite only having four years of market experience, the company has raised more than $900 million in capital in 2021 alone, according to BusinessWire. These are remarkable numbers for a company that was founded in 2018. Candidates looking to make a significant impact in the Blockchain and cryptocurrency realms, should look to Forte as a future employer. Forte currently works alongside thirty acclaimed game developers. These developers include Electronic Arts, Sony, and Rockstar Games. Ever heard of them? I bet you have. Let's take a looking at some of the remote positions this growing Bay Area gaming Fintech Company is looking to introduce.
Director, Engineering - Blockchain

Head of Customer Success, Games

Director, Product Manager - Wallet Technology

Senior Product Manager, Portfolio

Director, Security Operations
4. Pave
This Bay area-based software company is on a mission to create transparency in HR compensatory strategies. Founded in 2019, Pave uses market trends and data-driven insights to help companies make equitable decisions about employee compensation. This HR integration can help benchmark pay ranges for a multitude of criteria. These criteria include job family, level, location, and compensation type. The integration outputs a series of percentile salaries to help guide your company on the journey towards compensating your talent relative to the market. The benchmarking metrics are completely anonymous, meaning there is no trail of breadcrumbs to an employee or employer. Pave has allowed companies to leverage market trends to attract and retain top talent with fair compensation packages.
Are you passionate about improving inequitable compensation in the workplace? Then Pave could be the right destination for you. According to CB Insights, the company saw a 25% revenue growth from 2020. Pave, only being three years ago, could be a great spot for an experienced candidate looking to rise through the ranks quickly and make a significant impact. Let's take a look at some of the intriguing positions this Bay Area-based software company is looking to hire.
Backend Software Engineer

Fullstack Software Engineer

Manager Customer Success

Senior Product Data Scientist

Senior Security Engineer



Consider Consulting a FINTECH Recruiter
Fintech professionals in San Francisco should be optimistic. New disruptive players in the Fintech space continue to emerge at rapid pace in the bay area. With a recurring theme of simplicity and innovation, these entrants are shifting the customer experience paradigm. Going forward, it's safe to assume the need for qualified Technical and Product talent for these Fintechs will only continue to balloon. In order to maximize your visibility as a candidate, consider pairing yourself with Yoh Fintech Services talented crew of recruiters who bring an average of 15 years of Fintech market knowledge to your relationship. Our savvy Fintech recruiters will help you land your dream career in San Francisco or anywhere else in the country! Don't believe us? Connect with our Fintech experts and find out for yourself.