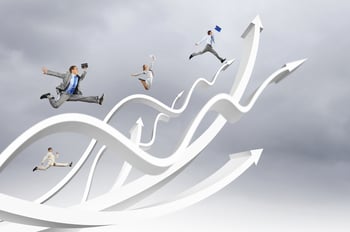 Have you ever managed a team at work?
If you have, then you know all that it entails: the highs, the lows, the headaches, the complexities.
It entails so much because creating a team, particularly one in marketing that functions in a self-driven, self-sufficient, and goal-oriented capacity, is not an easy task to accomplish. It demands the input of valuable time and other resources.
Despite the difficult nature of achieving this feat, it is better to take ample time with your recruitment decisions. Unsatisfactory or unfit hires have proven to be significantly more expensive in the long run.
Consequently, this places more emphasis on the imperative role played by a good recruitment process. Recruitment of prospective employees for marketing is intense and can disrupt your normal working schedule.
So how can employers can build a results-driven team while maintaining the same level of productivity?
How to Recruit the Right Talent for your Marketing Team
If you want to create a functional marketing team, you should focus on making your recruitment process as objective as you can. Adequate preparation ensures that the recruitment process is effective and achieves your targeted goals.
Clearly define your goals
When you begin your recruitment process, write down all that you want your process to achieve. In addition, visualize your ideal candidate and have a clear understanding of why exactly this candidate would fit with your organization and excel in the position.
You should define the following:
● Why you are employing for each job position
● The expected contribution from each job position
● How your team will work together
● The critical and desirable traits required from your applicants
Make an impeccable job post
The type of communication you use in your job post plays a salient role in luring prospective employees. Your post should be clear and succinct. If you make a vague job post, you will attract every Tom, Dick, and Harry.
Instead, it should vividly describe the job position and all that pertains to it - managing expectations every step of the way.
Additionally, you should point out the must-have skills along with the desirable traits. A clear post will lure marketing candidates who feel they can measure up to the task.
Until you are open-minded, your efforts will prove futile. You can personally look for candidates who have amazing portfolios on networks such as LinkedIn.
Make an operative strategy to interview shortlisted candidates
A well-formulated interview plan will help to get the most essential information from each candidate. This makes it easy to compare each of the candidates since they are measured using a similar method. If you prepare adequately before conducting the interview, it will reduce the time needed to pass through each of the candidates. Resultantly, this will create more time to interview all candidates present.
It would be a shame to lose your ideal client because they waited too long to be interviewed. In case you feel the interview process will consume a lot of time, then inform your candidates before they show up only to be disappointed.
Do more than just granting an offer letter
After you find a qualified candidate, you should make it your objective to bring them into your organization. There are chances that your favorite candidate is also your competitor's favorite candidate. If your interview panel feels that a candidate is great for the job position, then don't hesitate to make a point of impressing them.
You should sell your organization to your preferred candidate the best way you can. Whether it's highlighting certain benefits you provide, or highlighting aspects of your company that aligns with what the candidate indicated is important to them. Unless you make them want to work with you, you might end up losing your ideal prospective employees to your competitors. So make sure you do more than the just an offer letter.
How to Encourage Your Team to Act Efficiently
The recruitment process continues after all team members have been selected to ensure that your team is on the same page. Warming up to each other is equally as important because it determines the type of chemistry in your team. The efficiency of your team refers to how easy it can approach issues and solve them.
Encourage team members to embrace each other
If your team has good chemistry this will translate to how well they can work together. United teams are more committed to achieving set targets because they think "company-first" rather than "team-first." You should make it an objective that your team members get along. Team cohesion can all be achieved through team building events.
Clarify your organization's vision, mission, and values
It is imperative to remind your team what your organization stands for. Such instances help to cultivate a sense of responsibility and work ethic among teammates.
Make sure each team member knows their role
All team members should be well informed about the role they play concerning the company objectives. Doing so will make them feel as part and parcel of the team. When team members play their roles the team will become efficient.
How to Motivate Your Team to Be More Results-Driven
Reward work that is well done
How do you feel when someone compliments you for some work done? In the instance where a team member does an exemplary job, you should reward them for it. Rewards encourage people to put in more effort. When each team member is highly dedicated, it results in a superior quality of work.
Know your team members
As great as the human species is, we all have our fair share of strengths and weaknesses. Take the time to get to know each member so that you will know whom to assign which task. When all team members work in areas they are good at, the general productivity of the team will improve.
Create an amicable working environment
The type of environment you work in affects your cognitive abilities. Creating a positive work environment so your team feels more comfortable and confident in their abilities and ideas.
Use data as evidence in every decision
In marketing, data is king. While most marketing deals with words, the marketing tied to business decisions all deals with numbers. Statistics, demographics, conversions, analytics - you name it. Therefore, when constructing an efficient marketing team, use data as your friend. Use it to track timelines and costs. Use it to find efficiencies in workflow. At the end of the day, use analytics in all of your decisions within your team, as well as stakeholders and clients.
Test, consistently and constantly
Marketing is all about testing (A/B testing, CRO testing, User testing, etc.), so it's your best bet to find more and more ways to test and capture insights. When it comes to finding efficiencies, sometimes it's a matter of trial and error. Ideas can stem from reading up on business blogs, or even looking into the marketing agencies are run and emulating their best practices.
How Efficiency and a Results-Driven Approach Impacts Bottom Line
Although many factors are at play, having an efficient team can help solve a myriad of issues with ease. Efficient teams can think outside the box and approach issues unconventionally.
On the other hand, being results-driven focuses on the nature of the outcomes achieved. Results-driven approach focuses on the quality of work executed.
A combination of these two approaches creates an optimal environment to easily create and apply useful ideas. Ultimately it's a matter of getting permanent recruiting for your organization so that as an organization you become more efficient and results-driven (and properly staffed).
About the author: Alex Sal is a business journalist and entrepreneur. His topics range from company culture, leadership development, and growth hacking strategies and tactics for startups.