Perseverance and finding strength in myself and others have brought me to where I am today. I currently serve as a Senior Recruiter of Internal Talent Acquisition for Yoh's sister company, DZConneX. I am also co-chair of our ERG (employee resource group), ADAPT (Abled and Disabled Advocates Partnering Together). My story told in two parts is one I hope will empower others who are reentering the workforce or are hesitant to share their authentic selves in the workplace.

MY STORY
I've been involved in recruiting since 2005. Matching talent with their dream careers and building relationships along the way have been vital aspects of why I enjoy this role so much. I worked my way up to a Client Delivery Manager for another leading staffing provider, overseeing around 10+ recruiters and formulating strategies for program retention and client growth. I worked remotely at the time since my family often relocated for my husband's military career as an FA/18 pilot. I found community within this company as a member of the ERG for Military Spouses, even after he changed his career path to becoming a teacher. It was in December 2015 that my life took a drastic change when I suffered a Grand Mal seizure.
My brain had gone into Status Epilepticus, a seizure that lasts longer than five minutes or having more than one seizure within a five-minute period, without returning to a normal level of consciousness between episodes. This medical emergency may lead to permanent brain damage or death. After five days of this series of seizures, I was put in a medically induced coma to slow my brain and stop the seizures. Six weeks into the coma, medical staff told my husband there was nothing else they could do for me.

My husband stayed beside me the entire time, being the warrior the Navy taught him to be. He assured them and me there was no way we were finished with my fight. As a young, otherwise healthy woman with three young children at home, I had so much more in me to give. I then underwent a right temporal lobectomy on my 34th birthday. I still say that surgery is the best birthday present my husband ever gave me. My dear friend, Tessa, who eventually referred me to work at Yoh, drove from West Virginia to Cleveland, Ohio, to prep me for surgery and sing "Happy Birthday" before my procedure.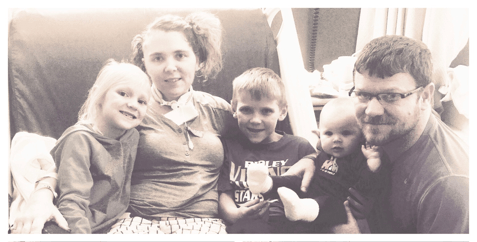 Thaxton Family, shortly after Crystal's procedure


OVERCOMING THE ODDS
After the surgery, my husband was told I might be able to communicate some, but I would likely never walk or talk again and be on long-term disability for the rest of my life. Once I woke up from the surgery, I learned that I had been faced with death and discovered I had no recollection of turning 34, along with numerous other past milestones and memories once shared with my family and friends. Knowing I needed to be cared for 24/7, my husband sought out a remote career allowing him to be home with and care for me. This landed him in his third career- Talent Acquisition. My short and long-term memory had suffered greatly, and it is something that still affects me to this day.

Much to the doctors' surprise, I powered through my rehabilitation, celebrating many milestones along the way. I was up and walking and communicating on my own and returned home to West Virginia in February of 2016. When April approached, I met with my neurologist and shocked them when I requested a medical release to return to work. Whether trying to prove self-worth to my family or myself, I wanted to feel that I could still contribute to my family and society as a whole.


RETURN TO WORK
My role had obviously been filled in my absence, so I returned from my short-term disability leave as an Account Manager. I soon realized I wasn't the person I was when I left. My brain was not at its previous capacity yet, and I couldn't keep up. My colleagues constantly asked me if I felt okay or needed to lie down. I was told by leadership that I could not afford to be making the mistakes I was making in my role while relearning social cues and emotional intelligence, two huge components of a recruiting role.

I stayed for about a year and switched to another company where my husband and friend Tessa were employed. However, I struggled with sharing my story with colleagues and constantly felt like I had to defend myself for my shortcomings. I was faced with not being able to operate at the level I used to as opposed to being okay with who I am now.


DISCOVERING YOH
I needed a change in my work environment, and that is when Tessa referred me to the new company she was working for- Yoh. After the interview process and receiving an offer, I began my role in April 2021. I knew about Yoh and had always admired the company as a respectable competitor in the recruiting field. From the get-go, I felt comfortable being open with leadership about my epilepsy and received nothing but compassion in return. At Yoh, I'm seen for my abilities as a recruiter and not for my challenges. I'm grateful to be a part of a company that allows me the flexibility to work from home and balance my physical and mental health.
During my second week at Yoh, I came across a post that their ADAPT ERG (formerly known as PDARG, People with Disabilities Advocacy Resource Group) was looking for a co-chair. It was such an aha moment that I had truly come full circle. I was referred to Yoh, where I could continue living out my passion for recruiting and helping others and it has an ERG for people like me. Having been in an ERG and knowing the benefits of sharing your life experience, I jumped at this opportunity to co-chair and share my story with others.

Stay tuned for part 2 of my blog to learn about our ADAPT ERG and my journey of authenticity in the workplace!