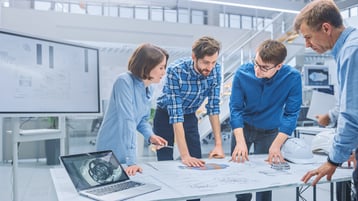 The demand for engineering talent is skyrocketing, with STEM jobs projected to grow over 10% by 2031, twice as fast as other occupations. As technology becomes more ingrained in our lives, the need for skilled engineers to develop innovative products is paramount.
Among the various engineering roles, product engineers play a crucial role in bringing ideas to life, whether in software or hardware solutions. In this blog, we will explore product engineers' impact, their key skills, and effective strategies to recruit them.
WHat Makes a Great Product ENgineer?
Great product engineers possess unique traits that enable them to excel in their roles. They are creative thinkers who can envision innovative solutions within a broader context. Collaboration comes naturally to them as they translate ideas into actionable steps and garner support from diverse teams. Decisiveness, data literacy, and a perpetual drive for improvement further define their personalities.
---
Recruiting for the fast-evolving engineering industry? Click here for expert tips to meet the demand for top product engineering talent.

---
Staffing Strategies for In-Demand product engineer positions
As the demand for product engineers grows, organizations face challenges in attracting top talent. Luckily, our latest eBook features staffing strategies that can alleviate these hurdles. Some of those strategies include:
Promoting internal candidates who display potential for product engineering roles

Crafting enticing job descriptions that highlight the exciting nature of the work

Prioritizing mindset and train on specific technical skills

And more!
Certainly, the job of finding the right product engineers isn't easy – and it's getting more difficult with each passing year. The right staffing partner can provide a snapshot of the talent outlook for product engineers with specific skills and help build your team using their deep pools of talent. They can also help prioritize which staffing strategy is right for your organization.


Emerging tech and a Sustainable Future
Cutting-edge technologies, such as AI, machine learning, and blockchain, continue to redefine the tech industry and its products. Therefore, product engineers and their staffing experts must continuously evolve their skills and knowledge of the field.
As product engineers are committed to continuous learning and professional development in their fast-evolving industry, they are also committed to sustainability. From manufacturing processes to packaging, they can drive sustainable practices and advocate for environmentally friendly solutions. Hiring qualified experts who prioritize sustainability during the recruitment process is essential to meet the growing demand for sustainable products.
Your Partner in Successful Product Engineering Solutions
At Yoh, we know that better technology is driven by better talent. We understand the nuances of finding the right expert employees to serve as top-notch product engineers. Download our new eBook to help you attract skilled product engineering talent, explore emerging technologies, identify key product engineering skills, and more!