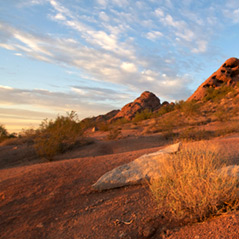 Whether you're actively searching for a job—or simply pondering the idea of making a career change—Phoenix is a great place to look. With a bustling economy, Phoenix is home to a variety of prominent tech and telecommunications companies
With the high demand of select sectors comes an abundance of opportunity. As such, our recruiters and staffing experts combed through the past 24 months of Careerbuilder's hiring data in Phoenix, highlighting the jobs and industries with the most growth potential; including local companies hiring now!
Top Jobs Hiring Now in Phoenix, AZ
Mechanical Engineer
National Average wage/salary: $78,547
Number of postings: 7,839
Top job poster: Honeywell International, Inc.
BLS Job growth outlook: 5% (As fast as average)
IT Project Manager
National Average wage/salary: $102,028
Number of postings: 14,667
Top job poster: Oracle Corporation
BLS Job growth outlook: 15% (Much faster than average)
Pharmacy Technician
National Average wage/salary: $14/hr
Number of postings: 7,977
Top job poster: CVS Health Corporation
BLS Job growth outlook: 9% (Faster than average)
Maintenance Technician
National Average wage/salary: $20/hr
Number of postings: 13,700
Top job poster: Dish Network, LLC
BLS Job growth outlook: 6% (As fast as average)
Information Security Analyst
National Average wage/salary: $91,729
Number of postings: 3,508
Top job poster: Wells Fargo & Company
BLS Job growth outlook: 18% (Much faster than average)
Software Developer
National Average wage/salary: $105,943
Number of postings: 28,066
Top job poster: American Express Company
BLS Job growth outlook: 17% (Much faster than average)
Financial Analyst
National Average wage/salary: $70,669
Number of postings: 13,828
Top job poster: Wells Fargo & Company
BLS Job growth outlook: 12% (Faster than average)
---