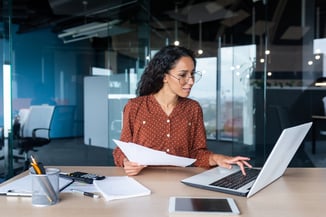 Artificial Intelligence (AI) and its various mechanisms have been making waves across multiple industries over the last few years.
The algorithmic nature of AI makes it easier for us to organize, optimize, and predict patterns of data, streamlining our processes and saving us time. One of the many aspects of the corporate world that can benefit from AI processing is that of Human Resources (HR).
A notoriously paperwork-heavy department, HR professionals are tasked with many different facets of employee management—including talent acquisition. Attracting, hiring, and onboarding top talent is one of the main responsibilities of an HR professional, and AI is already playing a major role in how these processes get executed. How? Let's find out.


HOW CAN AI HELP SUPPORT THE HR TALENT ACQUISITION PROCESS?
Talent acquisition encompasses the tactics, strategies, and processes associated with hiring, managing, and retaining both employees and human resources within a company.
HR departments typically deal with the talent acquisition responsibilities set by their business. But managing this component of HR can require a lot of paperwork and much manual input, much of which can slow down the process of hiring and retaining top talent.
But there's a solution in sight. AI systems can sort through talent candidates, assess potential employee's skills, facilitate online interviews, and even mitigate bias from the selection process. This could transform the speed and effectiveness of HR's talent acquisition stance.
Let's break down seven measurable ways AI can streamline, optimize, and evolve the current HR talent acquisition process:


1. SKILLS ASSESSMENT
Before a company can hire a new employee, they need to make sure the candidate has the right skills for the job. Skills assessments form a large part of what HR professionals do. But this process can be significantly streamlined through an AI system programmed to identify desirable skills.

2. JOB DESCRIPTIONS AND POSTINGS
When recruiting for an open position, HR is typically tasked with writing a job description for the post. However, not all HR professionals possess the technical experience with the job they are describing, which can sometimes result in a posting that lacks the right nuances or keywords.
This is not a problem with AI-generated job descriptions. Drawing from a wealth of other successful job postings, AI systems can create job descriptions that perfectly encapsulate the job role, requirements, and technicalities.
AI can also help HR make job postings faster and attract more applications. CareerBuilder was able to increase its application rate by a whopping 175% by using an AI system.


3. ONBOARDING
Recruits need to feel comfortable and positive about their new role. HR typically handles this aspect of employee management by sending a welcome email, putting together a training program, and providing numerous resources to make the new hire feel supported during the onboarding phase.
A large portion of these onboarding processes are achievable automatically using an AI system. As soon as the offer letter gets sent through and is accepted, the system can send out all the onboarding tools and resources a new employee may need.


4. BIAS MITIGATION
As AI systems learn from the data provided, they can be programmed to promote diversity and inclusion instead of perpetuating the homogeneity so many humans have a predisposition for.
Talent acquisition requires the assessment of race, gender, gender identity, ethnicity, and other demographic details, all of which may be subject to often unintentional bias when conducted by an individual. AI systems focus purely on skill and experience, which can make them less biased screeners.
However, (as is typically the case) it is still useful to apply a human eye to the screenings for the sake of identifying any miscalculations or inaccurate summaries made by the AI system.


5. ECONOMIC ADVANTAGE
AI in talent acquisition has substantial economic benefits. Unlike humans, AI systems don't need to get paid or take leave, making them arguably more conducive to business. However, there is much speculation in the media around the ethics of "hiring" AI over a real person.
That said, with less money going towards HR staff, companies may be able to direct those funds back into other employees or staff initiatives that drive up the value and benefits of working within that system. It's a complex matter that's still under the microscope and in process.
6. CANDIDATE SOURCING AND EXPERIENCE
Candidate sourcing is the process of proactively searching for potential recruits to fill both current and future job openings.
AI is capable of performing this function by screening job sites for potential hires that meet the requirements of a company. Plus, it can analyze internal company data and assess if there are any top performing employees who may be a good fit for the role.
AI can also help candidates understand more about the jobs they are applying for. When interlinked with Robotic Process Automation (RPA), AI works as a response system that alleviates some of the work on HR's shoulders. Think "Siri" or "Alexa".
7. ONLINE INTERVIEW PROCESSES
While this aspect of AI-conducted talent acquisition still needs more time and research to evolve, the science as a whole shows promise as a strategy for picking up on whether candidates would be a good fit for the role they're applying for.
Through the medium of a video interview, AI can conduct an online interview with potential hires. The software can then produce an assessment of their candidacy based on subtle facial expressions and gestures that humans are not always able to pick up on their own.
More research is needed – but the future looks promising for AI in HR
Currently, basic AI systems are already being implemented into the daily work processes of HR professionals. From file reporting and automatic cloud storage to talent acquisition and identifying high performing employees who deserve appreciation, AI appears to be paving the way for how HR approaches its long list of corporate responsibilities.
However, before the full extent of AI's potential in the HR department can be actualized, more research and education is required. While AI technology budgets and readiness is growing in the corporate world, the ability to utilize it completely is still a work in progress.
As we learn more about AI and how it can streamline tasks such as screening, interviewing, or perform candidate assessments, the more efficient HR systems can become.
About the Author: Nina Sharpe is a content champion for various outlets, covering various business topics from finance for startups to small business accounting tips.