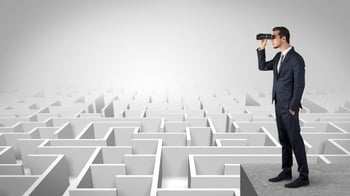 On average, talent acquisition professionals spend nearly 1/3 of their workweek (about 13 hours) sourcing candidates for a single role, according to a 2018 report from Entelo. So if you're a TAP looking to cut back on those hours while uncovering existing talent, increasing response rates, and lowering marketing costs, then look no further – talent rediscovery might be the right approach for you.
Talent rediscovery defined
What is talent rediscovery, exactly? It's the practice of screening candidates who previously applied for a role at your company, and using your ATS (applicant tracking system) resume database to match them to a current open req.
According to LinkedIn's Ultimate List of Hiring Statistics, 70% of the global workforce is made up of passive talent who aren't actively job searching, with the remaining 30% being active job seekers. Candidates who have already engaged with your brand, however, are much more likely to be interested in a new role than others who may be casually "looking."
Check out these 5 Reasons from Ideal's blog on why Candidate Rediscovery Is Recruiting's Next Big Thing:
Employers state one of the biggest mistakes recruiters make is failing to look at candidates in their own database.

95% of recruiters predict the job market will remain or get more competitive.

65% of resumes received for a high volume role are completely ignored.

A recruiter spends 6 seconds scanning a resume on average.

Only 36% of candidates are active.
---
---
how talent rediscovery works
Now that we understand what talent rediscovery is and why it's important – that leads to our next question – how does it work? It works because of technology. Technology's advancement and AI (Artificial Intelligence) have been a game-changer in the recruiting world. According to SAS Insights, AI makes it possible for machines to learn from experience, adjust to new inputs and perform human-like tasks. It's designed to streamline workflow – especially repetitive, high-volume tasks like reading hundreds of resumes.
According to Recruiting Daily, you can rediscover prior applications within your ATS who met the qualifications for the previous role they applied for. AI can mine your ATS to find those resumes again for you. This helps you source quality hires while reducing hiring time and candidate acquisition costs.
So the next time you're searching for talent, think of optimizing the talent you already have in your existing pool of applicants. Hidden gems, if you will. Those who applied for roles previously might be the perfect match for new open roles. Talent rediscovery saves time and reduces costs, so the only question left is: why not?