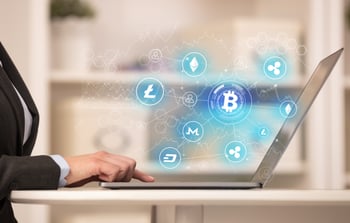 Bitcoin was made popular in the late 2000s because of the investment opportunities it brought. After 2018, right after the all-time high of bitcoin's price, that's the idea that was implanted on everyone's minds. People saw the opportunity, created a bitcoin wallet, began to buy and sell bitcoin, and hoped to make a profit along the way.
However, its underlying technology, blockchain, has proved to be very innovative. People are starting to see its practical applications in today's world—including in careers.
The trend in cryptocurrency careers
Cryptocurrencies have become more popular in recent years, and because of that, more careers are popping up. In fact, it's one of the fastest-growing job markets in the world. This is probably because the cryptocurrency market is worth billions of dollars, and employers worldwide are looking for various people to support that industry.
According to a job site Indeed.com, the share of cryptocurrency job postings per million grew by 26% in 2018. Furthermore, the share of these roles per million increased by 1,457% between 2015 and 2019. This only goes to show how this industry is becoming more relevant by the day.
Big companies like eBay, Capital One, GEICO, Uber, and Match.com have gotten in on the action as well—searching for candidates that list "bitcoin" or "blockchain" in their skillset. Despite this not being clear-cut evidence of the growing trend, it does tell us that there's interest.
There is a wide variety of jobs out there for cryptocurrency and blockchain enthusiasts: analysts that design investment strategies, miners that assemble and maintain mining rigs, and blockchain developers that use the technology to implement company solutions, to name a few.
Who's hiring?
What kinds of companies are looking to hire employees with experience in cryptocurrency? Here are a few that are looking:
1. Startups
Startups are usually run by cryptocurrency enthusiasts and business people who see the importance and ingenuity of blockchain. In turn, they'll create exchanges, provide wallets, deliver cryptocurrency news, write topical blogs, and more.
2. Tech firms
Cryptocurrencies and their underlying technology have the power to say how forward-thinking a tech company can be—which is why tech firms are quickly looking for ways to implement blockchain technology into their systems.
3. Governments
Blockchain technology can streamline tedious and sometimes expensive processes. Countries like Estonia have taken steps towards integrating blockchain into their current systems.
Who are they hiring?
Cryptocurrency and blockchain are inherently tech-based fields where techies, meaning software developers, engineers, and people trained in programming languages (like C++, Java, or Python), are highly sought after. Because a lot will not have a crypto experience, it'll be a new challenge to face. They'll have to learn new programming languages such as the one on the Ripple protocol or Ethereum's Solidity.
With it being a tech-based field, a lot of people would think that most techies are being hired. However, like any other business, they'll need non-techies like designers, researchers, marketers, lawyers, accountants, public relations, and many more.
Why look for a job in cryptocurrency?
There are many reasons why you should, at the very least, consider applying for a job in this space.
First, cryptocurrency is the future and heavily represents innovations in the financial space. Why? Look at bitcoin—it aimed to cut transaction costs and make cross-border payments easier, at a faster pace. They increase competition amongst payment systems as well as decentralize the entire system by giving people the power to control their own finances and information.
Second, you'll be entering a new industry. Take gaming as an example. A few years back, professional gaming wasn't as popular as it is today. Now, gamers are being paid millions to do what they do. Entering the cryptocurrency space now gives you a chance to enter the industry from the ground floor and explore the potential opportunities that come alongside crypto and blockchain technology.
Lastly, we're only scratching the surface in terms of blockchain's practical applications. Sure, right now, the technology is mostly used for cryptocurrency, but the possibilities are endless. Soon enough, it could extend to future applications. It's already being done with several industries like dental care, healthcare, and media and entertainment, to name a few.
Your next job?
Whether you know a lot about cryptocurrency or not, there's space in this budding industry. More and more companies are trying to integrate blockchain and crypto into their current systems, and more job opportunities are popping up. So why not give it a shot?
About the Author: Ignacio Vargas is a seasoned copywriter of Paxful, a people-powered marketplace for money transfers with anyone, anywhere, at any time. He aims to grow alongside the budding cryptocurrency industry by learning about its developments and disseminating that information to all within his reach.