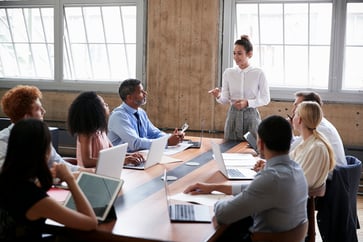 Throughout 2023, the economy and job market have been under scrutiny. Inflation concerns have affected the Federal Reserve and American workers, while the sustainability of historically low unemployment rates has been a topic of discussion. With the second quarter behind us and three more months of Jobs Report data to analyze, it appears that the employment market is in better shape than expected, offering positive insights for both employers and employees.
Yoh has conducted an in-depth examination of the Jobs Report data for Q2 2023, identifying key trends and insights that can inform hiring decisions in the short- and long-term future. Let's take a deeper look at the takeaways. Full analysis can be found in the Q2 Hire Analysis report.
RAPID ANALYSIS – Job Gains Slowing Slightly, Labor Force Participation Stays Steady
When compared to the job gains of 2022, the most recent report may not look as favorable – it reflected the fewest gains made since December 2020. While the economy is still adding jobs month after month, others see slowing gains as an indicator of trouble ahead as the job market finally cools. Time will tell which side is right. However, if the jobs numbers are any indication, the continued growth with gradual slowdowns may signal that the economy can reach a soft landing post COVID-19 and the US can avoid a recession.
INDUSTRY BREAKDOWN – Impact of Increasing Interest Rates
In Q2 2023, certain industries proved sensitive to increasing interest rates. Sectors like warehousing, retail, manufacturing, construction, and financial activities experienced job losses or stagnation. Conversely, industries like healthcare and finance showed resilience. The healthcare sector added 37,700 jobs in Q2, emphasizing the continuous demand for highly educated talent. The finance sector rebounded with real estate, rental, and leasing adding 12,800 jobs, while finance and insurance contributed over 36,000 jobs. However, the information space faced challenges, except for computing infrastructure, data processing, and web hosting providers, which saw a substantial employment increase of nearly 2%.
---
Download the FULL REPORT Here: Hire Analysis: Examining the U.S. Jobs Report 2023 Q2

---
TAKEAWAYS FOR EMPLOYERS – Is the Great Resignation Fading?
Since the start of the COVID-19 pandemic The Great Resignation has plagued employers, with millions of Americans changing jobs, leaving countless positions unfilled. However, in 2023, it seems this trend may be waning. The rate of voluntary job quits has rapidly declined, leveling out, though highly skilled sectors still experience turnover.
While the job market cools, employers in healthcare, technology, and life sciences struggle to find highly qualified talent. Despite slowdowns in retail and leisure, the healthcare sector thrives, adding 130,000 Q2 jobs. Labor still holds power as the predicted recession hasn't materialized yet, impacting wage growth and job transitions. Achieving a balance depends on the elusive soft landing.
TAKEAWAYS FOR EMPLOYEES – Inflation Eases, Part-Time Work on the Rise
Inflation shows signs of improvement, decreasing to 3% in June, marking the 12th consecutive month of declines. Gas prices dropped from $4.66 to $3.54 per gallon in July 2023. Forecasts predict a slowdown in consumer price increases from 4% in May to 3.1% in June, only 1.1 percentage points above the Fed's 2% inflation target. While some prices remain high, these declines provide relief for workers facing the impact of shrinking purchasing power.
As the job market cools, part-time work increases, with 452,000 more Americans working part-time in June, totaling 4.2 million. The rise is attributed to reduced hours due to slack work or business conditions. This trend could signal an impending economic downturn as businesses prioritize part-time hires over full-time positions.
For Black workers, Q1 showed promise, but Q2 reveals significant spikes in unemployment, erasing all improvements. Black unemployment reached an 11-month high of 6.4%, well above the national average of 3.6%. The historical trend of Black workers being disproportionately affected during economic fluctuations continues to be a concerning issue.
FINAL THOUGHTS
The 2023 Jobs Report trends paint a mixed picture for both employers and workers. While job gains have slowed slightly, the labor force participation remains steady, leaving economists divided on the job market's future. The possibility of a "soft landing" after high inflation and rapid growth offers hope, but employers seeking highly skilled talent may still struggle as certain sectors boom. Workers may find relief as inflation eases, but part-time employment rises, raising concerns about a potential economic downturn. Additionally, the spike in Black unemployment warrants attention as the job market evolves. The path ahead remains uncertain, with the key to success hinging on navigating the changing economic landscape effectively.
For more insights into the Jobs Reports for Q2 2023, click here.