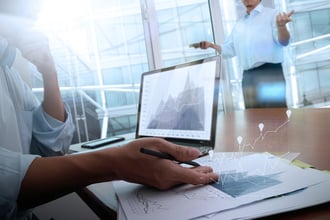 We're in an era of versatility. An era where, in some instances, serving as a Swiss Army Knife of skillsets might get you further than being a SME in one specialty area. The reality is that creative functions are becoming increasingly data-driven, while technical functions are growing more creative by the day. This is especially true within the world of broadcast, media, and internet, where multi-skilled talent is in high demand.
In this booming industry, large and small companies alike are racing against their equally-aware competitors to innovate and grow better and faster. Many are turning towards creativity to solve complex problems and exceed their user-base's expectations. Following their lead will help you stay current with the trends and have the upper hand amongst competition. Whether you're a small streaming company with a headcount <50 or an international media and internet company with offices worldwide, you need to adjust your mindset and strategy across three unique areas: at the employee level, at the company level, and from a strategic advantage perspective. Let's examine each area.
The ELEMENTS OF AN INNOVATIVE DREAM TEAM
The bottom line is - highly skilled talent can produce highly innovative outputs. The interplay of creativity and innovation enables companies to grow exponentially. Although there are fundamental differences, the processes are closely interconnected. At a high level, creativity consists of using one's imagination or original ideas to create something unique, while innovation is more closely linked to business outcomes. For companies, innovation happens when creativity takes the form of a new method, product, feature, or use case scenario.
It's easy to see how creativity can drive innovation success in a business. It's a bit harder to realize that these processes aren't exclusive to roles whose functions are innately creative, such as artists and graphic designers. Today, creativity is one of the most prevalent traits among data scientists, information technologists, UX/UI architects, and other technical functions. It's the driving force for innovation and keeps top companies in the lead. By understanding the interplay of creativity and innovation, you can implement similar talent and team strategies in your own organization. Whether data-centric and technical or innately creative in function, the following traits are present in innovative teams today.
High value on both data and creativity. An acute awareness of how data and creativity interact with one another will allow your talent to tackle problems from new, unique angles.
Diversity, equity, and inclusion. Just as roles and functions need to be versatile, your teams should also be multi-faceted, inclusive, and receptive to viewpoints across varying backgrounds.
Cultural fit. Culture is a core element that enables growth and innovation. If the talent you bring on aligns with your culture, they're more likely to drive innovation.
Collaboration. Collaboration both within and amongst teams provides the opportunity to solve complex problems that can't be solved in silos. For roles that fall onto the more technical or creative ends of the spectrum, the ability to work more closely together across skillsets can lead to fascinating outcomes.
Growth-oriented. Those who are continually seeking growth, learning, and development opportunities are more likely to spot areas for improvements within your company, product, and service offerings.
Open-minded. Stagnation comes about when people are unwilling to do away with the old and try something new. An open mind can take challenges and meet them with a willingness to find and entertain alternative solutions.
Adaptable. The ability to pivot priorities quickly goes a long way. The world of media and internet is ever-evolving and highly competitive, so it's essential to bring on adaptable and flexible talent when the industry is in flux.
Not every member of your company or team will be savvy at everything on this list. By supporting their skill development over time, you can help them hone in on the areas where they could use a boost. With these core traits in your team's back pocket, they'll be able to work together as an innovative dream team to continually find opportunities for product and service development. This. in turn, will allow your company to grow and adapt to changes in user demand and market trends.
IMPLICATIONS AT A COMPANY LEVEL
Versatile talent can have a positive effect on the company level. Say that a team of developers or engineers at your organization notice a gap in the market for a specific product, feature, or application. This finding might push you to develop it to expand upon your offerings. If it becomes successful, it could drastically impact your bottom line. The more your talent is working to discover new opportunities, the more potential you have to act as a trailblazer amongst competition.
You can maximize these implications within your company by focusing on a few key elements. First, you'll need a creative team that's able to bring an innovative idea to action. Second, you'll need a culture model where that team can collaborate and thrive. Finally, you'll need to adjust your definition of what constitutes a "creative" project. At a company level, these action items will help you place your innovative dream teams into a growth-focused model where they can fully utilize their versatility.
Build your innovative dream teams. Versatile talent and teams will analyze the market, notice the gaps, and suggest inventive solutions. You already know the key elements and traits to look out for when building an innovative dream team – now put the strategy into action!
Encourage a culture centered on aligned autonomy. A culture model focused on aligned autonomy is a driving force for innovation. Today's top media and internet companies have culture models with a core focus on this model. This results in tightly-knit relationships, a seamless and collaborative working group experience, less time-wasting, and more opportunity to experiment with new ideas. For example, it could allow unexpected engineering issues and problems within product design flows to be detected and resolved more quickly.
Redefine what constitutes a "creative' project at your organization. The term "creative" is no longer exclusive to functions in art and design. Today, the manipulation of big data in new, innovative ways would definitely be classified as "creative" work. Everything from an innately creative project to projects that are more data-heavy and technical can benefit from a creative approach. For example, you could apply this by creating feedback loops between technical and creative roles to test product design elements and functionality from varying perspectives.
Good creative will drive innovation at your organization as long as you allow it to. By building dedicated, innovative teams, a culture of aligned autonomy, and a clear vision of what constitutes a creative project, you're doing just that.
FROM SILOES TO VERSATILITY: FUSING THE FUNCTIONS AS A STRATEGIC DIFFERENTIATOR
Versatility solves for a multitude of challenges that come along with functionally-siloed talent and teams. Data-centric and technical roles that aren't versatile in creative skillsets can lead to a lack of diverse perspectives, a fear of being creative, and a knack for getting lost in the detail of the data. However, many benefits come about by hiring versatile talent and encouraging specialized functions to collaborate across domains. In the competitive landscape, these benefits will position your company as trendsetters.
Clearly, hiring versatile talent leads to innovation and growth. Top-notch talent with a fusion of technical and creative skillsets can solve for complex end-user needs in unthinkable ways. However, without the right talent in place at your organization to implement these models, you won't make it far. Today's top media and internet companies are already tapping into the benefits of meshing the creative and technical to expand upon their offerings - It's time for your company to do the same! In order to do that, you'll need to employ a talent strategy based on versatility so you can bring innovative ideas to action. Yoh's Specialty Practices can hook you up with the versatile talent your team needs to thrive. Let's link up to analyze your current approach together.