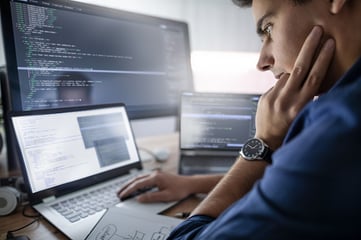 These days, the internet has become our primary source of information and entertainment. It has become so integrated into our way of life that going "offline" is inconceivable to many of us. Unfortunately, the World Wide Web is not accessible to everyone. For some, it is a matter of cost and availability. For others, it is a matter of accessible design.
People interact with the web differently. Accessible web design ensures that people of all ability levels are able to understand, interact, and enjoy using the web in whatever way they encounter it. This means that everyone, not just those with disabilities, benefits from web accessibility. A side benefit to ensuring web accessibility is an improved overall user experience.
When the functions of a website are easy to understand and use, it increases the satisfaction of all users. For example, when closed captions are added to audio and video content, it's not just those with hearing disabilities who benefit. This feature enables users to watch videos on mute. In fact, according to a study on accessibility conducted by Ofcom, 80% of people who use this feature do not have any hearing disability.

So, how can businesses use web accessibility design to improve user experience and increase overall customer satisfaction? Below are some tips that can help.


break down the content on your website
Visiting a website and seeing a wall of text can make users feel frustrated. Not only will it take time to read and digest, all that text can make it difficult for users to find the information they're looking for. Imagine how much more difficult it would be for users with screen readers.
To ensure the accessibility of your website, you need to break down your content to smaller, more easily digested pieces. Headings and subheadings serve as a road map or outline that makes it easy for users to go straight to the content that's relevant to them.


improve your site's navigation
All websites have some form of navigation. However, all of them are easy to navigate which can cause frustration to visitors and even prevent some from accessing the website. Businesses need to make sure that their website has an intuitive layout—one that is familiar to them—enabling them to find their way around the website and access the content they need or accomplish a task they set out to do such as buy a product.
Aside from an intuitive layout, you can improve your website's navigation by keeping it consistent, fixing broken links, making sure navigable elements are all clickable and keyboard accessible, and ensuring that the search function works.


Write good alt text
Alt text is required by web accessibility laws. Providing alternative text to images allows users with visual impairments to consume the same content. However, it is equally important to make sure that any description used is short and accurate. Avoid being too descriptive or stuffing the alt text with too many keywords for SEO purposes.


Provide captions for videos
As we mentioned earlier, adding closed captions to videos on your website ensures that people with hearing disabilities are able to comprehend their content. Captions will also allow people to watch videos on mute or in places with too much noise.
Pro tip: aside from captions, you might want to consider providing a media transcript that includes descriptions of the scenes as well as the actions and expressions of the actors in addition to the spoken dialogue.


Keep web accessibility laws in mind
While these tips will help you achieve a more accessible design for your website, it is important to note that web accessibility laws can change as technology improves. Keeping a list of the most current accessibility standards will allow you to make sure that your website continues to be completely accessible to all your customers. For that reason, it is highly recommended to have regular accessibility audits.


Accessibility is good for everyone, even for businesses
Creating an accessible website isn't going to be easy. It can even be costly, depending on what needs to be done. But the benefits far outweigh these "cons." An accessible website means reaching a wider audience which results in a larger customer base. An improved user experience increases customer satisfaction and boosts customer acquisition and loyalty. Simply put, accessibility is a win for us all.



About the Author: David Gevorkian, the CEO and founder of Be Accessible, has spent much of his career working for financial institutions creating websites and mobile applications and is an advocate for creating web interfaces usable by all people.