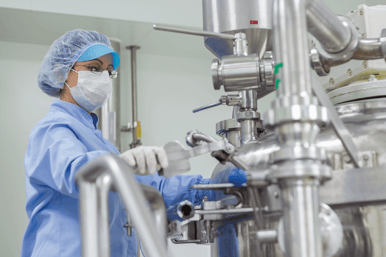 Did you know that the secret to avoiding costly FDA fines could all boil down to the talent or processes you employ? The truth is, Pharmaceutical quality is one of the FDA's biggest concerns and one of the Life Sciences industry's biggest headaches. Luckily, that's where GMP (Good Manufacturing Practice), or cGMP (Current Good Manufacturing Practice), comes into play.

WHY ARE GMPS IMPORTANT FOR PHARMA COMPANIES?
Put simply, GMP adherence to FDA-set GMP regulations assures that products meet their quality standards - like drugs, medical devices, active pharmaceutical ingredients (APIs), and test kits and diagnostics. If properly put into practice, this formal system of controls helps prevent contamination, mix-ups, deviations, failures, and errors throughout manufacturing.
GMPs offer a lot of value to today's pharma companies. The biggest interest for businesses is avoiding costly fees and keeping the FDA at bay, while the benefit to those using or consuming the product is their ongoing health, wellness, and safety. Other notable perks include achieving global compliance and ensuring product integrity, reproducibility, and consistency over time.
While all of this sounds great on paper, maintaining FDA compliance is no easy feat. That's why it's crucial for manufacturers to understand the five main components of GMP in order to keep people healthy, companies compliant, and the FDA happy.


THE 5 MAIN COMPONENTS OF GMP
1. PEOPLE
Regardless of what you're manufacturing, there's a strong likelihood that you follow GMP guidelines to assure product quality and safety. But, GMPs are only effective if you have the right GMP talent in place to make it happen. For example, some key validation, quality, and compliance roles involved in maintaining GMP include -
Quality Control (QC) Technicians, Specialists, Supervisors, Managers
Quality Assurance (QA) Technicians, Specialists, Supervisors, Managers

Manufacturing Technicians, Associates, Supervisors, Managers

Quality Auditors, Quality Engineers, Quality Investigators, Director of Quality, VP of Quality
Regulatory Affairs Specialist, Regulatory Affairs Director, VP of Regulatory Affairs
Because of the discrepancies between all of these roles, it's important to find the right GMP subject-matter experts (SMEs) for the job. To remain current, those in a GMP environment must be up-to-date on best practices and training in GMP guidelines. Permanent full-time employees (FTE) and contract workers should be employed depending on the scope of the duties and length of the project. The right people for the job should be able to keep the products, processes, procedures, and premises in check.
2. PRODUCTS
The first step to manufacturing an FDA-approved product is ensuring the appropriate raw materials go into your product. You'll need clear product specifications for every phase of manufacturing.
The second step is detecting and investigating product quality deviations. That's why the right team or person for the job should be proficient in product safety and compliance. They'll play a key role in making sure every component going into the product is safe so that the final outcome is approved without any hesitation.
3. PROCESSES
It's important to build quality into the whole product lifecycle. You'll want to define and validate clear and consistent processes, as well as which technologies will be used. These standardized and well-documented processes will keep your company compliant throughout product manufacturing.
Another thing to remember is that today's companies are required to use technologies and systems that are up-to-date in order to comply with current regulations and guidelines. What may have been "top-of-the-line" a decade ago is likely to be less than adequate by today's standards. Consider refreshing to avoid any backlash within this area.
4. PROCEDURES
Once your processes are defined, it's time to train your teams to strictly follow all guidelines. Establishing strong quality management systems and building out robust operating procedures are two major elements of GMPs that keep everyone aligned.
The right person or people for this job will be able to write and follow these procedures, keep organized records, train and develop staff to follow all guidelines, and perform regular guideline audits.
5. PREMISES
And finally, GMPs are designed with the premises and facilities in mind. For example, the right SMEs will help you get your facility design right from the start, as well as maintain reliable testing laboratories and equipment over time. This includes the cleanliness and calibration of all equipment used throughout product manufacturing.
Keeping your premises in check is one key aspect to ensuring a consistent product in quality and safety. It also benefits you in the long run by providing opportunities for reproducibility and scale-up manufacturing,
FINDING THE RIGHT GMP SUPPORT
When you boil it down, GMPs are designed to recommend guidelines for the authorization of product manufacturing and the subsequent control of manufacturing those products. By adhering to GMP guidelines, you can assure the quality of the products you're making. It also allows you to confirm that you've taken every possible measure to ensure the safety of the product and those who consume or use it.
Partnering with an organization to match you with the right talent is critical for GMP to remain current and up-to-date. Finding the right individual with knowledge, experience, and training in GMP guidelines and FDA regulations could mean immeasurable success or a costly loss for a company. For many, the best solution is outsourcing life sciences talent.