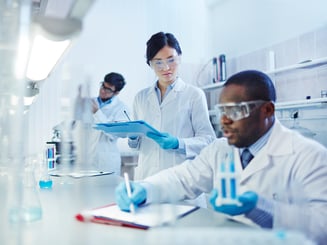 FDA-regulated industries uphold incredibly high standards when it comes to quality of work, equipment protocols, and process safety and efficiency. Unless you're in the thick of it, it's hard to truly comprehend the immense amount of scrutiny and pressure the FDA places on companies in the pharmaceutical, biotechnology, vaccine, and gene therapy manufacturing spaces. Since these critical industries deal with people's health, wellness, and safety, corners simply can't be cut!
As someone who knows the Validation, Quality, and Compliance (VQC) space inside-out and works in it daily, I'm here to explain the distinct roles that each of these solutions can play to help your organization grow while meeting and exceeding strict FDA standards

Validation
Validation, or Qualification, is the process of proving something is repeatable and will stay that way. It's integral to the process of launching any new drug, vaccine, or therapy, with the sole purpose of helping you achieve growth and mitigate risk or legal scrutiny. Validation gives you more stringent control of the process, which, in turn, supports less waste and more successful and efficient operations. To many, Validation isn't just a regulatory requirement – it's good business!
Detailed processes, tools, and subject-matter-expertise are needed to validate processes, equipment, or instruments effectively. From development, to testing and eventually public release, the amount of oversight required by the FDA demands near perfection from companies and the Validation professionals assigned to assess their processes.
There are many types of Validation and Qualification, including Equipment or Instrument Qualification/Validation, Automation Validation, and Process or Cleaning Validation, among many others. Regardless of the type, it takes resources and expertise to ensure your program is successful. Subject matter experts (SMEs) with technical knowledge, capable resources to do the execution, or Program Managers to execute the vision may be necessary at different stages of the Validation process. Validation experts typically have 10+ years' experience in the field, and a deep knowledge-base in the operations, engineering, manufacturing, or quality environments.
QUALITY
Quality is the process of making sure that all of the components, materials, and equipment produce accurate and acceptable results. Whether it's on the manufacturing floor or in the laboratory (Testing Lab or Clinical Lab), Quality is essential to everything!
To achieve FDA-regulated Quality standards, you need the right resources, operations protocol, and data management procedures in place. Maintaining Quality takes thorough, strategizing around resources, programs, and technical expertise. A healthy balance of these components will keep you out of legal risk.
Similar to Validation, several types of Quality measures are necessary to keep your processes, equipment, and instruments in check. From planning to commissioning to executing and reporting, a lot goes into Quality success. Take a look at some Quality checks and planning here.
Executing your Quality programs requires support. Whether you need additional technical expertise, assistance in developing programs, or the right experts on-hand to implement those programs, Quality is key to success. Personnel with the right expertise and technical knowledge can be a great asset to your organization. Most Quality professionals showcase in-depth knowledge of Quality Assurance (QA) and Quality Control (QC) principles, concepts, industry practices, and standards. They also have a keen understanding of quality systems regulations and best practices to mitigate FDA risks and legal implications.
COMPLIANCE
Compliance ensures that the data and results from both Validation and Quality testing are in order and meet standards, process requirements, and Governmental Regulations. Compliance is integral to the continued overall acceptability of the 'whole" process.
In critical industries such as the pharmaceutical, biotechnology, vaccine, and gene therapy manufacturing spaces, companies face regular FDA audits to ensure their processes and equipment are up to par. To ensure you meet FDA standards, pre or post-audit, you may want a third-party vendor to come in and complete certain compliance checks. These include Pre-inspection audits, Master Planning, SOP and Quality Program development, and Remediation Support.
NEED CONFIRMATION? YOU NEED VQC!
Since 1987, Yoh is one of the First Contract/Project Validation Businesses in the US with a North American footprint and global capabilities. We understand establishing, maintaining, or updating standards takes the right team and Yoh's VQC group can provide that team.
Check out our success in bringing Validation, Quality, and Compliance services to a long-term client.