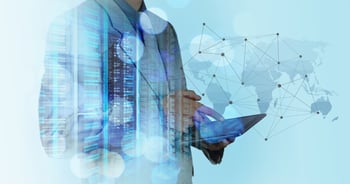 AI is now an integral part of human resources. And when it comes to complete changes in the recruitment process, all credit for this shift goes to technology.
Artificial Intelligence is not a new word these days, but it is the most popular. The AI market is growing and becoming an essential part of every business. If we talk about the human resources industry, then automation has simplified its activities to a great extent.
Exploring the Potential of AI for Small Businesses
For a small business, the implementation of Artificial Intelligence can seem like a challenge. It is easy to dismiss AI as a sophisticated and slightly expert tool that can be understood only by the experts, but this attitude is wrong. Small businesses should also take advantage of AI to enhance their business.
Can I show you how AI can be beneficial for Small Businesses in Recruitment?
Here are a few pinpoints to be touched.
1. Chatbots: Chatbots are the best creation of AI. An intelligent chatbot can make a recruiters' life more comfortable and help in speeding up the recruitment process. It also provides an amazing candidate experience by providing timely responses. Chatbot in the recruitment industry has also proved to be beneficial for screening candidates.
2. Resume Parser: A parser helps you by extracting resume information and saving that same information in the data fields of your ATS/CRM. Not only can it fit into your budget but these can also be used by any layman, as well. Choosing a parser which comes with no coding means there is no need to hire technical staff to use this tool.
3. Automation: Many HR professionals feel that automation might put their jobs at risk in the future. However, this is not true. Automation in recruitment will allow the recruiters to conduct interviews anywhere, at any time. With this digitization of interviews, technology will help recruiters to record the meetings so that they can later further analyze the candidate's capabilities. Automation will help in improving the quality of hiring and to predict how the candidate fits into the best role.
4. Building a Relationship with Candidates: AI helps companies build relationships with candidates. First, it provides a platform which proactively builds relationships with passive candidates. Secondly, it reduces the hiring cycles and creates sources for hiring. In addition, AI and Machine Learning elements provide a platform to identify the passive candidates who are the best fit for the profile and even suggest or provide slots to reach out to those candidates.
5. Remove Bias: There are a few tools or applications through which we can minimize bias. It's imperative to streamline and keep the process bias-free through recruitment software which provides benefits starting from finding the candidates, to reaching out to them through a Applicant Tracking System (ATS). With a recruitment process free of bias, you can ensure that your recruitment decisions are based solely on relevant data. In this way, recruiters will be able to recruit the right candidate for your company.
6. Shorten Recruitment Process: Skilled hiring is always a double-edged sword. You want to hire the right candidate for your open position but you also need to fill that post as quickly as possible and make it cost effective. AI is drastically improving the recruitment process by automating time-consuming tasks. Recruiters must work intelligently and AI uses smart filters to shorten the list of eligible talent so recruiters can focus on the other processes of HR. If you are looking at saving time and reducing manual efforts, adopting technology is the first step. AI has not only shortened the period of doing a task but also enhanced the efficiency and productivity of employees, so it's essential for a small business to take advantage of this revolutionary technology.
In Closing
With any new technology, many people are doubtful and want to see results before they will take the leap to try it. Small business can be improved with artificial intelligence, from their marketing to their human resources and well beyond. Small and medium-sized businesses (SMB)s should be prepared and excited to incorporate this technique into their daily practices. With the right tools, software, and programs, we can develop an automated process which can improve the quality of your candidates and their application experience.
About the Author: Lovepreet Dhaliwal works with RChilli Inc, a leading CV parsing provider which helps in speeding up your recruitment process. An MBA in HR and marketing, he has over seven years of work experience in business development and strategic sales.