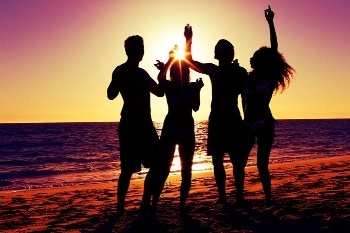 Looking for ways to create a long-lasting team bonding experience in a thrilling yet physically and mentally challenging scenery? One of the basic objectives of most management training programs is to enhance organizational team bonding, the foundation of cohesive functioning and productivity. In the midst of a huge variety of corporate team building activities, outdoor team building training offers a wide a number of benefits.
Team bonding options available to human resources training professionals include a range of corporate team events that could be one-off or ongoing, onsite teamwork activities within the organizational structure, team building days, or an outdoor team building program. Of these, a structured outdoor team building and adventure program high up in the mountains or deep in the wilderness adds significant value to executive education programs.
Key Benefits of an Outdoor Team Building Program
The advantages of an exclusive, structured outdoor team building capsule are several. Chief among these:
The nature and design of the program serves to isolate the participants from the outside world and from work and life-related intrusions, thus providing an intense and focused experience.
The adventure experience is designed to challenge participants both physically and mentally: enabling them to experience each other at depths not usually reached in normal work situations, and forge deep-seated bonds.
The challenge of the adventure activity, followed by the triumph of achievement and the "can do" high that follows, usually leads to an enhanced sense of self-worth and relatedness with others in the group.
The experiential nature of the activities provides participants with the opportunity to observe their own behavior when working in a team, see for themselves where and how it is dysfunctional, experiment with modified behavior and observe the benefits of the changed behavior.

How Team Building Adventure Programs Work
A typical outdoor team building training program, usually an adventure program designed with team building as a deliverable, runs for several days. While a short two day capsule works, return on investment is significantly higher in the case of longer programs.
Participants of an adventure program are taken away from the workplace to the site of the adventure activity planned for the purpose. The team is made to face challenges that stretch physical and mental boundaries, in the facing of which many barriers fall away. An environment of vulnerability, trust, courage and achievement is created, and deep bonds are forged between group members in this environment.
The resultant interactions and perspectives, both from the faculty and team members, also create a climate of acceptance and change, leading to more effective functioning in team roles.
Bonus! Outdoor team building training is effective at all levels – from fresh entrants right up to the topmost rungs of enterprise, making it a valuable addition to a variety of executive education programs.
About author: My name is Enrique Peters. I'm business consultant at DoMyHomeworkFor.Me specializing in the leadership development and time management, and guest post writer. I also provide training and coaching in the strategic and operational aspects of startup projects and business development.