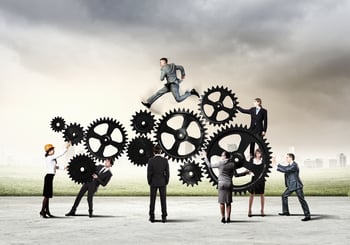 Happy employees spend 80 percent of their working hours doing what they are supposed to be doing, while their unhappy counterparts are only 40 percent engaged, author and CEO Jessica Price-Jones told Forbes. A big part of employee satisfaction is getting everyone working together towards common goals, no matter the type of job or salary.
Renting office space and launching your company website will likely be your first steps when launching a business. Building team unity will take more time, but is essential to the success of every business, large and small. Basketball and football teams that win a lot of games have players who trust and respect one another, and want to see each other succeed. This same mentality must be present in the workplace if your business is to be successful.
Minimize Negativity, Maximize Transparency
A 2012 study by Cornell University entitled "Building Unity in the Workplace" focuses on employee engagement, along with openness by management, to achieve solidarity. Rumors about layoffs, major changes and other operational issues can cause division and, subsequently, lower production. Keep your team up-to-date on all the latest happenings that could potentially effect their jobs. Employees should know that they can go to human resources or even their CEO to address any and all concerns without fear of reprisal. Some employers provide ways for workers to anonymously voice a concern to further encourage open lines of communication.
Communication is key in every relationship, including those in the workplace. Your business likely has several different personality types and differing roles. Bridge these gaps by holding mixers during work. Pair people up who are on the opposite side of the business and have them talk about their commonalities and differences. The better people know and understand one another, the more difficult it is for them to make snap judgments.
Invest In Wellness
Johnson & Johnson has been investing in employee wellness programs since 1995. The company addresses physical and mental health, along with social and family issues. The company boasted a return on investment of $2.71 per dollar allocated to these programs, according to the Harvard Business Review. This was due mostly to lower overall healthcare costs and increased production from employees. A healthy team, physically and mentally, is a happy, productive one.
Offer discounts to local health clubs and gift cards for quitting smoking. On-site childcare is also an important benefit. Parents who utilized on-site day care reported both increased concentration and productivity on the job, according to a 2007 study by The Consulting Practice at Bright Horizons. Healthy, happy employees are also more likely to stay with your company, thus keeping the team together. The National Business Group found that effective wellness programs significantly decrease voluntary turnover.
Encourage Education
People who drop out of high school are more likely to spontaneously drop out of personal relationships without considering the circumstances thereof, said David Popenoe of the National Marriage Project, via Divorce360. Dr. William D'Antonio echoed these sentiments, indicating that the higher the education level achieved, the harder people work at maintaining good relationships.
Employers can offer incentives, such as pay raises or tuition reimbursement, for workers to finish or commence a degree program. Obtaining a degree today is much more convenient than it was in the past because of the growing acceptance of online studies. Utilize resources like CollegeOnline.org to help interested workers find not only the right program, but the right college for them.
Competition Outside of Work
The best way to make employees feel like they are better as a team than individuals is by literally competing as a team against others. Get your company involved in bowling leagues, softball tournaments and other activities employees can participate in. Even the ones who don't play can get involved by cheering for the company against rival businesses in direct competition. Fantasy football leagues are also a great way to get the friendly competition brewing.
This post was written by Wilbur Hill. Wilbur is a social media strategist and consultant for small businesses.