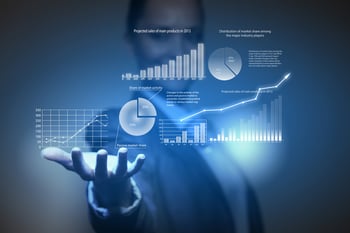 Several companies depend on data to drive their applications and company strategies, and this is for almost all businesses. As per Gartner's latest reports, as close as 50% of IT leaders planning to invest in analytics for the upcoming year will not be surprising.
Leverage Business Data
The fact that everyone needs data is accurate; however, not everyone understands what they are doing with their data. And the future investments aim to resolve that. One significant point of interest in discovering the Chief Data Officer (CDO) survey undertaken early last summer is that several analytics investments will be used to evaluate and support digital evolution strategies.

It must be noted that if as close as 50% of businesses are seeking to invest in analytics, the rest 50% aren't. The Chief Data Officer survey discovered that less than 50% of recorded business strategies don't declare data and analytics critical elements for delivering business value. Why so? As per the research president at Gartner, Mike Rollings, the genuine reason is the restrictions of conventional analytics offerings.

The reason for this is conventional data, and analytics techniques neglect the needs of digital business. The latest data and analytics serve a full business purpose and are more synchronized into the ways people work than before, giving rise to data and analytics techniques to come to the fore. Rolling further added during the Gartner IT Symposium in Orlando last week that IT leaders need to view data first to prosper in their digital initiatives, instead of giving them a second thought to help with ad-hoc projects.


Leveraging Analytics
The significance of analytics got boosted by the fact that Chief Data Officer respondents in the survey discovered that the implementation of data and analytics techniques was ranked the third most-crucial to success. What are businesses using analytics for?

According to Calloway Cook, founder of New York City's Illuminate Lab, in 2019, many enterprises are successfully using analytics to propel paid marketing decisions. However, in 2020, there will be more enterprises leveraging analytics to measure employee performance in a more powdered way.

Many organizations have KPIs such as sales and leads driven, and don't measure staff on any other basis. Cook says that with the latest software tools coming up annually to measure staff's performance on metrics such as productivity per hour worked and productivity at different times a day; businesses can further enhance their staff's performance without working them more hours.

Deloitte states that the top success factor for CMOs today is its ability to leverage consumer data and analytics successfully. Still, businesses today are not displaying a steady ROI on their marketing analytics investment.
Opposing Analytics Trends
Based on that, another Gartner study shows that by 2023, 60% of CMOs will slash the size of their marketing analytics departments by 50% cuz' of a failure to realize guaranteed improvements. Time and again, this is a problem that stems from not having the essential business structure or leaders in place.

However, vice dean of analytics at Wharton School and founder of GBH Insights, Eric Bradlow, states that there are five ways marketing leaders and CMOs can generate healthy outcomes and ROI for their marketing analytics investment to resist Gartner's speculations. They are:
1. Establish Organizational Structure to Implement Better Data
To leverage the power of analytics, businesses need to form organizational structure and processes to immediately and automatically gather, evaluate, and act on available data. It can be challenging to tap into the right data.
2. Create Analytics Leaders
Analytics leaders are those who connect data science with marketing techniques. The next critical success factor for businesses is creating and hiring the suitable leaders who can combine both business strategy and data science. Analytics leaders require to know enough about the industry to inquire about the right questions of data.
3. Recruit a Chief Analytics Officer
Businesses need to raise the level of significance of analytics. How do companies grow the importance of analytics and create the data-driven culture, abilities, and leaders required to evolve their business successfully?

One shift we are observing is the advent of the Chief Analytics Officer, or Chief Data Scientist across more businesses.
4. Concentrate on Improved Data, Not Immense Data
A continuous challenge businesses face today is what we can improve data, not immense data. Several companies it happens that companies gather data just for the sake of quantity, instead of opting for a lean approach where they collect data when it helps enhance the experience for their target customers, or better forecast their future behavior.
5. Detach the Indicator form the noise
Businesses that do this continue to forecast and improve business outcomes. Optimizing ROI for marketing analytics needs continuous learning and experimentation to detach the indicator from the noise. The best way to know and understand your customers is to see what works and what does not.

Bradlow said that many advertisers know the Holy Grail phrase, provide the right product to the right individual at the right time. He further adds that it was more challenging in the past since they didn't know where the customers were. At present, when advertisers use improved data, they know where the consumers are and where they are more likely to be.
Data Democratization
The global head and VP of analytics and insights at Tata Consultancy Services is Dina Kholkar. He talks about the future and says the role data is likely to play in organizations. He says, data democratization is critical for the success of CIOs in 2020, and is getting increasingly more effective in the digital workplace.

While data democratization is the trending topic amongst CDOs and CIOs for some time in 2020, it will become a broader issue. Dina further adds that the CIOs who make data more available to employees will be the most accomplished while being aware of security and ethics and enhancing the system's performance across the businesses.
FInal Words
This is how data analytics plays a very crucial role in transforming the digital platform. And the reason why data scientists and data science companies are putting in efforts to get better day by day.
About the Author: Melissa Crooks is Content Writer who writes for Hyperlink InfoSystem, a mobile app development company in New York, USA and India that holds the best team of skilled and expert app developers. She is a versatile tech writer and loves exploring latest technology trends, entrepreneur and startup column. She also writes for top app development companies.