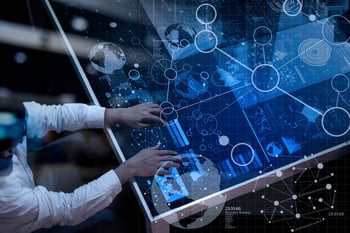 With the world getting more interconnected under globalization, the transportation industry is under pressure more than ever before to improve its services. Everybody needs a smooth, free from any danger experience whether they are moving casually or commuting for a job. Along with that, expectations from logistics organizations have also increased.
Transportation management is not anymore about moving cargo cost-effectively. The technology has progressed, and the businesses have expanded. The current complex supply chain structures and numerous components are compelling transporters to improve their management and services to succeed in the market.
Before moving on to explore the digital trends in transportation and logistics, let's first understand what digital transformation is.
5 Trends of Digital Transformation in Transportation and Logistics
Digital Transformation:
Digital Transformation is the advancement and reshaping of items, administrations, and whole plans of action by computerized innovations. It is the way towards utilizing technologies to make new or make changes to an existing system, business processes, culture, and user experience to meet changing business and market necessities.
Digital transformation can be of four sorts:
Business process
Model
Domain
Social/organizational.
Machine learning and Artificial Intelligence have played a significant role in digitizing logistics. These days, AI and MA are taking over to digitize almost every industry and logistics company and its future systems.
Machine Learning:
Machine learning plays a role in making the management systems into a better-digitized system. Sometimes, it gets tricky and challenging to decide and predict the demands which would be made in the future. This problem is now solved by machine learning. Machine learning helps companies to make decisions by anticipating the future needs and demands for new products.
These two have made supply chain management an easy process and maximized the resources by decreasing the amount of money and time spent on the tracking process.
Artificial Intelligence:
AI has enabled the companies to access the information required, including the billing information, dates, parties included, addresses, etc. Moreover, it has allowed the companies to access the needed information that may consist of the billing information, dates, parties included, addresses, etc. AI can assist in:
Managing the traffic
Analyzing dangerous travel areas
planning or evaluating the structure
arranging construction jobs
Planning maintenance
Self-Driving Trucks
Without any further ado, let's take a look at the digital trends.
Natural Language Processing
AI has proved to be the source for an improved business. For example, NLP, i.e., Natural Language Processing, helps the logistic companies to keep a check on the financial processing. It detects financial errors or irregularities by the use of invoice information. And helps the companies to plan freight efficiently.
Autonomous Vehicles:
Autonomous vehicles have taken a significant part of the logistics, and that day is not far away when we would see the whole transportation process fully autonomous. Although autonomous trucks haven't been introduced in the supply chain to transport goods, we see forklifts quite commonly used in warehouses, air terminals and ports, etc., robots' arms in warehouses.
Self-Driving Trucks:
The innovation for self-driving trucks is immature. For example, it needs to overcome certain hurdles, improving driverless programming to make it ready to work on urban streets with heavy traffic efficiently. There is no denying that it's one of the leading transportation trends.
The autonomous trucks drive packed in to decrease costs. The improved drag and decreased concertina from easing back down and quickening implies less fuel is utilized, which makes up 30% of the complete working expenses of a truck.
One thing to note is that the introduction of autonomous vehicles in the logistics process will require approval and legislation changes. Many experts suggest that autonomous cars will become fully available in the next decade, resulting in logistics being dependent on these changes.
Self-Driving Drones and Automated Freight Ships
AI has led to the invention of
Electric-fueled trucks
Driverless vehicles
Lightweight vehicle materials
GPS gadgets
Blockchain
3-D printing
Cloud-conveyed capacities
Soon hyperloop transportation frameworks are expected to take over to bring efficiency to the logistics industry. Moreover, the satellite-based air transport guideline systems are already in action, making air freight forwarding efficient and easier.
Blockchain:
Another trend in digitization is Blockchains. Blockchains help companies to make the customers' experience better by providing them with transparency. This enables them to communicate and see the whole journey of the product. It also enables to see reviews and, as a result, improves the security factor by detecting the fraud easier. In this way, the companies and people.
Blockchain in Logistics
Blockchain assists with checking the history of carriers and various suppliers. The decentralized technology of blockchain can ensure the secure exchange of information and finances with the help of smart contracts by
Reducing the chances of fraud or cheating
Staying away from bottlenecks and botches
3PL confirmation
Moreover, smart contracts can save both time and costs
Blockchain is one of the most amazing trends in the transportation industry. Blockchain in the shipping industry can help with ensuring the precision of different tasks.
Cloud-Based Systems
Cloud technology is one of the biggest trends in the transport industry. By including cloud-based technology in transportation and logistics management, organizations can achieve operational efficiency. Cloud computing helps organizations in
Real-time vehicle tracking
Logistics space planning
Management of online ticketing
Internet of Things
The Internet of Things has changed the transportation experience. With IoT, communication can be improved to a whole another level. Moreover, achieving a superior connection with the transportation mediums, including trains, trucks, ships, and planes, is troublesome.
IoT offers sustainable frameworks. The web-powered gadgets enable the smart gathering of information, and the IoT sensors can alert vehicles and trucks of possible obstructions ahead during the transit.
Smart Vehicles:
Smart vehicles are capable of
Predicting confusing turns
Differentiate between individuals on foot, cyclists, bikers, and so forth
Avoid road threats
It can change the entire transportation business outlook and is expected to lessen vehicle crashes by as much as 80%. Drivers utilizing loT can monitor
fuel usage
Brake efficiency
speed
Scanning Freight Limit
The utilization of Internet-of-things (IoT) sensors can help observe the space a particular package takes. This data can be used to calculate the shipment cost. Taking care of this information into a blockchain-based system set apart with the understanding would allow self-executing billing based on the freight's proportion of space.
Visibility
The success of current transport and logistics management is centered around the idea of visibility. Visibility is one of the most significant trends in the transport and logistics industry. One of the recent developments in this domain is the introduction of Anti-theft GPS, which has made it possible to reach the truck fleet's live location. This technology is saving organizations from huge losses.
Sustainability
Sustainable measures in transport management can help a great deal in
Controlling climate changes
Decreasing the levels of water contamination
Reduce global warming
Improving air quality
The pressure on companies to go for sustainable solutions is increasing. Ecological targets could incorporate carbon decrease, practicing air quality control, and improvement of the eco-management tracking. The sustainable measures can include
Driverless fleet
cleaner vehicles
Inclusion of eco-friendly technologies
E-cargo bikes
About the Author: Danielle Gregory is a full-time Writer, Traveler, and Marketing Expert who is Currently Working for QAFILA. Danielle's writing relates to a range of subjects such as logistics and IoT. Besides writing, she enjoys traveling, Cooking, and Riding.