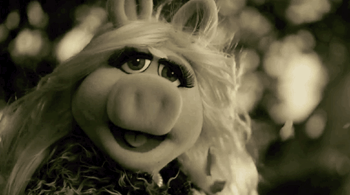 If there's one thing we've come to expect from 10-time Grammy award winner, Adele, it's that her songs have staying power. And her newest song, "Hello" is no exception to the rule. It's already been parodied by the likes of the Muppets and SNL, but what about as the new unofficial spokesperson for the cover letter?
I know it sounds crazy, but like in the song, the cover letter is also in a broken and distant relationship. From a job seeker's perspective, the cover letter has proved to be a one-way relationship as a result of recruiting technologies like Applicant Tracking Systems (ATS). Such that, these technologies no longer require a cover letter nor, in some cases, an uploadable resume; instead scraping career sites like LinkedIn for your latest career accomplishments. Furthermore, USA Today reported the cover letter DOA back in 2011, stating that tactics like networking and your actual resume will land you the job.
So, if technology killed the cover letter, then how is it still mulling around on various apply processes? Idealist Careers attributes this to company's maintaining their hiring procedures as well as the fulfilling the request for select department members; such as hiring managers or HR.
9 Online Resources to Help YOU Nail the Cover Letter
With the holiday just around the corner, you're probably thinking why bother reintroducing yourself to this long lost friend? That's because there is no better time than now to jump start your holiday job search; if you can find the time.
The perception is that job hunting during the holidays is as rational as Black Friday shopping on Thursday. But, in the case of the cover letter, it might be a matter of perspective. During the holiday season you are more likely to connect with people now who are hiring later and less likely to see your competitors flooding the job boards. With the right one-two punch of a stand out cover letter and resume combo, you could kiss your letter to Santa goodbye and say hello to a shiny new career.
To help you in your holiday job search pursuit, we have rounded up a short guide of the best online resources to help you draft the best cover letter of all time.
OmmWriter
OmmWriter is a word-processing application which helps you battle distractions in a unique way. Because its user interface is so pleasant, you will hardly ever get distracted by something else, which means you will be focused on just writing. Beautifully designed themes, pleasant music playing in the background, and cool audio effects which motivate you to keep writing, are more than enough to keep your eyes glued to the screen.
Strict Workflow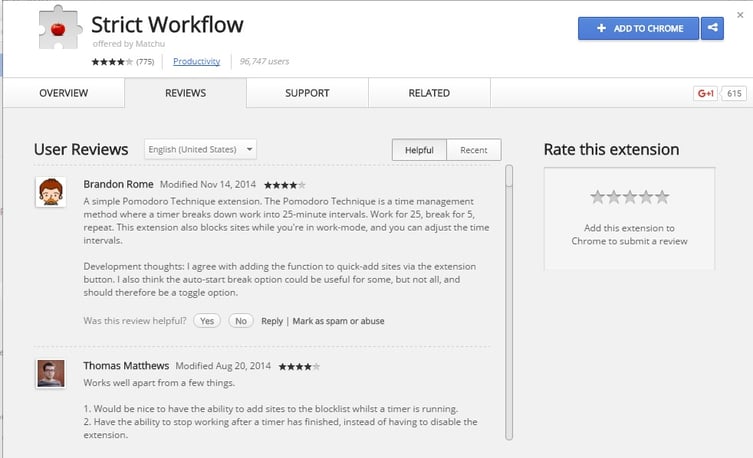 For all the Chrome users out there, struggling with writing a cover letter, check out Strict Workflow. This tool acts like an extension of your browser, and employs the famous Pomodoro Technique. Basically, it will block your access to distracting websites for a period of time, so you can focus on your work and nothing else. After each of those periods, you are awarded with a short break. Once your break is over, the entire process starts over.
After the Deadline
Sending a cover letter which contains errors will leave a bad impression of you with the person reviewing your application. Yes, it's not a literary contest, but it still shows your dedication and determination to get the job, so you need to make sure your cover letter is spotless. We recommend using After the Deadline, an online tool which analyzes your grammar, spelling, and style errors. Once you eliminate all the errors, your cover letter will be polished to perfection.
EduGeeksClub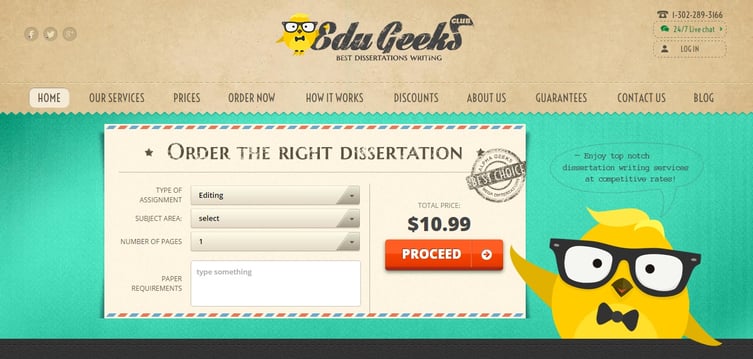 If the job you're applying for is really what you're after, there is no shame in getting help from a professional. EduGeeksClub, one of the leading writing services on the web, can help you with crafting the perfect cover letter to increase your chances significantly of landing the job, or, at least, get an interview. If you already have a letter you are happy with, run it by their editors to make sure it is pitch-perfect. In addition to writing, they also offer editing and proofreading services to their clients.
MindMup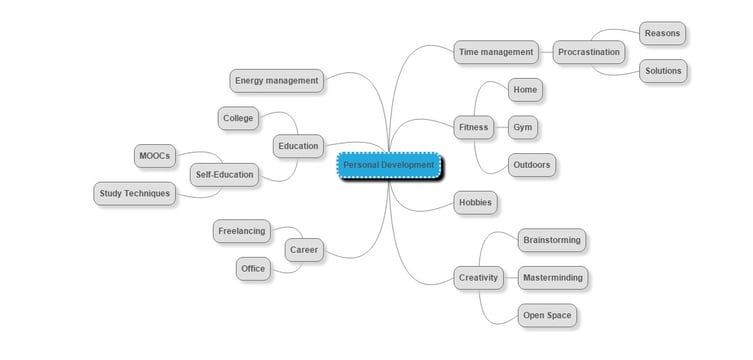 If you are struggling to come up with an idea on how to write your cover letter, perhaps some brainstorming might do the trick. MindMup relies on mind mapping techniques, which take brainstorming to a whole new level. Why MindMup? Because, it is free, very intuitive and easy to use, runs in all HMTL5 browsers, and you can export the maps you have created to numerous cloud storage services, such as Google Drive, or Amazon's S3.
Cover Letter Checklist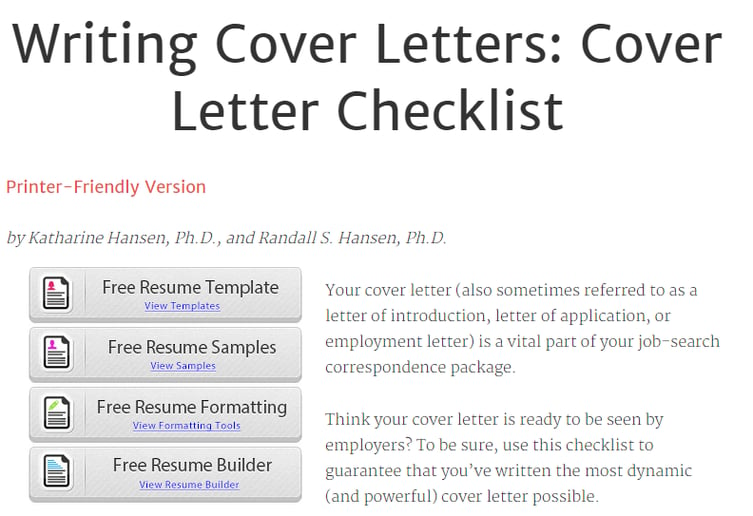 This online resource is your one-stop shop for just about anything related to writing a cover letter. The term "checklist" doesn't do it justice as it covers every single aspect of creating a cover letter, starting with the basics, the appearance, and the style, and ending with advice on how to avoid the most common clichés, as well as how to make your letter as original as possible. For each of these aspects, there is a separate guide or a tutorial located on the website, which makes this website essential.
Visualize.me
One of the most original ways of applying for a job is to create a cover letter with infographics. With the help of Vizualize.me, you can come up with an exciting and eye-catching infographic resume in no time. It is very likely that the people reviewing cover letters are fed up with reading the same generic stuff over and over again, and turning in a cover letter that is based on visuals can be a breath of fresh air, catapulting you to the top of the pile.
AutoCrit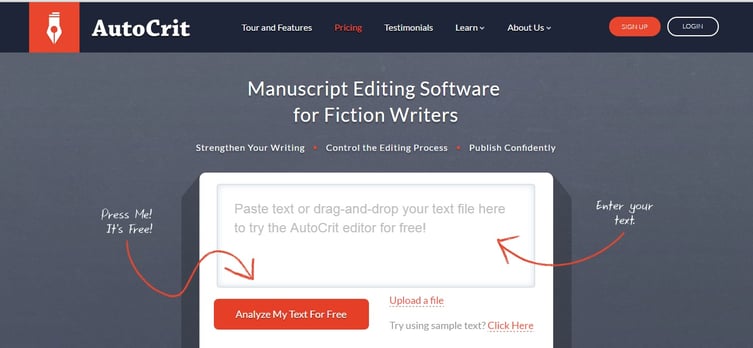 Another online tool that can help you correct some of the mistakes you've made in your writing is AutoCrit, but it does so much more than point out a few spelling and grammar errors here and there. Instead, what it does is look for weak spots in your writing, such as extensive use of similar words across your cover letter, or too many "that" or "if" occurrences in your writing. Grammar is one thing, but structure and style are another, and AutoCrit will help you improve the latter.
Penflip

If you are struggling to write an effective cover letter, maybe the answer you are looking for is collaborative writing. While there are plenty of apps out there which provide that possibility, we recommend that you check out Penflip. The best thing about it is that there are no files you have to worry about. Just send the link to your collaborator and that's it. You can also take notes, keep track of all the changes, and save your work with just a few clicks.
It's a competitive world out there, especially when it comes to finding a job, and you're going to need all the help you can get. Fortunately, with these tools and resources under your belt, you will have no trouble creating a cover letter that will make an impact and get you that coveted job interview. Good luck!
Author Bio:
Antonio is a hopeless optimist who enjoys basking in the world's brightest colors. He loves biking to distant places and occasionally, he gets lost. When not doing that he's blogging and teaching ESL. He will be happy to meet you on Facebook and Twitter.