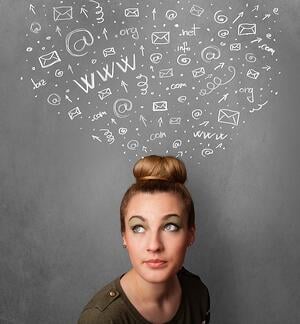 Studies show that LinkedIn is considered one of the most popular and commonly used social media platforms among recruiters and people in search for jobs. There are more than 433 million active accounts and this number is increasing by the hour, which makes it as popular as Facebook. With that said, LinkedIn is mostly used for business, rather than pleasure.
In order to stand out on this popular site, it's critical that you have a well-written profile. The better it is written and the more attention you give to details in your online resume, the higher the chances to be seen by the 'big fish in the ocean' (the big companies in the industry) and be recruited. Ultimately, if you don't know exactly what is important to mention and what are the things that should be avoided when writing your profile, you can outsource this task to a specialist and have them write your CV and LinkedIn profile for you. On the other hand, if you're willing to try and write it on your own, you'd better pay attention to these professional hints for job search success.
1. Start with the basic info
You've already made the first step – create an account. Now it's time to fill in the fields with details about your professional life. Make sure you have no grammar errors or mistakes when writing. Think of this LinkedIn profile as the representation of your own self, so that everyone who will read it can get an idea for the type of person you are. Your name, birthdate and your current position (if any) are to be specified. Also, don't forget to add a profile headshot photo, and make it something that positions you in a professional light. It shouldn't feature too much skin, include other people or anything else that could potentially hurt your job prospects. According to LinkedIn, complete LinkedIn profiles (which means the profile has a headshot) are 40 times more likely to receive opportunities through LinkedIn than incomplete profiles.
2. Work experience – your most important advantage
This is how you show recruiters you're good at what you're doing. It's important to write down all relevant job positions you've had during the past couple of years. Don't lie though! The online world knows no boundaries, which means that recruiters may ask other people from other companies (you have also mentioned on your profile) and check to see whether or not you've actually worked there. The greatest advantage LinkedIn provides is that it allows other people to write things about you related to when you worked alongside them as a colleague or how the owner of the company perceived you while you worked there. This way, recruiters are guaranteed that whatever is written on your profile is accurate and real.
3. Certificates can also make the difference
Besides your work experience, another thing recruiters want to know about a candidate before inviting them to an interview is their education and whether or not they have any certificates. Don't forget writing about these aspects too. In the education section, you can mention only the high school and college or the university you graduated from, as these are the most relevant ones. Whereas at the certificates section, it's best to include the ones you obtained in your high school and college years, but make sure they are relevant for the type of job you are searching for. Don't forget to mention your volunteering experience (if any), as this can weight a lot in the eyes of recruiters.
4. Connect with the right people
So, you have everything established regarding your LinkedIn profile. Now it's time to make some connections. The 'Invite All' option is not always something you should resort to, because sometimes it may do more harm than good. Even though you spend more time online, it's recommended you search for the right contacts and only add those persons that share interests with you or work in the same industry as you. Create your LinkedIn network consisting of only people who can actually help you build your career and personal brand.
5. External links – make yourself more visible
Simply writing everything about yourself on your LinkedIn profile may not be enough sometimes. you'll have to take things a bit further and make yourself more visible in this infinite online world. Start a blog where you write posts on whatever topic suits you best, create a website where you share your hobbies, ideas and examples of activities on 'what to do in your spare time' or anything else that may make you stand out from the crowd. You have no idea how much recruiters are looking for someone with your unique talents for their company.
Final thoughts
Make sure you take into account all these suggestions mentioned above, as they come from experts who understand the importance of a well-written LinkedIn profile. And some final advice, and possibly the most important – don't leave that 'Description' section located right beneath your profile picture unfilled!
About the Author: Kevin Nelson is a professional educator and a private tutor with over 8 years of experience. He is also a content writer for eliteessaywriters.com various blogs about higher education, entertainment, social media & blogging. During his off time, Kevin enjoys traveling and cooking. Feel free to connect with him on Twitter, Linkedin & Google+.