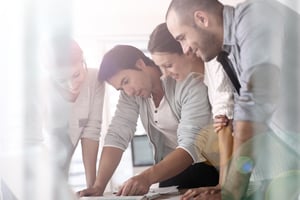 Today, more than ever, businesses rely on commitment, energy, and engagement from their workforce to thrive and survive in the 21st century.
According to a report by Gallup, only 13 percent of employees across the world are engaged in their jobs. This suggests that, overall, they're not emotionally invested in committing their energy, talent, and time to add value to their team nor are they focused on advancing their company's goals.
Another Gallup research revealed that employee disengagement costs the US over $550 billion annually in lost productivity.
So, you can see why engagement is a serious issue that most managers and leaders face with today's workforce— however, also a great opportunity for businesses who can master the art of employee engagement.
Here are 4 effective engagement techniques to help your business reap the benefits:
1. Providing Coaching and Training
Creating a workplace culture that fosters constant development does more than just help employees build the necessary skills and talents needed to do their job effectively. It also helps communicate that the company or organization values its employees and believes in their true potential.
And, the more employees feel that their company is investing in their future, the higher the level of engagement they will offer.
Fortunately, a Google-sized training budget is not needed to create meaningful programs.
One method is utilizing employee cross-training, where your workers learn how to perform the roles of their coworkers, as well as their own.
Coaching is another crucial factor for engagement. Provide your employees with semi-annual development plans and 360-degree reviews to help them identify the skills they need to improve. HR leaders and managers can help maximize the effectiveness of coaching by counseling their employees as well as one-on-one coaching which reinforces the company's commitment to its employees.
Investing in your employees' future through training and coaching not only helps build engagement and loyalty of existing employees, but it also helps to attract new talents.
2. Supplying The Right Tools
One of the most crucial drivers of workforce engagement is also one of the most often overlooked factors— making sure that employees have all the right tools they need to succeed in their roles.
Any successful organization's infrastructure will include all the necessary processes and software like the ones from Advance Systems by which employees can control their own time and attendance. And, if these tools are not provided, particularly in a large organization, it becomes a barrier to employees getting things done in a timely fashion, which will affect engagement.
For instance, if your company's security protocols require your employees to remember 4 – 5 different passwords in order to log in to the software they use, employees can become highly frustrated.
You need to ensure that employees have the right tools and are not operating in an environment that is bureaucratic or inefficient where they cannot get anything done.
3. Recognize Loudly and Proudly
It is no secret that recognition and rewards help boost employee engagement. Managers will need to clearly broadcast the meaning of the company's work since it gives people a clearer idea of how they fit into the company's goals and missions.
Too often, though, bonuses and gifts are doled out with just a small fanfare. Why not try to recognize loudly with horns, and tambourines or a big clap, in honor of employees who've done great work the previous month? Recognition motivates employees and serves as a booster shot for engagement. Because, at the end of the day, people will actively respond to being appreciated.
4. Listen To Employees and Provide Individual Attention
Effective managers and leaders always pay close attention to what their employees have to say and act on their feedback. This is why annual employee surveys are being replaced with monthly or quarterly pulse surveys and performance conversations.
Not only does a comprehensive approach help a business pinpoint and address issues, but it also makes people feel more valued.
Another challenge to boost engagement is determining which approach would work best with a multi-generational, multi-ethnic and multinational workforce. The answer would be different for each employee.
You can try a personality assessment test to better understand each employee's communication style and what motivates them. Or, you could try a simple, no-cost and low-tech approach: asking them, one-on-one. It will make them feel heard, valued and important, thus boosting their willingness to work and be fully engaged.
About the Author: Richard Joseph is a regular contributor at many sites and mainly focuses on business-related topics. He keeps sharing his ideas and the latest trends in business and Human Resources through his articles.