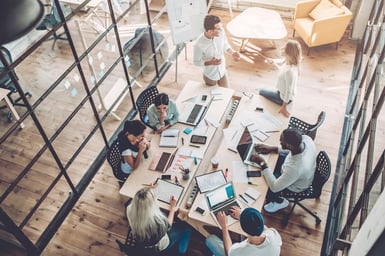 Are you starting out in your recruiting career or looking to make a change? Working at a recruiting agency could be your perfect fit! There are many preconceived notions about working at a recruiting agency. Will I be micromanaged? Is this just a sales job? I'm here to bust those myths and more to help you land your best role.
Myth 1: I Might be Limited to Recruiting for One Industry
Truth:
Flexibility is the cornerstone of working at a recruiting agency. You'll be able to work across multiple industries or even switch industries. You might even be placed in an unfamiliar industry. Luckily, the skills you have as a recruiter are highly transferable and can be leveraged across many fields of work.
However if you are an SME (Subject Matter Expert) in a particular industry, you can excel at recruiting agencies like Yoh that recruit for Specialty Practice Groups and Strategic Accounts. We have recruiters that have found their niche recruiting for Cybersecurity, Healthcare, Finance, Creative, etc. and continue to grow in their careers.
Myth 2: They're hiring me to work for Just one client
Truth:
Your contract to work with the recruiting agency does not bind you to work with just that one client. You still work for the recruiting agency and have so much room for growth.

Here at Yoh, we have four levels of recruiters. As you level up in your tenure with the company, your work becomes increasingly collaborative, and you'll have the opportunity to work with even more clients! As a bonus, you will find that recruiters at every level provide mentorship and support as you advance in your career.
Myth 3: I'm going to be micromanaged
Truth:
Don't worry about tracking your time and other arbitrary metrics every minute. YOU are in charge of the structure of your day. Your role at a recruiting agency like Yoh is results driven. You have significant flexibility to achieve your goals with a team and system in place supporting you to generate results. You're empowered to make placements with the support of your team and can focus on growing your network and expanding your earning potential.


Myth 4: I Need a Degree
Truth:
Recruiting agencies do not gate-keep their roles to those with multiple higher education degrees. Many entry-level recruiter roles typically require a high school diploma or an associate's degree, depending on the role and industry in which you'll be recruiting.


This role builds upon soft skills and acumen when working with candidates to help them find the proper position. No matter your work experience, the blueprint of skills that make a great recruiter are transferable. There are many free online resources to gain more training and insight into recruiting skills and technology.


Yoh offers our Yoh Academy program, an entry-level recruiter training and feeder program based in Philadelphia, PA. Each Yoh Academy class's six to ten recruiters move on to support talent acquisition in our Specialty Practice Group branches. No recruiting experience is required!
Conclusion
A recruiting agency is a great environment to achieve tangible results in your daily role as you help connect your candidates with their dream careers! Remain self-motivated and your growth opportunities will be boundless.

Don't believe the myths about working at a recruiting agency; reach out to me to learn more about this incredible career path!