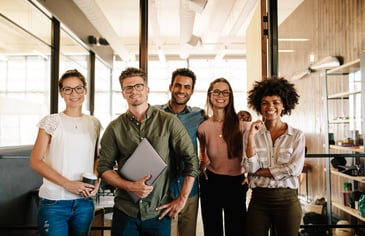 Whether you're starting your career or considering a change, consider the highly rewarding career path of recruiting! Recruiters are necessary across all industries, allowing you to expand your horizons while flexing your outstanding interpersonal skills. Many entry-level recruiting positions generally don't require candidates to have higher education degrees. Here are four of the top reasons why I, an internal recruiter from Yoh UK, think a career in recruiting could be the perfect choice for you!
4 Reasons Recruitment Could be The Right Career Path For You, from a yoh uk recruiter

1. Managing Your own Workload
One of the most significant advantages of recruiting is the freedom and autonomy you have when managing your workload. As a recruiter, you'll typically work on filling multiple requisitions simultaneously with the freedom to prioritize your tasks and allocate your time efficiently. This level of independence allows you to set your own goals and deadlines, granting you the freedom to work at your own pace and be accountable for your results.
2. Earning Potential
Recruiting is a lucrative career path that offers significant earning potential. In many recruiting roles, the commission is uncapped in addition to your base salary. As you move up in the ranks at your company, your earning potential will typically grow in addition to ongoing incentives.

These are all tangible rewards for the hard work you are putting into your role! You can build your own future based on the work you put in.

At Yoh UK, we have yearly pay reviews with management. These transparent evaluations provide us with a clear career matrix to have goals to work towards for your next promotion.
3. Career Development Opportunities
Recruiting offers a wide range of opportunities for growth and advancement. As you gain experience, you can move into more senior positions with greater responsibility.
Recruiting also provides the opportunity to work in various industries, from technology to healthcare to finance. You can develop a diverse skill set, expand your knowledge base, or even become a subject matter expert in a field you never would've expected!

Yoh UK offers a comprehensive onboarding process to ensure employees are current on the latest practices and technologies. The process begins with stripping down to the basics of recruiting for employees entering the job at all levels. We're invested in your career growth at whichever point of your career.
4. Positively Impact Others
Placing someone in a role that's a perfect fit for them is a direct impact of the hard work you put into your role. Whether it's someone's first or tenth job, it's always gratifying to help someone find that perfect match.

If you're recruiting internally, you may even have the chance to work directly with your new hire and watch them grow in their career and celebrate their victories. The team at Yoh UK is always celebrating our coworker's success with lunch clubs, outings, gifts and much more!


Final Thoughts
Recruitment is a great career path to go down if you want to build your own success. Recruitment is a very sociable environment in and outside the office. If you are not out meeting clients, you could be out with the team on success days or even holidays!

I chose to go into recruitment as I was from a sales background but knew I could have been making more money in a more flexible environment. I love building relationships and being competitive with myself and my peers, and I wanted to carry that onto my next role. Recruitment became a perfect fit! I brought my sales skills to the job while learning more about building and maintaining relationships.

I enjoy being on the internal team here at Yoh UK. I am proud to promote us as a company to people as I genuinely believe in what I am promoting. Yoh, as a company, sells itself by what it does for its staff, making my job much easier! Yoh will invest in you to make you successful in recruitment.

If you have any questions about Yoh UK or Recruitment, please reach out to me at: Megan.bartlett@yoh.com.