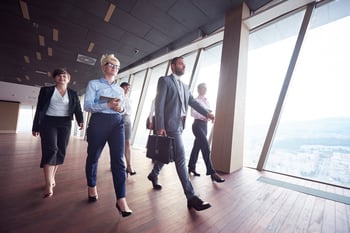 As we discussed last time, COVID-19 has caused many changes globally, and one of these changes is in the workplace. Businesses and their employees are all affected by this change. The "new normal" is coming; how will you pivot to set your business up for success? How will you cater to the new needs of employees?
This is part 2 of our "Back to Work" podcast series. Vice President of HR at Yoh, Kirt Walker, continues the discussion on the next transition we are facing and valuable insight on emerging issues.
Employee Development:
Professional growth was a challenge that many faced in the past year. How can employees grow professionally moving forward? Kirt says, "The first thing is, the employee needs to own their development." They cannot be passive and must say what they want. They need to seek out challenging assignments. This way, they can challenge themselves and grow.
Additionally, it will be essential for them to to focus on where they are and what they need to improve. When you know this, you can conduct experiments/challenges that you can do to improve in those areas. It is also important for managers to work with their employees to help them grow. They should give candid feedback, not only on the good things but also on areas where they could improve.
Workplace Changes:
There are many things to consider when deciding how to approach work from home and moving back to the office. For example, what will the new work from home policy be? Will it be required to get vaccinated? What will be the safety precautions for employees who decide to go back to the office? These are some of the questions that businesses must take into consideration in the "new normal". It will all start with the leaders of the company. They will need to be clear and consistent with their requirements so that there will be no confusion for their employees and even customers.
Conclusion:
In conclusion, COVID-19 has caused many different changes that will forever alter the way we work. But, for better or for worse, we are all entering the "new normal". It is going to take effort from everyone, but it will be worth it.