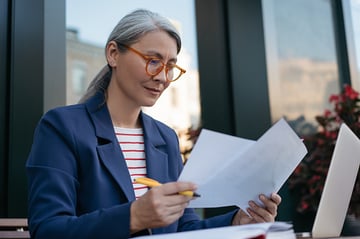 It doesn't matter whether you are applying for an internship or a job as the CFO of a company. Having a well-designed resume can make the difference between selection and rejection. Resume design is arguably just as important as the information on the resume.
After all, recruiters can spend mere seconds looking through your resume, so they need to be able to find your key qualifications quickly. You might have great content, but it won't be worth anything if your resume is hard to read.
Let's walk through the dos and don'ts of designing and formatting a resume that will land you an interview.
Designing a Resume Recruiters Will Love
Employers like candidates whose resumes are "visually balanced," which means they are neat, consistent, and easy to read.
So, rather than focusing on using visual bells and whistles to grab a recruiter's attention (such as flowers in the background or skill bars), utilize a resume design that emphasizes the most relevant qualifications you have for each posting. This design will make your resume easier to read, more enticing to recruiters, and more likely to come up first in the search results of a recruiter using an Applicant Tracking System (ATS).


1. When Choosing a Font, Think Simple and Minimalistic
Understand that scanning through hundreds of resumes is a tedious task for recruiters and your job is not to make it even harder. They won't be able to process all the information on your resume quickly if you make it hard to read with an unconventional font because you were trying to "stand out". That's why choosing a common font like Calibri, Arial, or Cambria is your best bet.


2. Limit Yourself to Two Fonts
Though it may be tempting to use all of the fonts available in Word, using more than two or three fonts in your resume reduces readability. You only need one font, since you can bold and italicize it as you wish.
But if you can't decide between any two fonts, use one for your name (and possibly your section headings), then stick to the other for the body text. Keep your font use consistent throughout your resume – nothing looks sloppier than a sudden change of font in the middle of a section.


3. Keep Your Font Size and Margins Readable But Space-Efficient
You don't want your font size to be too large or it'll waste space, but you also don't want it to be so small that it's hard to read! We recommend you use 10.5-12 pt font for your body text, 12-15 pt for your section headings, and 16-22 pt for your name. But keep in mind that not all fonts are created equal and some may appear larger than others. Use your eyes and your best judgment.
You'll also want to make sure your margins are set to save space while still providing enough white space around the edges for easy readability. Our professional resume writers typically use .5" margins on each side, and we don't recommend going lower than .4" or higher than 1" on any side.


4. Don't Go Overboard With Bold, Italic, and Underlines
Remember, your font and font sizes should stay consistent throughout your resume to promote readability. Instead of using font size to emphasize important points throughout your resume, use bolded text, italics, and all-caps, but sparingly. (We don't recommend underlining at all.)
You should bold certain words and phrases that you want to make sure the reader catches in text-heavy sections, but don't go overboard with it.


5. Play It Safe With One Column
While many resume templates use two columns, it's safer and easier to make a simple one-column resume. Recruiters typically find one column easier to read, since they can scan through the section headings quicker and there's no question of where your most important information is.
Plus, if you send your resume through a company's online job portal, using a single column ensures that an Applicant Tracking System (ATS) will parse your resume properly, making it more likely that you'll come up in a recruiter's search results.


6. Skip the Fancy Design Elements
Likewise, you should skip over tables, charts, infographics, skill bars, and any other image-based design gimmicks you might think of for your resume. Applicant Tracking Systems can't parse text from images, meaning any keywords you include within visual elements might not get picked up in a recruiter's search results.
Additionally, recruiters often find these more distracting than enticing. All your reader needs is to find the information they want on your resume as quickly as possible, they don't need it to be fancy.


7. Use White Space to Your Advantage
When designing your resume, be sure to include enough white space rather than trying to cram too much info onto one or two pages. An ingenious use of white space gives the reader's eye a rest and makes it easier to get the information they need. This means setting an appropriate level of line spacing for the whole document and adding plenty of space between major sections.


8. Consistency Is Key
It's great if you have a lot of relevant experiences and keywords to integrate on your resume, but it can also be a reason why the format of your resume might get messed up.
After you have finished writing the content of your resume and naturally integrated keywords from the job posting, double-check that all your font sizes, colors, margins, and line spacing between sections all look consistent throughout the whole document. Inconsistency will make your resume look off-balance and can be seen as sloppy. It's essential to proofread the content on your resume before you submit it anyway, so checking your design to that step and you'll save time.


Final Notes for Designing and Formatting a Stellar Resume
Remember: A strong resume with relevant experience is your passport to reaching the position of your dreams. Even the best-designed resume won't go past the employer's screening process if the information it contains isn't up to par.
But in addition to filling your resume with impressive content, make sure the it's all visually appealing and easily scannable so employers will pay attention to it instead of dismissing it because it's hard to read. Developing a clean and simple resume design with these tips is guaranteed to increase your chances of landing an interview.
About the Author: Chris Villanueva, CPRW is the founder and CEO of the award-winning resume service Let's Eat, Grandma (because proper writing is important enough to save a life!) With a highly trained team of writers and a focus on customization for each client, Let's Eat, Grandma has helped thousands of professionals get closer to their dream job with better resumes, cover letters, and LinkedIn profiles.