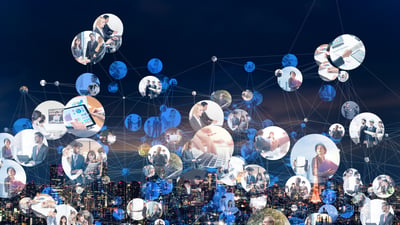 Today, offering high-quality products is not enough. To attract customers and be at the competition, you need to build a solid online presence. It is vital for establishing a brand reputation, boosting brand awareness, and gaining greater product visibility.
Here is how to grow your online presence.
1. BUILD AN EMAIL LIST
Building an email list is an effective way to grow your online presence. An email list enables you to engage with your leads. By providing fresh, authentic, and personalized content, you will nurture stronger relationships with them and encourage their loyalty.
You can grow your email list in multiple ways. Here are some of them:
Create gated content. Namely, users can read only a portion of the content. To read the rest, they need to sign up for your newsletter.
Use call-to-action buttons (CTAs) on your website and social media pages to promote your email newsletters.
Create lead magnets – free resources users can consume in exchange for their email addresses.
Host giveaways. To participate, users need to register for your newsletter list.
Once you develop your newsletter list, make sure you deliver engaging and personalized user experiences. For example, you can segment the list based on audiences' geolocation, past purchases, content interests, etc.


2. aPPEAR IN BUSINESS DIRECTORIES
For physical stores, attracting local customers is crucial. That is where you should invest in local SEO tactics.
Apart from optimizing your website for local searchers, make sure you appear in relevant business directories.
Start by claiming your Google My Business account. Next, research relevant business directories that work for your industry. For example, if you are a franchise brand, you may want to appear in franchise listings.


3. always deliver value
To gain a competitive advantage, you need to build a strong brand image. The goal is to establish a highly recognizable and memorable brand that stands out. Above all, you need to keep it relevant and customer-centric.
One way to create value is to provide educational content online. Besides promoting your business, it helps you gain industry authority and build trust with your potential customers. The content you create needs to be data-driven, fresh, and educational.
Make sure your content answers users' questions and solves their problems. Always provide fresh statistics and helpful tips. You can do that by providing blog articles, appearing on a podcast, or responding to social media comments.


4. HAVE A SOCIAL MEDIA PRESENCE
In 2021, building your digital presence with social media is essential. Today, online searchers use social media to find new brands, seek help, and look for customer service.
Most importantly, social networks increase brand reputation. Your presence on these channels instills trust in your target audience and increases your overall brand's visibility.
Focus on the channels that make sense for your brand. Build your presence on the channels your audiences use. For example, if you are a fashion brand, you will want to focus on Instagram and Pinterest.
Finally, keep your social media presence consistent. Have a detailed social media calendar that dictates your content creation schedule. Most importantly, use social media management tools that automate the content curation and publishing process.


5. LEVERAGE INFLUENCER MARKETING
To stay gain prominence in your community, it is essential to engage with popular names in your niche. Influencer marketing remains a significant brand reputation tactic. Statistics claim that 80% of consumers have purchased something via an influencer recommendation.
Influencer marketing boosts brand visibility, attracts new purchases, and encourages customer loyalty. The more people are talking about you, the more often you will appear in front of new users.
Always team with influencers in the same or related industries. They should share your values and target the same audience groups. That way, you will reach the audiences interested in purchasing your products.


6. EXPERIMENT WITH ONLINE ADVERTISING
While organic marketing tactics are your long-term branding investment, they take time. A faster solution to building and expanding your online presence is through online advertising. Once your ad campaign is approved, the ad will show up in front of the right audience.
Now, if your ad appears in the top search results, it can significantly improve your brand's exposure and awareness. Now, you can advertise on search engines, such as Google, Yahoo, or Bing. Additionally, you can invest in social media advertising. Facebook and Instagram offer audience targeting options that allow you to get noticed by the right groups.
To assess the effectiveness of your ads and choose the best option, always run A/B tests.
OVER TO YOU
Only by building a detailed digital marketing strategy can you improve your online presence and attract new customers. While this is not a definitive list of online marketing tactics you can use, it can serve as your solid starting point.
About the Author: Eve Anderson is a marketing specialist turned blogger. Interested in sports and exciting travel destinations. Eve loves to share content that can inform people.