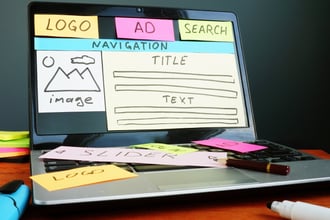 Your website design is an opportunity to make an excellent first impression of your e-commerce store. It may directly impact the amount of time a user spends at the site and how much users may decide to buy from the store.
From a beautiful UI to having an elaborate UX, all design aspects play a significant role in the e-commerce store's prospects. Design can be one of the reasons why people visit your website. Apart from a carefully crafted marketing strategy, it is essential to have an attractive wrap. Here are the significant factors while designing an e-commerce website.
5 WEB DESIGN TIPS FOR ECOMMERCE STORES
1. Use high-quality videos and images
Users rely on the opportunity to see the product photo and video representation to decide about buying the product. The off-line stores have this undeniable advantage; therefore, the e-commerce stores need videos and pictures that are high quality. A better representation can go a long way for users to buy a product. You need to use high-resolution images, 3D models, and videos. When you do not have high-quality images, it leads to page abandonment. You might wonder how to send large videos without losing their quality; however, it is doable and manageable. Consider searching for solutions online. Another new norm for providing an opportunity to the users to visualize all information is the capability to zoom in on the images.
2. Have filter, search, and convenient navigation
Keep in mind that convenience is the reason why so many people are attracted to shopping online. If you make a user feel uncomfortable, he or she is unlikely to buy from your store. The UX trend is to develop a website that makes life easy for customers to take them forward to the significant step that is a purchase. A website designer has to think about all the minute details for achieving this. Everything should flow smoothly from one point to another, and there should not be any need for a rush. Having a filter allows the user to exclude all the unnecessary items and get to the product page directly from the Home page. The search bar allows the user to find a specific item or a category fast. The search field needs to be easy to find and prominent. The ideal solution to successfully achieve all these elements would be to get SEO for big brands and have experts of the field manage your entire online presence. You will be positively surprised by the exceptional results in the shortest time.
3. Using the services of a web development company
For creating a proper website design for your e-commerce store, there is a need to be clear about the targeted audience; otherwise, you will not achieve the desired results. There are many important things to consider while selecting the web development company for marketing your business.
Emphasize the right fit.

Select a company that listens to your ideas.

Check for the presence of an experienced marketing team.

Capability to use CMS.

Use of responsive web design.

Do they have a portfolio?
4. Maintain visual hierarchy
Keep in mind that the most significant info blocks have to be situated near the top of the page. For instance, on all the Home pages of an online store, you will visualize these elements .for understanding things about the site.
Name and logo.

Search bar.

Contacts.

Navigation menu.

A slider.

Main content.

Footer.
Any successful website design has a clear visual hierarchy because having a simple structure and proper hierarchy helps with website navigation. With the additional visual attention, you will provide a trigger to the clients for giving them a sense of urgency.
5. Maintain simplicity to appeal to a broader audience
Any e-commerce website has to be simple to browse and also easy to digest. There is no need for a dramatic design for the store to be engaging. A good website design is minimalistic and clean, and it appears refined for the users. All things have to be intentional, and nothing should distract a user away from the content. It is significant to avoid overloading the pages with info when the page has a wide range of products. The best e-commerce store website designs are light and spacious.
When you are working on your website, it is crucial to make sure that you are using the Internet safely. For this, you need a VPN that creates a secure tunnel for the information to pass through. You can check the NordVPN review if you'd like to know more about it.
A lot of users may not accept fresh ideas and innovative alternatives for an e-commerce store. If you make the website design complex, there is every chance that the user may not understand it or realize its significance. It is a better idea to select proven patterns that were tested on other websites. Have plenty of white space and use no more than three colors for each page.
About the Author: Freya Allen is an SEO analytics manager with six years of experience. Allen has proven her expertise with unique and professional designs of SEO strategies that have successfully garnered her employee's exceptional online visibility and conversion rates.