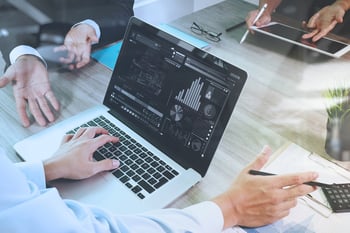 Over the years, organizations have been striving to achieve flexibility in their workforce more than ever before. One of the prominent trends that have been apparent as a result of these efforts is the remote working model. While some organizations have shifted to such a model seamlessly, others have struggled to get the formula right.
In the wake of a global pandemic, this trend proved to be even more robust, with companies having to shift to remote workforces. Once the pandemic was declared, 88% of companies encouraged or mandated their employees to work remotely.
However, when you have a social media team that has to collaborate and communicate effectively for work to run smoothly, you need extra tools at your disposal. Here are a few that can help you in this regard:
#1 Hootsuite
Hootsuite is one of the most widely used social media management tools out there, with more than 800 out of Fortune 1000 companies onboarded as clients. The tool provides a clean interface and user-friendly features in which all the social media accounts can be managed from a single dashboard.
With over 18 million users worldwide and its presence in more than 175 countries, Hootsuite is a great tool to empower your social media team — remote or not. The software also provides easily customizable and highly dynamic analytic reports, which are great for presenting to in-house teams and clients alike.
Hootsuite can manage accounts in multiple social media networks such as Facebook, Twitter, Instagram, LinkedIn, Pinterest, and YouTube.
Price: Professional - $49/month, Team - $129/month, Business - $599/month, Enterprise - Custom Solutions
Alternatives: Sprout Social, Buffer, BuzzSumo
#2 Slack
A major aspect that organizations struggle with while dealing with remote social media teams is team management and communication. For remote teams to perform as adeptly as onsite teams, communication channels must be flexible and seamless. In addition to this, Slack also provides features such as easy file sharing and workflow builder for automating routine actions.
About 65 out of the Fortune 100 companies use Slack for managing their team communication, including Uber, Intuit, Target, and Netflix. Slack provides a complete ecosystem for teams to collaborate and communicate. Moreover, with additional integrations, it is expendable in scope to include basic task and project management features.
Slack was recently acquired by Salesforce, which could lead to a substantial increase in the features offered by the tool.
Price: Free version with limited features, Pro - $2.67/month, Business+ - $5/month, Enterprise Grid - Custom Pricing
Alternatives: Microsoft Teams, Google Chat, Workplace from Facebook
#3 Trello
Trello is a popular tool for managing projects and tasks within the organization, having features that aid in managing the workflow in a better way. It has been known to have a structure that is conducive to building productivity and increasing efficiency.
Trello is a trusted task management tool for some top organizations such as Google, Squarespace, and Costco. With over a million onboarded teams, Trello can be a great way to manage tasks and schedules for remote work teams just as efficiently as onsite teams.
The tool also lets you automate routine and repetitive actions, making it easier for managers to monitor and control the workflow of remote teams.
Price: Free version with basic features, Business Class - $10 per user/month, Enterprise - $17.50 per user/month (estimated cost for a team of 25). The price for the Enterprise plan varies for large teams and can be discussed with the sales team.
Alternatives: Asana, ClickUp, Zoho Projects
#4 Whatfix
If you are a medium to large enterprise, let's face it — training remote teams for using the enterprise software efficiently is a task. Complete digital adoption is a feat that some of the largest enterprises have not been able to achieve. As a result, employees end up never discovering some of the salient features of enterprise software that can make their jobs easier.
This can prove to be incredibly challenging when dealing with a remote social media team with many deliverables stacked up. Whatfix offers a digital adoption platform for enterprises and medium-sized businesses alike. Using a digital adoption platform, you can ensure that your employees use your enterprise software to its fullest potential.
Trusted by major global brands such as Sophos, Wipro, and Aramark, the tool has proven to be an excellent solution for companies to seamlessly onboard their employees and new customers.
Price: Customized solutions based on specifications
Alternatives: Apty, WalkMe, Appcues
#5 Dropbox
The final tool that every remote team needs is a centralized information management system that can store and manage the files and content created in the process.
Dropbox does this and more by making the files in a Dropbox account easily accessible and shareable within the team and to external parties. With real-time syncing, users can drop files in the drive, and other users can access it immediately, making it perfect for remote teams. One of the only drawbacks of Dropbox is its lack of version control.
Price: Basic - Free, Plus - $11.99/month, Family - $19.99/month
Alternatives: Google Drive, Microsoft OneDrive, BOX
Summing Up
When companies are struggling to come to terms with the new normal and adapting accordingly, managing remote teams can get quite challenging. The tools mentioned here are the most preferred ones by global companies for managing their remote workforces. Using them effectively can make the process of managing your remote social media team uncomplicated and straightforward.
About the Author: Lucy Manole is a creative content writer and strategist at Marketing Digest. She specializes in writing about digital marketing, technology, entrepreneurship, and education. When she is not writing or editing, she spends time reading books, cooking, and traveling.