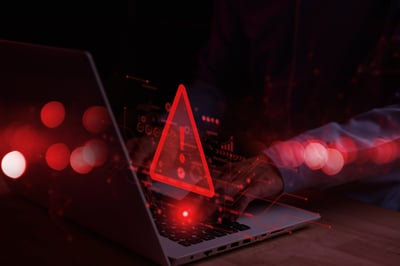 Businesses today face a multitude of cybersecurity concerns. As organizations continue to adopt technology, they simultaneously expose themselves to a host of potential threats that can compromise sensitive information, erode customer trust, and put them in financial turmoil. According to Cybersecurity Ventures, global cybercrime is estimated to cost the world $8 trillion in 2023 alone. To put that number in perspective, Japan's GDP in 2023 is estimated to be $4.7 trillion. If that wasn't scary enough, the estimated cost of cybercrime is expected to grow by roughly 70 percent over the next half-decade! Understanding the different types of cyber threats is paramount in developing a robust cybersecurity strategy for your company to safeguard data, standing, and financials. In this article, we'll explore the four cyber concerns that should be top of mind for organizations globally.
1. Social Engineering Attacks
Spear Phishing
Spear phishing is a highly targeted form of cyber-attack where the attacker tailors their messages to a specific individual or group, often using personalized information to make the communication appear legitimate. This technique preys on the victim's trust by referencing details like their name, position, or recent activities. By duping the recipient into revealing sensitive information, downloading malware, or performing certain actions, attackers gain unauthorized access to networks or steal valuable data.
Smishing – Text Messages
Smishing, a blend of "SMS" and "phishing," involves sending deceptive text messages that typically contain a sense of urgency or an enticing offer. These messages might ask the recipient to click on a link, dial a number, or provide personal information. Unsuspecting users who fall for smishing messages can unwittingly install malware on their devices or disclose sensitive details, leading to data breaches or financial loss.
Vishing – Phone Calls
Vishing, short for "voice phishing," involves cybercriminals making phone calls to individuals or employees of organizations. These calls often appear to be from a legitimate source, like a tech support team. The goal is to manipulate the victim into revealing confidential information like passwords or financial details. Vishing attacks rely on social engineering tactics to create a sense of urgency or authority, coaxing the victim into compliance.
Pharming – Redirecting to malicious websites
Pharming attacks represent a concerning cyber threat in which malicious actors redirect users to fraudulent websites without their knowledge or consent. Unlike phishing attacks that rely on tricking users into divulging sensitive information, pharming attacks manipulate the domain name system (DNS) or use malware to alter a user's computer settings, leading them to counterfeit websites that often appear identical to legitimate ones.
2. Ransomware Attacks
Encryption Attacks
Encryption attacks target the security of sensitive data by attempting to break or bypass encryption protocols. Cybercriminals employ various methods, such as brute force attacks or exploiting vulnerabilities in encryption algorithms, to gain unauthorized access to encrypted information. These attacks pose a significant risk to data confidentiality and integrity, making it crucial for organizations to implement strong encryption methods and keep software updated.
Locker Attacks
Locker attacks, often referred to as ransomware attacks, involve malicious software that encrypts a victim's files or entire system, rendering them inaccessible. The attacker then demands ransom in exchange for the decryption key. Such attacks can paralyze businesses and individuals, causing data loss and operational disruptions.
Master Boot Record (MBR) Attacks
Master Boot Record attacks focus on the first sector of a computer's hard drive, which contains vital information for the system's boot process. Cybercriminals can overwrite or manipulate the MBR to install malicious code or prevent the system from starting up. This type of attack can lead to system crashes and data loss. Protecting against MBR attacks involves using secure boot processes, regularly updating software and firmware, and employing strong access controls to prevent unauthorized modifications to the MBR.
3. Insider Threats
Malicious Insiders
Malicious insiders represent a grave cybersecurity concern, as they are individuals within an organization who exploit their privileged access to cause harm intentionally. These insiders might steal sensitive data, compromise systems, or engage in industrial espionage. Their deep understanding of the organization's operations and security measures can make detecting their activities challenging. Preventing malicious insider threats requires a combination of strict access controls, regular monitoring of user activities, and fostering a culture of security awareness among employees.
Negligent Employees
Negligent employees, though unintentional, can inadvertently pose significant cybersecurity risks. These employees might mishandle sensitive data, fall victim to phishing scams, or fail to follow security protocols, inadvertently creating vulnerabilities that attackers can exploit. The consequences of their actions can range from data breaches to system compromises. Addressing this threat involves comprehensive training programs to educate employees about cybersecurity best practices and technological safeguards like email filtering and access restrictions to minimize the impact of employee negligence.
4. Cloud Vulnerabilities
Misconfiguration
Misconfiguration remains a prevalent cloud vulnerability, often arising due to human error or oversight during the setup and maintenance of cloud resources. Improperly configured security settings can lead to unintended exposure of sensitive data or resources to the public internet. Regular audits of cloud configurations and security automation tools are essential steps to mitigate this vulnerability and enhance overall cloud resilience.
Improper Authentication Mechanisms
Inadequate authentication mechanisms pose a significant risk in cloud environments. Weak or easily guessable passwords, lack of multi-factor authentication (MFA), and outdated authentication protocols can provide attackers with unauthorized access to cloud resources. Robust identity and access management practices, enforcing strong password policies, and implementing MFA across all user accounts are crucial defenses against this vulnerability, ensuring that only authorized individuals can access and interact with cloud services.
Insecure APIs (Application Programming Interfaces)
Insecure APIs are another critical concern in cloud security, as they provide the interface through which applications communicate and interact with cloud services. Vulnerable APIs can be exploited by attackers to gain unauthorized access, manipulate data, or execute malicious actions. Regular security assessments of APIs, using proper authentication and authorization mechanisms, and keeping APIs updated with the latest security patches are vital strategies to safeguard against API-related vulnerabilities and maintain the integrity of cloud ecosystems.
Final Thoughts
As businesses navigate the intricate realm of cybersecurity, the landscape remains as dynamic as it is challenging. The four highlighted concerns - social engineering attacks, ransomware threats, insider risks, and cloud vulnerabilities - underscore the critical importance of proactive measures. Vigilance, continuous education, and strategic deployment of security tools are essential to counteract these threats. If your organization is looking to bolster your cybersecurity infrastructure, reach out to our experts here to pair your company with elite talent.