Today, more so than ever before, companies are connecting with job seekers in a variety of unique ways. A hot topic of priority for talent acquisition is the interest to cultivate and restore these relationships. As such, we can expect to see a variety of tools and trends emerge in the coming year to address this head on.
In fact, according to Sierra-Cedar's HR Systems Survey, 53 percent of organizations surveyed report that they plan to increase their spending on HR tech in the next year.
Recruiters are exploring alternative, more effective options for finding and connecting with candidates that will encourage companies to use interactive technologies such as video introductions (instead of cover letters), virtual office tours and introductions to company leadership, and programs that remind employers to nurture candidates throughout the hiring process.
HR Tech Trends To Watch In 2016
Companies have and will increasingly turn to HR technologies to move recruiting efforts forward (keeping them competitive) and help position the department as a strategic business partner. Here's a look at four top HR tech trends to watch out for in 2016.
Mobile is not a need; it's a necessity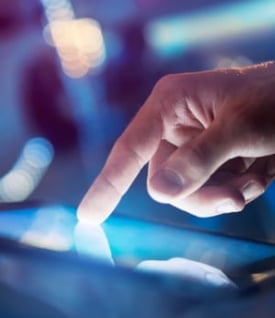 If your career site isn't mobile, it's time to make some changes. Glassdoor's 2014 State of Mobile Job Search Survey of 1,000 employees and job seekers found that 45 percent of job seekers say they use their mobile device specifically to search for jobs at least once a day.

tweet this stat
Today's job seekers are searching for jobs when they wake up, while they eat, while walking their dog, and even while they're at work. Being able to search and apply for jobs while on the go is so important that nearly 38 percent of job seekers surveyed by Glassdoor are deterred from applying for a job if the company's career website or job listings are not mobile-optimized.
So, what does this mean for recruiters? Don't make it so that applicants have to pinch to zoom in on the screen to learn about and apply to open positions. Size windows and content appropriately and ensure that navigation is optimized for mobile.
Employee referrals are on the rise

While social networks are one of the most popular ways for recruiters to find quality candidates, employee referrals are not far behind. Referrals can relieve some of the pressure that HR managers have to find high-ranking talent.

In LinkedIn's 2016 Global Recruiting Trends Survey of 4,125 respondents, 39 percent of talent leaders ranked high on using employee referrals, but only eight percent truly feel "best in class." In order to have a strong employee referral program, you need to set some ground rules.

First, discuss what makes a candidate eligible for hire. Encourage your employees to share job postings on their social media sites. It's a quick and painless method that finds candidates and gets the word out about your company. Your connections will share it with their connections and so on.


Employees know that referring people who aren't qualified for the job reflects poorly on them. So, offer incentives and recognition for referrals that lead to quality hires. It's important to have a highly engaged workplace and encourage your employees to use their network to refer talented individuals.

Make stronger connections through video
It's going to be a popular year to use video for recruiting practices, and there are several ways you can get your foot in the door of the mobile job seeking market.

Video interviews have become increasingly popular. With video interviews, candidates have a chance to describe their impressive skills and experiences by showing you their personality and describing their skills in real-time.

Virtual office tours can give candidates an inside look at company culture. What does the office space look like? What does the environment say about the company culture? Show them what it's like to work there. If they like what they see, give them the option to share the video with other job seekers so that candidates know you are a competitive company to work for.

Placing recruitment ads on TV and social media sites have been attracting job seekers of all kinds. Third Shift Beerr, for instance, offered a compelling TV ad that linked fun work with producing a great product. The ad included the lines, "They say when you love your job, you never work a day in your life -- you never work a night, either."

Knowing that some companies are already using video recruiting practices, gain the competitive advantage by incorporating video into your organization's talent search by adopting these strategies.

Save time (and money) with programmatic advertising

With programmatic advertising, companies can stop wasting a portion of their budget on irrelevant job posting placement. Programmatic ad-buying is when software and data make decisions about where ads should be placed. Recruiters might not believe that advertising is a large part of their job, however, programmatic ad-buying strategies and technologies are starting to surface in recruitment advertising.

Why does this matter?

Before, when someone wished to place a job ad on the Web, they would need to research the best site to reach candidates, inquire about pricing and availability, place the order, and manually upload the job ad. Programmatic advertising means recruiters have more control over the ad and no longer have to cross their fingers and hope that qualified candidates see it. Relevant job seekers are targeted across a range of sites that correspond to the job.

Programmatic recruitment advertising platforms generally follow a simple flow:
Load a job.
Set a price you are willing to pay per applicant.
Determine the number of applicants you want for a particular job.
Set a target audience for the job advertisement.
Send the job out.

What do all of these trends have in common? From connecting with candidates via video to optimizing your application process for mobile, these trends are making a long-distance connection with candidates possible.

Today's recruiting professionals are looking for quality candidates who don't always reside in the same state as the company. With more options available for finding talent and building relationships, companies can reach the candidates they're seeking in real-time -- without needing to meet in person. With these emerging tools and rising trends, the future's looking bright for recruiters.
What recruiting strategies are you planning to use in 2016?
Josh Tolan is the CEO of Spark Hire, a video interview solution used by more than 2,000 companies across the globe. Connect with Spark Hire on Facebook and Twitter.