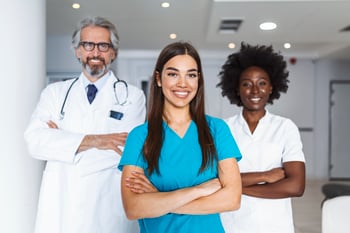 Philadelphia, PA – September 15th, 2022 – Yoh, the leading international talent and outsourcing company owned by Day & Zimmermann, recently landed for the first time on Staffing Industry Analysts' 2022 list of the Largest Healthcare Staffing Firms in the United States. Beyond the broader Healthcare Staffing ranking, Yoh also appeared on Staffing Industry Analysts' list of Largest Allied Healthcare Staffing Firms, placing 17th-largest in the category.
"We have made significant investments in our healthcare staffing capabilities over the past few years, including expanding our services and growing our teams. We are thrilled to be recognized by Staffing Industry Analysts and continually demonstrate how our best-in-class talent acquisition services and processes can be replicated across the complex world of healthcare staffing," said Emmett McGrath, president of Yoh. "Finding top healthcare talent has become increasingly difficult, yet our teams remain up to the challenge by employing our world-class technology resources and client-service model. We are honored to be recognized among other healthcare staffing leaders as we continue to see our market share increase annually."
In total, Staffing Industry Analysts estimates that the 81 firms evaluated generated a combined $39.2 billion in U.S. healthcare temporary staffing revenue in 2021, accounting for 84 percent of the market. With an estimated $110 million in U.S. healthcare temporary staffing revenue, Staffing Industry Analysts' estimates show Yoh has growing market share among the 81 firms evaluated. Market share percentages in this report were based on Staffing Industry Analysts' market estimate of $46.7 billion for the U.S. healthcare temporary staffing market in 2021.
For the purposes of this ranking, Staffing Industry Analysts defines "healthcare" temporary staffing as the furnishing of temporary workers in healthcare occupations. Travel nurse staffing typically involves relocation for work assignments that are often 13 weeks in length. Allied staffing refers to all other healthcare professionals, including physical, occupational and speech therapists, imaging technicians, phlebotomists, lab technicians, and pharmacists. Staffing revenue includes revenue generated from the acquisition of temporary workers by staffing firms on behalf of their clients, as well as from "place and search" services involving direct hire/permanent placement and retained search capabilities. These estimates do not include revenue generated from other services, such as consulting services where billing is based on deliverables, recruitment process outsourcing (RPO), managed services (MSP), payrolling, and more.

For more information about Staffing Industry Analysts' 2022 Largest Healthcare Staffing Firms list, visit: StaffingIndustryAnalysts.com

ABOUT YOH
For more than 80 years, Yoh has provided the talent needed for the jobs and projects critical to our clients' success. Our Specialty Practices recruiting experts find high-impact professionals in Engineering, Health Care, Life Sciences, Information Technology, Interactive Entertainment and Telecommunications. For clients with workforce management needs, our DZConneX Total Talent Solutions offering delivers large-scale workforce solutions, including Managed Services, Recruitment Process Outsourcing, Direct Sourcing, and Advisory and Consulting Services. Yoh is part of Day & Zimmermann, a $2.7 Billion USD services company, and benefits from more than 80 years of Day & Zimmermann's experience managing and solving complex talent challenges for some of the world's leading companies. For more information, visit Yoh's site.