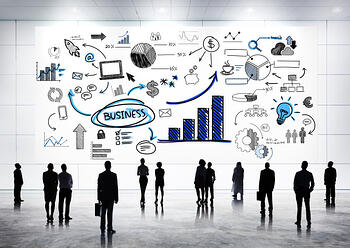 Businesses love data, and they're always finding new, innovative ways to enable data to do more heavy lifting — and no, data won't replace the need for actual human workers in the future. When used correctly, data has the ability to make business processes more accurate and efficient. Practically every department uses data in some way, and human resources is no different. When it comes to people analytics, businesses can make well-informed and savvy decisions about the people they hire and ultimately retain in the workplace.
What Are People Analytics?
People analytics, also sometimes referred to as HR analytics, gives HR departments a way to organize and analyze the problems that people within an organization often face. The specific problems that people analytics target often have to do with employee turnover — data can be used to understand the causes of employee turnover and to determine where improvements can be made. People analytics can also be used during the recruiting stage when deciding who to hire.
The good news for HR departments is that they're already collecting a lot of this data and hopefully keeping it protected from getting into the wrong hands. The problem is that the collected data is rarely looked at or used. By reframing it as a way to solve pressing HR problems, the data can be put to work in a way that will actually benefit the company.
How People Analytics Has Changed
People analytics has been around for a while, but it wasn't always the broad, tech-advanced niche it is today. In the past, an HR department may have employed one analyst to go over data and see where improvements could be made. Most of the time, the improvements were for the sake of the company's budget — and even that was difficult to tackle since the budget for the analyst's work was so small.
Today, much has changed in the world of people analytics. Yes, it's still used to find ways to limit the company budget, but it's also used to determine skill gaps, better utilize available labor, and retain great employees instead of losing them to churn.
People Analytics Benefits and Use Cases
There are a number of ways that HR departments can use people analytics. Let's go over a few of them:
1. Employee Retention
People analytics can gather the signals that indicate a person is likely to leave their job. For example, if the employee has a long commute, they are more likely to leave their job sooner than someone who has a short commute. You can then use that information to decide to hire people within a certain radius or consider setting up remote work capabilities.
2. Scheduling
In order to find out which shifts are most important and which employees excel in those shifts, a few different types of data can be combined. For example, you can look at attendance and scheduling data, then compare that to customer satisfaction and sales data. This will help you figure out how to optimize your team and schedule for the best outcome.
3. Retirement
The longer a person has been with a company, the more seasoned they are. It's important to know when those individuals may be retiring so that you can prepare ahead of time and not lose all of that hard-earned knowledge. Predictive tools go beyond identifying possible retirees based on age; they also look at eligibility for benefits, changes in job role or salary, and other signals that may reveal when retirement could be especially enticing for a senior employee.
Think Big
In order to make the most out of people analytics, don't keep your focus narrow. In addition to collecting information on individual employees, you should also look at how they interact with and work among each other. You don't have single employees who don't have an effect on one another; you have a team of employees that have to work well together.
In order to keep up with modern HR departments, HR professionals need skills in people analytics and prescriptive analytics (which helps with figuring out what will happen in the future) — and they should hire employees who have some of these skills, too. Today's companies know how important people analytics are. The people you hire are the lifeblood of your company. Knowing how they're affected and how they're affecting your business is imperative to keeping everything running smoothly.
About the Author: Sam Bowman writes about people, tech, wellness and how they merge. He enjoys getting to utilize the internet for community without actually having to leave his house. In his spare time he likes running, reading, and combining the two in a run to his local bookstore.