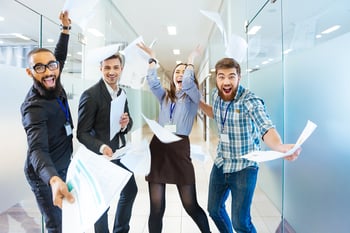 Have you ever tirelessly searched for talent, but came up empty-handed? The answer might be right under your nose.
The US unemployment rate is the lowest level it's been in over a decade. Why that's good news overall, employers know that it's a double-edged sword. According to Indeed, 61% of 1000 employers who responded to a survey said they expect to hire more people in 2018 than they did in 2017. As companies compete, the high-quality talent pool is getting smaller and smaller. It takes more than just posting externally to job boards to fill your open positions with qualified employees who last. What you may not realize is that one of the best strategies that you have starts with what you already have in your organization.
According to Saba, the definition of talent mobility is a "strategic initiative that helps companies to optimally leverage their organizational talent pool to fuel business growth." Just in time for Employee Appreciation Day, utilizing the talent that you have already have on staff is one of the best ways to show appreciation for your employees. Many companies, however, struggle to find a talent mobility program that works for them.
The Benefits of Talent Mobility
Establishing an internal talent mobility program is crucial to growing your company and retaining your organization's A-players. Here's why you need to look to your internal workforce to fill open positions:
Saves Time & Money
By hiring internal candidates, you're eliminating a lot of time, energy, and money you use to focus on hunting for external applicants. No more complicated job posting strategies, where you have to rent some job board space and cross your fingers.
Instead, invest in an internal career portal for your employees to access. Make sure you consider their experience when designing it.
Keep things simple. The interface and dashboard should be clear and straightforward so navigating through multiple pages is effortless. Incorporate a social element that includes personal profiles, where employees can post, share, and message one another. Add message boards and other digital social spaces for employees to share ideas and discuss relevant company news.
Employees should also have the ability to sign up for job alerts that send notifications to them when a new job posting appears. This keeps top talent informed about open roles that are relevant to them and align with their professional goals.
Facilitate Succession Planning
Plan for future talent needs to make upcoming transitions as smooth as possible. When a senior employee or manager vacates their position, you don't want disruption to your operations. The best bet for succession planning is a talent mobility program.
Predicting future talent needs is difficult to do, but you have to start by looking ahead in the year. Are you launching a product that will require more boots on the ground? Do you plan to expand your company? Are departments being redefined? Are new investors getting involved?
Also, you can predict turnover rates by using some simple math equations. Take the number of employees that left during the year, then divide them by the sum of employees at the beginning of the year and employees at the end of the year that is then divided by two. Multiple your quotient by 100.
For example, say you lost 20 employees over the course of the year. You started the year with 150 employees and ended with 144 -- 150 plus 144 is 294, which when divided by two equals 147. Therefore, 20 divided by 147 is 0.136, or 13.6 after it is multiplied by 100.
Your turnover rate is 13.6 percent. These metrics can help predict future turnover.
With a talent mobility program, you are assessing skills and finding your A players who are ready to move up and considering what employees are interested in making lateral moves. Know employees have which strengths so you know how to properly develop them to fill job openings and succeed departing staff members.
Improve Engagement and Trust
Recognition and growth are key contributors to keeping employees positively engaged. Disengaged employees cost organizations between $450 and $550 billion annually. Employees who know they are being considered for advancement are more engaged and motivated to work and push themselves for the sake of growth.
By investing in your organization's talent pool, you're showing that you trust them. Trust is crucial to creating a happy work environment. When talent knows they are trusted, appreciated and respected by their leadership, they feel more confident and satisfied with their work.
Kes Thygesen is the co-founder and head of product at RolePoint, a complete social recruiting suite that provides unrivaled access and reach to quality job candidates. Connect with him and RolePoint on LinkedIn and Twitter.