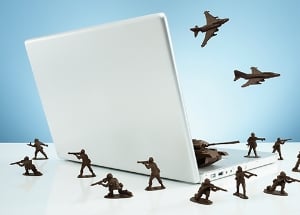 If your company had a decent first quarter, then get ready for some robust recruiting in Q2. That's my advice for the next three months. Various factors will impact whether or not your company actually chooses to hire, but think about this: There are many other companies out there who did have a good Q1 and their recruiting strategies are built on passive job seekers – your passive job seekers.
This is important for everyone because what we are seeing right now is that many companies have a preference for skilled, currently-employed workers to plug into their workforces with no training or ramp up. This means that when you see your workers on the phone outside the building, in the unoccupied conference room or out to lunch with someone from outside the company, you should be worried.
A recent article in the Economist points to the labor-force participation rate as a factor in wage growth (or the lack thereof). But more importantly, when you look at the loss of workers and the impact on wages, it has an effect on the availability of talent. What the article doesn't say, is that with continued uncertainty in the economy, workers not rejoining the workforce, and skills shortages in many areas, companies today need multiple recruiting strategies just to keep up with attrition (workers lured away by other companies), not to mention growth.
Ask yourself – or better yet, ask your company:
What will we do when our high performers or highly-skilled workers leave our company?
Do we have the resources to keep up with hiring in general, and also with critical hiring in specific areas?
Recruiting strategies can be very different across an organization, but when a high volume of needs or highly critical/highly-skilled needs suddenly arise, all bets are off, and one of these areas is likely to suffer. In many cases both.
Last year, in Q2, hiring began to rise (and spiked again in November) and many companies were caught off guard. For some, they never caught up after that. Here's the worst part, at least for workers: When they couldn't fill positions and they remained open for a long time (over 6 months), they simply didn't fill them when they got cautious towards the end of the year, or they waited until after the first of the year.
3 Questions to Evaluate Recruiting Strategies

Evaluating your recruiting strategies is critical, both for what you know, and what you don't know. So if you know your recruiting picks up in Q2, you need to have recruiting resources in place to make that happen. It comes down to a few simple yes or no questions:


We know our hiring needs and we have it covered


We know our hiring needs but we're not sure we have it covered.


We don't know our hiring needs and we don't know what to do about it.


If you answer "yes" to anything but the first question, then Q2 may be the time when your hiring plans start to come off the rails. All it takes is a minimal spike to create a talent deficit that your company may not easily recover from.
This blog was written by Matt Rivera. Matt serves as Vice President, Marketing and Communications and is responsible for overseeing all aspects of Yoh's marketing and brand communications. Matt holds a degree in Journalism/Public Relations and has been working in the staffing industry for more than 25 years. Prior to this role, Matt held many different roles from branch recruiting and proposal writing to technology management and online marketing.