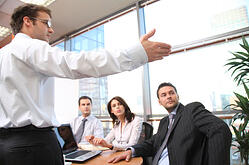 If any of you come from a sales background, have had any sales training or even if your only exposure to sales is from watching movies like Boiler Room, Wall Street, Jerry Maguire etc. then you've probably heard the term "ABC: Always Be Closing." This phrase should be a daily mantra for recruiters, as well. And, although we are "Recruiters" by title, we are all very much sales people. In addition to ABC, I was also taught to always look for small "wins" (yeses) throughout the sales process, again, something I have carried over to my recruiting career.
The idea of ABC, Always Be Closing, starts at the very beginning, by just getting your hiring manager to accept your meeting request to hold a Strategy Session to discuss the job. During the Strategy Session, approach the manager as if you were telling them your understanding of the job vs. asking, and let them say 'yes' or 'no' to you. By doing this, you are letting them know that you have researched the role, understand the business needs and have a good grasp on the requirements for a candidate to be successfully moved through the process. Set expectations around what they will receive from you in terms of submittals. Also, get them to agree to specific things, such as the need for them to:
provide timely feedback on candidate submittals
keep in contact with you if there are issues, concerns, questions or changes during the process
If you run into a "no" with anything to this point, this is the time to address the potential "snags" or "issues" that may arise if you're not on the same page. Get the YES and avoid possible future challenges.
Along with recruiters being sales people, we are also constantly marketing ourselves, our candidates, our processes, our abilities and our industry knowledge to our clients and hiring teams. Sales and Marketing usually tend to be separate functions within companies that ultimately go hand in hand to help each other meet the goal, whatever that may be. As a recruiter, you need to have a balance of sales skills, marketing skills and possibly some skills as a therapist. To quote Jerry Maguire: "Help me help you!" This is a phrase that really should be the recruiter motto. In the long run, we are all ultimately looking to fill jobs with our clients. But at the end of the day, we want them to feel comfortable with us working with/for them, have candidates feel comfortable with us representing them, and for the client to open more jobs to us with the confidence that the process will go smoothly, they'll get good candidates, and their recruiter is a solid sales and marketing person with their best interests in mind.
This post was written by Erica Levenson. Erica has been on the Syngenta RPO team for just over 5 years now. She started on the team as a Sourcing Specialist, then moved to Sourcing Team Lead and then moved to a Recruiter position about 2 years ago. She is originally from NJ but currently lives in South Florida with her 3 yr old daughter.