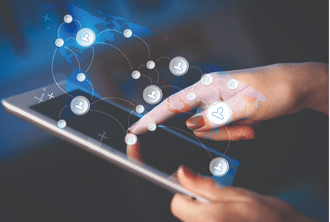 Traditional care models are phasing out, and the popularity of value-based care is on the rise. The most promising data-driven, value-based care approach offered today is population health. But what exactly is it? What's involved in implementing an effective model at your organization? And, what challenges should you be aware of at each stage of your population health journey?
In this blog, I'll explain population health's landscape by breaking it into three unique areas: population health as a principle, population health management, and population health analytics.
| | | |
| --- | --- | --- |
| POPULATION HEALTH | POPULATION HEALTH MANAGEMENT | POPULATION HEALTH ANALYTICS |
| A value-based care approach aimed at preventing illness and improving the overall health of groups. | The strategies, processes, and tools utilized in managing & compiling patient health data. | The visualization, analysis, & translation of population health data into strategies for treating a group. |
What is population health?
As a principle, Population health is an approach to healthcare that focuses on a group's outcomes. "Populations" or groups are segmented by shared characteristics such as geographic region, condition type, gender, socioeconomic status (SES), and more. Compared to traditional care models, this approach offers a much more holistic perspective of a group's health, combining both medical and non-medical variables,
As defined by the Institute for Healthcare Improvement (IHI), population health has three ultimate goals, or a "Triple Aim," that determines success within its systems. These goals include: 1) Improving the patient experience of care, 2) Improving the health of populations, and 3) Reducing the per capita cost of healthcare.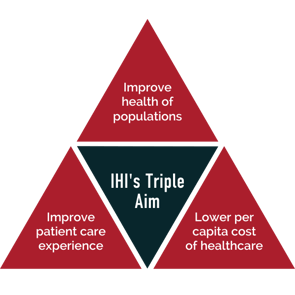 The rise in popularity of this model is largely attributed to today's increased availability of data. Providers are able to hone in on specific groups to determine who needs the most attention from a care perspective – a win-win for both patients and providers! Utilizing population health tools, systems, and processes, providers gain insights from the influx of data at their fingertips. Data visualization capabilities in the platforms allow them to spot commonalities within groups to offer patients value-based care. As a result, patients and health systems benefit from reduced healthcare costs. Patients also experience more power over their own health outcomes.
WHAT IS POPULATION HEALTH MANAGEMENT?
In population health management, data is gathered from multiple sources and transformed into a streamlined, usable format. To do so, there are specific strategies, processes, and tools utilized to compile and manage patient health data. Keep these in mind when implementing a population health management strategy:
Choosing a tool - Examples of data tools and platforms that my healthcare clients use today include Microsoft's Power BI, Salesforce's Tableau, Cerner's HealtheIntent, and Epic's Healthy Planet. Keep in mind, the tools used for population health management and population health analytics can be used across different areas. However, the functions and outcomes in each application are unique.
Migrating and compiling data - Logistically, bringing data together from multiple sources such as legacy systems and electronic health records (EHRs) can be a complicated process. Depending on how much data you have scattered across systems, you may need a team of experts to help in this initiative.
Data security – In healthcare, a major concern lies within data governance and the handling of sensitive patient information. Whether medical or non-medical, you can't cut any corners when it comes to patient privacy regulations. Try to ensure that data security risks are mitigated at every stage of the migration process.
Strategizing for ongoing success – Train your teams on your tool of choice and put data policies and processes in place. You'll also want to empower patients to manage, track, and maintain their personal health data in their virtual health portfolio. Inform them of the capabilities at their fingertips and the power they hold over their individual health.
WHAT IS POPULATION HEALTH ANALYTICS?
Here, data is turned into action. Population health analytics encompasses the visualization, analysis, and translation of population health data into strategies for treating health issues within the population. Experts will analyze data in the form of metrics, reports, trends, and graphs. They'll often identify prevalent diseases and cost-drivers within that group to ultimately propose treatment options and risk mitigation strategies. When it comes to population health analytics, there are a few things to consider:
Choosing your team – From Population Health Analysts to Informaticists to Clinical Data Scientists, you'll need experts on-hand who are trained in analyzing population health data. Finding the right people with deep subject-matter expertise is key to building your team of analysts.
Defining your strategy – It's up to you to determine how your data analysts will look at system-wide data and transform it into specific populations' outcomes. A key to this is using quality measures and data scores to measure actual patient improvements made due to your organization's efforts.
Working towards continuous improvement – Constantly seek out opportunities to improve upon population health analytics efforts within your organization. This will lead to more accurate patient data, increased buy-in from leadership, and a rise in value-based care.
Utilizing machine learning and AI – Technology advancements have opened doors for machine learning and AI implications in population health. Some of the benefits noted so far include a faster identification of at-risk populations and improvements in patient self-management capabilities.
COMBATTING POPULATION HEALTH CHALLENGES
Population health is the ticket to healthcare's future but can be tricky in practice. On the one hand, it presents a great example of how healthcare, data, and IT can come together for the greater good. On the other hand, complications arise as you add a mix of tools, strategies, cost models, processes, and teams of people to run top-notch programs. Although the term "population health" varies depending on who you ask, one thing stands true across situations… Your organization has unique wants, needs, and expectations surrounding population health compared to other providers.
While your goal is to do the most good for the most patients possible, my goal is to help you get there! Yoh's Specialty Practices is ready to equip you with the right roles, skillsets, and tools to effectively run your program. Drop us a message to chat about your unique population health needs.