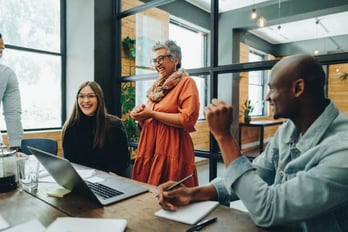 Overcoming the generational gap in the workplace is a common challenge for many companies and leaders today. Since the early 2000s, the evolution of technology has drastically altered how people conduct business. Each year brings about new tech innovations that impact processes and strategies – including the way we recruit and retain our workforce. While some subscribe to the mantra of 'out with the old and in with the new,' the real winners are those who know how to bridge the generational gap.
Combatting challenges faced in an evolving workforce may sound easier said than done. However, there is a way to mesh traditional and modern perspectives, processes, and styles to support all generations and continue to grow. With the right approach, companies and leaders can overcome generational hurdles.

Tom's Story: Understanding the Generation Gap Through Trial & Error

Millennial Hiring Mishap
Remember hiring Millennials in the early 2000s? At Yoh, we were hiring in bulk to support recruitment for a growing business endeavor. The approach we used in prior years wasn't cutting it to engage a new generation, and we faced a debacle. Their expectations and our expectations were way out of line because we didn't adapt based on the generational gap. Millennials wanted to be high performers but also have work-life balance. At the time, this was a foreign concept to my generation, Gen X. Our mindset was, "Give it your all and climb your way to the top by sheer time, attitude, and effort."


Listening & Learning with Gen Z
Gen Z gave us a chance to try again. They entered the workforce in a remote world amid a global pandemic. Most importantly, they were raised on tech. We knew we needed to consider the generational gap this time around. We asked tough questions like, 'What do they want?' and 'How do we keep them motivated and engaged?' To our surprise, Gen Z employees were a combination of previous generations. We thought they'd favor fully remote work – nope. They prefer a hybrid model. Some even said that working from their childhood bedroom in their parent's house for 40 hours a week simply wasn't fun. We had to listen and adapt again.


Balancing & Adapting for Future Generations
Time and time again, Yoh had to adapt – and fast. Post-pandemic, we developed and implemented a flexible work model to solve our latest challenge. Now, space is provided for those desiring the office experience, but remote work is an option, too. We found that the only way to support all generations, including the next generation, is to stay agile and adaptable. This future-proofed approach allows leaders and companies to overcome generational gaps in the hiring and retention process. It touches all aspects of conducting business in today's evolving workforce.
4 Realizations FOR LEADERS & COMPANIES TO OVERCOME the Generational Gap

1. Each Generation has Unique Traits & Values
While some people prioritize job security and stability, others prioritize work-life balance and flexibility. Surprisingly, the younger generation in today's workforce often value stability above all else, including pay and benefits. Millennials tend to crave work-life-balance. My generation, Gen X, values challenge and responsibility. And, since we had the good fortune of experiencing both the non-tech and tech-advanced business worlds, Gen X can help bridge the gap between other generations.
Understanding generational differences can help leaders and companies tailor their approach to attract and retain top talent. Take the time to research and learn about the different traits and values of each generation to create a more inclusive and understanding workforce and company culture.


2. Empathy & Flexibility Go a Long Way
Stop doing what you're doing - just listen and help people. For leaders and companies, empathy and flexibility go a long way. Engaging with vastly different personalities and needs is a big part of the job. We communicate both in a virtual world and face-to-face. If you remain empathetic, regardless of who you're speaking to and on which platform, it's going to benefit everyone involved and trickle down to future generations. Today's most successful companies are also flexible, offering employees options based on their personal needs. Hybrid working models are less of a nicety and more of a requirement for business and recruitment success.


3. Welcome Differences in Personal Styles
Each person you encounter at work has their own personal style. Some are more traditional in their ways, and others are more tech-savvy. Generational differences are often largely at play in developing those personal styles, and it's critical for leaders and companies to welcome and embrace them all. Yes, new technologies will continue to hit the market, but that doesn't mean that AI is on a path to take over all jobs. The human touch is always needed. Today, meshing old and new techniques is critical for your success - you need to have a combination of both.


4. Good People Attract Good People
The most important thing to recognize is that good people attract good people. Recruiting is a people business - it always has been, and it always will be. Because of that, relationship-building is a cornerstone of recruitment success that isn't going away. Generations need to work together to continue building relationships and bringing in great people with diverse backgrounds, experiences, and styles. Hearing diverse perspectives and trying new things, both traditional and modern, will help your organization overcome the generational gap.
CLOSING THOUGHTS
Overcoming generational challenges requires a thoughtful and intentional approach. By coming to terms with the above realizations, you'll be better positioned for success in attracting and retaining the best workforce possible. Today's most prominent leaders and companies are doing just that by learning and adapting to support different perspectives and sentiments. Personally, I'm excited to see what's next.